Based on reverse-engineered technology salvaged from craft left-over from the 1938 Martian invasion, the German military first began field-trials of their various Death Ray weapons in late 1943. By mid-1944 units began to receive these weapons in limited quantities, typically with a single unit receiving a mix of weapon types. Fitted to existing halftrack mounts, these weapons were issued to anti aircraft units, though they were often intended for ground attack uses. Here we see both a Heat Ray and a plasma weapon of some type: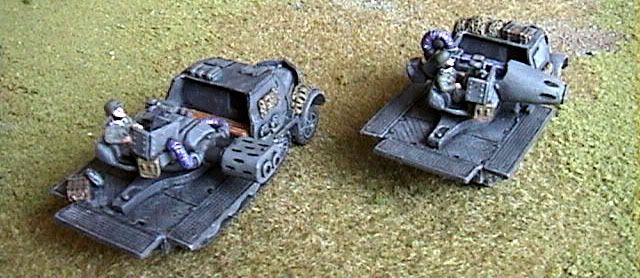 Ev
The Heat Rays were very popular with the troops and made excellent area-denial weapons. Effective in the anti-infantry role, when fired the weapon spewed forth a shower of white-hot sparks, instantly vaporizing organic tissues. The victim's remains are deposited on the ground as a roughly man-shaped lump of white powder. An interesting side-effect of extensive use of the weapon is a localized magnetic field which can knock out wired and wireless communications and temporarilly magnetize clocks and compases, rendering them useless for a short time.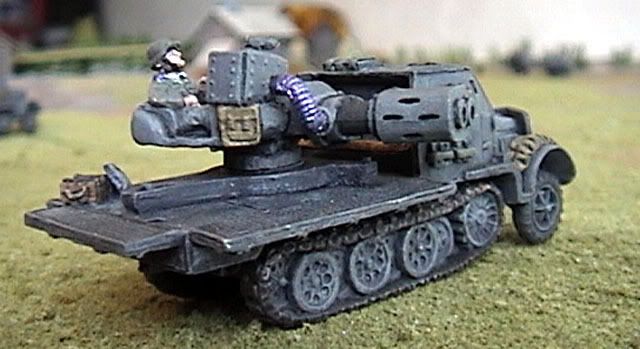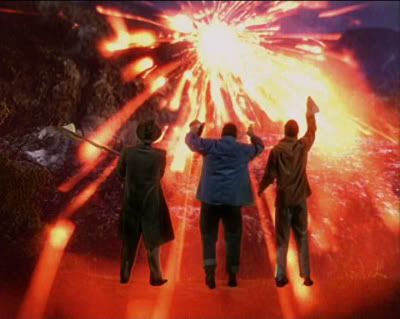 The plasma weapon, referred to by the troops simply as a "death ray," is a more complicated -- and less reliable -- design, but it is the far more potent of the two weapons. Its science is a secret closly guarded and seldom explained by the scientists of the Third Reich, but it somehow breaks down the atomic forces holding molecules together. Any object hit by these glowing green globs simply seases to exist. Tanks glow for a moment before they disapear. Humans freeze in place, their skeleton briefly shadowed by their radioactive flesh, before they also vanish.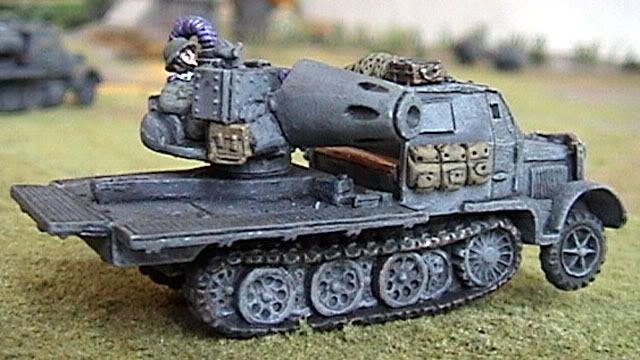 I built these models on a whim on afternoon. Based on Battlefront armoured AA halftracks (it is two vehicles, with different putty-made stowage, but I wasn't consistant when I took the pictures), the weapon mounts are removable, allowing the vehicles to return to standard duty.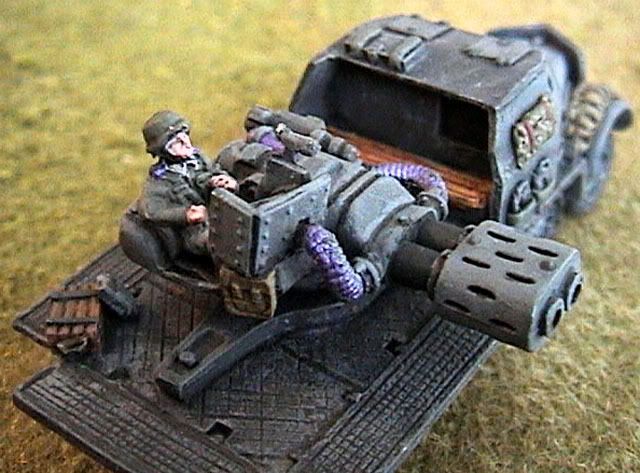 The guns themselves are built up from old Games Workshop 40K heavy weapons. In this case I used a multi-melta from a Space Marine land speeder, and a plasma cannon from... somewhere (maybe Imperial Guard? I really don't remember.) The gunners are Battlefront side-car riders seated on cut-down Old Glory side cars, with some rivited plate armour salvaged from some old GierKrieg models. The controlls are disused gun sights, and the back sides were detailed with whatever crap from the bitz box looked right, mostly Space Marine jet pack and bolter parts.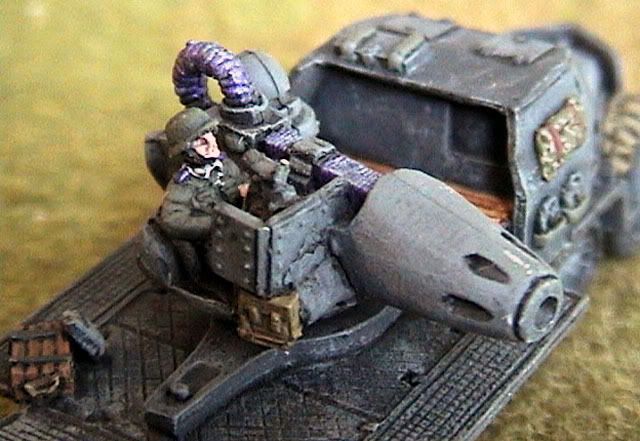 Eventually I'll come up with some rules for these things as part of mysooner-or-later-but-probably later Weird War Two project.