Retrocative Date: Mid-February 2007
While all the paper work was working its way through the system, the troops started to slowly drag in from sundry origins. See, I have this problem when I build new armies: I tend to buy at least twice as much as I need, just to get as many poses and cool bits as I can. That quirk was working overtime with this army.
If I'd written this part of the blog in real time, this part would be full of wailing and gnashing at various distributors. Since I'm actually writing it while I'm half way through converting the models for most of the army, I'm going to use it as a short review and brief inventory of what all went into this army. I wanted to use BattleFront's miniatures for this project as much as possible.This goal was foundless yet substantial, as well as contradictory to my desire to see what variety I could inspire by blending brands.
In fact the only thing like a real reason I could think of to be exclusive to
BattleFront
product was that I get a big kick out of posting pics to that forum, and they are understandably picky about pics of competing product. As it worked out, at least from the other players I had samples of, the quality gap is generally a good bit wider for the paratrooper range of models than most that I've looked at. Unless you just can't stand the new BF paratroopers.
The one bit of cryin' that would be worth mentioning is the uproar on the BF forums and TMP.
There were many who thought they figs looked grossly disproportionate, even more so than BF normally does, so much so that they wouldn't blend well with anything and were incompatible not only with the old BF paratroopers but also with any other known miniature and possibly human life itself. As soon as I got my hands on some, I posted this picture on the forum with old and new pars side by side: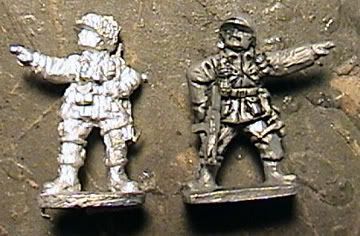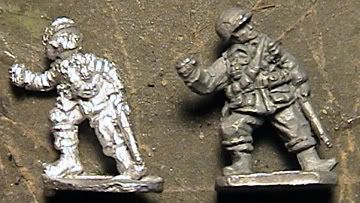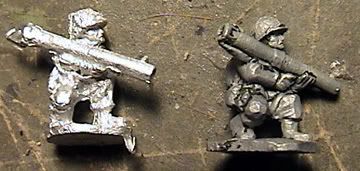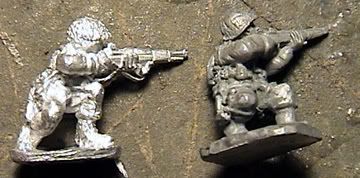 Then the crying stopped.
I like the
Battlefront
paratroopers quite a bit, both the old ones and the new ones. Evan, their designer, even commented that they are basically just results of the old ones. I could do with less crap on the helmets, and more action poses would have been nice – Evan really, really likes to sculpt guys walking, where as I want all my soldiers shooting -- but in general I'm pretty happy with the range, and I think it is going to blend seamlessly with the old BF figures I've got.
Mixing with other brands, though, is going to be tricky. I got away with a lot of brand mixing in my New Zealand Rifle force, in large part because I didn't really care if they didn't look 100%.
That just wasn't going to be good enough for Easy Company.
Here's what I had to work with for each major unit I was going to play with:
3 new
BattleFront
rifle platoons
1 old Battlefront rifle platoon
1 old Battlefront machine gun platoon
1 new Battlefront machine gun platoon
1 new Battlefront mortar platoon
1 old Battlefront mortar platoon
1 old Battlefront pack 75 howitzer battery
2 packs new Battlefront 57mm AT guns
3 packs of new Battlefront light 105mm howitzers
1 pack of US artillery staff
2 packs (1 new, 1 used) of Battlefront Rangers
1 platoon, US Infantry in Great Coats, from
Resistant Roosters
1 bag of "US Paratrooper special weapons" from
Old Glory
I think that's about it. There might be some other bits of stuff in there, but that's most of it. About the only major company I don't have in there is
Peter Pig
(no, QRF doesn't count). I'm not sure why, but I didn't get any
Peter Pig
stuff at all to mix into this army. I feel like I should have now, but its always such a pain in the ass to get Peter Pig stuff that unless you are getting a lot of it, I just don't bother. Maybe later I'll do a special platoon of all Peter Pig or something.
So, how do they look side by side? Take a look: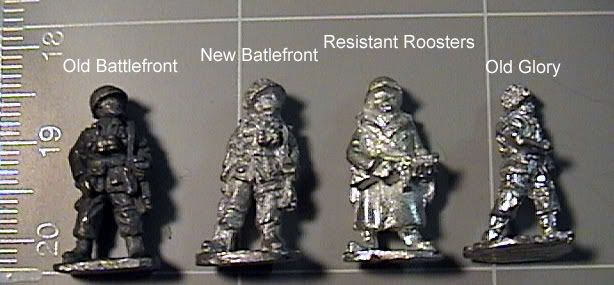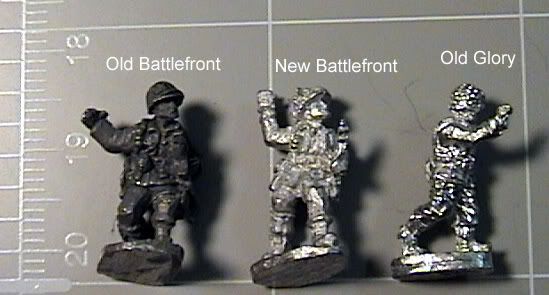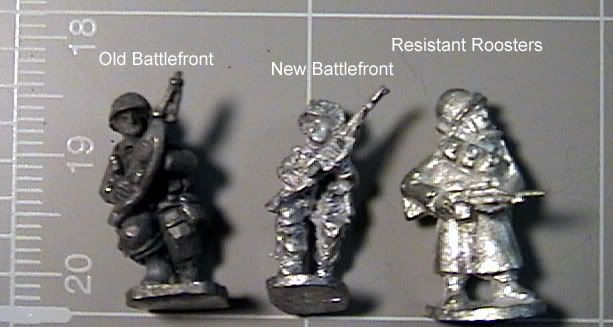 In general, I do like
Battlefront's
stuff the best. I'm not sure that the new sculpts are better than the old ones, but both are better than the other stuff out there. But sometimes you just need one in just that pose, and so I like to mix them up. Besides, you get more variety without having to convert every single miniature, and Battlefront don't make anyone in a Great Coat, so
Resistant Roosters
gets in for having what the other guy doesn't.
Old Glory
, well, what can I say? They look like I used to think 15mm were supposed to look. You get what you pay for I guess, but their stuff just always feels like bargain minis to me. But for this job, the special weapon pack was a good fit. It contained several other variations on "dude squatting down by crew serviced weapon," and that is always helpful. I'd just have to file down some of that retarded helmet covering these guys have poked all over their heads!