Sometimes, you just see stuff on the interwebs and buy it. That's how I ended up with these girls. Pure impulse buy, I swear. Now, getting the miniatures to make up the gang in charge of this little racket, that took a little digging....
So, obviously we've got some slave girls up on the auction block. Without addressing what this piece says about the artist, lets just take a look at what is certainly a unique little set.
This thing sort of grew into an objective marker for Flames of War, themed to sort of match my Desert Rats army. But it started life before v2 Flames of War was published, so I did it on a 60mm round base from GW. This was enough space for the platform and a hawker out front, without eating up a lot of room should I ever try and cram this thing into some busy dessert village setting. I knew I wanted the girls, a hawker, a few thugs for crowd control, and a money man in the background somewhere. Since I was ordering up a few random arabs, I figured any extras would go towards populating said busy desert village. Discounting the ladies for just a moment, these are the rest of the miniatures I think of as part of this set: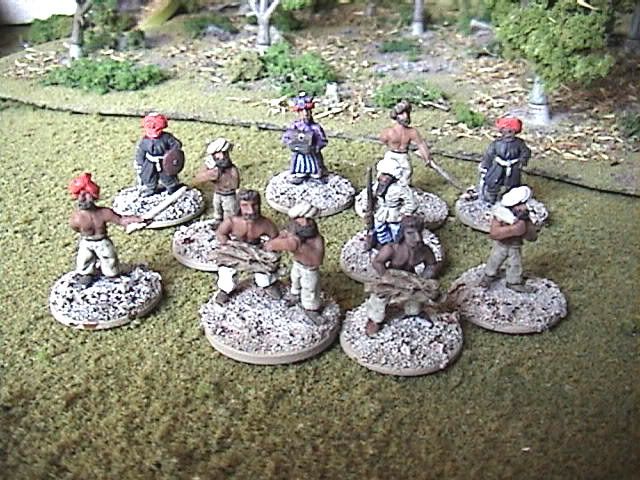 Mostly humble desert peasants, anyone wearing a slash of red is a member of the nefarious Red Turbans, the local toughs with a shadowy reputation and rumored ties to the occult. At least that's what I dreamed up about them while painting the buggers. The money man demands his close up!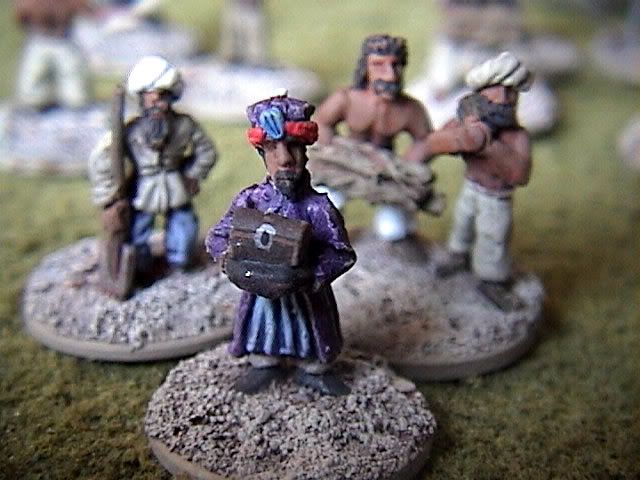 Now back to the girls! Step right up, pussy lovers!
The hawker is mounted into a socket on the 60mm base, so he can be removed and replaced with other penny-mounted figures or a simple plug. In this way the objective marker could be themed for any army defending it, or left in a neutral state.
I've also got a few more of the girls, loose-mounted on pennies:
The entire thing may be mounted on this adapter I made, using the same process as described in the UGO tutorial.
Painted to match my desert bases, it could serve to make anything mounted on a 60mm round base into a tournament-legal objective.
So there it is, in all its misguided glory: my Slave Market objective with Arab Villager Set. Classy, 'eh?
Dessert people look funny on a woodlands table, but whachagonnado?