With the upcoming release of
Mighty Empires
, Games Workshop included a pair of demo tiles for the game as an insert with this month's issue of White Dwarf. The plastic map hexes have really sparked my eye, more to come on that later as it develops. But in the mean time, I had these random little tiles sitting around, but wasn't sure what I'd do with them. Then I found three cheap, plastic, preprinted Messerschmitts with matching paint schemes on sale at Hobby Lobby for $6 each. Bingo, now I've got air support! But they would need bases that looked better than the little black stands.... how would I model very small terrain.... you see where this is going, right?
I give you the
Mighty Air Base
:
The town in the center of its base is a stock GW city element for Mighty Empires. The other towns were made by cutting up the Dwarf Brewery and Wizard's Towers for all the little shapes.
I painted them up more or less like I would any infrantry base for my Panzergrenadier force, using the same dirt, rock, and base edge colors. Then I went through and picked out the farms, buildings, etc.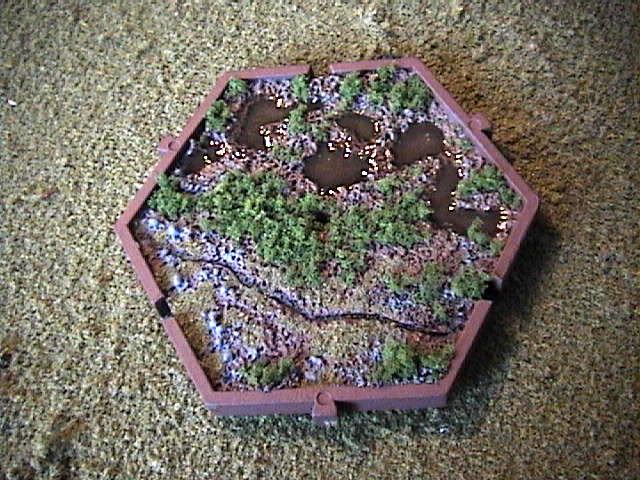 I painted the river in successively lighter shades of blue, then covered it in a thick layer of Krylon Krystal Clear (at least I think that's what its called...). The swamp got a quick wash of breen and brown in, and then Krystal Clear with a little brown ink on it was dabbed into the low spots. Two quick passes with different colors of flock gave me grass and woods.
I had to enlarge the holes slightly to accept the clear posts from some GW flying bases, and then glued the posts onto the aircraft. This way I can use these bases with any little planes I pick up, so long as I mount them on the same size post. To make this set, I had to purchase one copy of White Dwarf; I got the other sprew off my boy Breakdance's copy.