Fueled by the living essence of the fae creatures trapped inside, these handy devices will power any infernal contraption to which the intrepid (and morally flexible) inventor sees fit to attach them. Each Faerie was captured fresh in the wild (efforts continue to achieve breeding of captive specimens) before being inserted into our patented life support and energy extraction system.
Each battery is a hand crafted work of delicately balanced engineering and magick, the details of which are too sensitive to discuss here. Our legal council has also advised us not to disclose any particulars of the life support or essential extraction aparatus, and details of our faerie acquisition practices are similarly not open to external review.
What we can tell you about these lovely and effective little power sources is that the energy generated by each is far more potent than that contained within a simple chemical reaction batter of even 10 times the size. (Note: extended high-energy use will significantly shorten the enclosed faerie's anticipated life span.) The energy is also very easy to work with, being convertible to all common power standards including (but not limited to) AC, DC, photonic, Aetheric, and biomechanoid by any competent quantum mechanic or dedicated home enthusiast.
Their small size allows for easy storage and convenient carry, and their rigid shells both protect their contents and make the mounting of individual FaeriesHell power sources to other devices as simple as mounting a basic metal bracket.
Connections are also standardized, for the convenience of your tinkering. Outside the box thinking may still benefit from standardized parts.
ABOUT THIS PROP:
This fun little set of knik knacks started life as glass seasoning shakers. I took tea lights and cut them down to fit inside the caps, making room for stereo jacks along the way. I added a simple flap of plastic to act as a lever so you could still turn them on and off without taking them apart (it kinda works...). I'd hoped to make the power switch directly accessible though the wide open part of the shaker top, but it just didn't work out that way.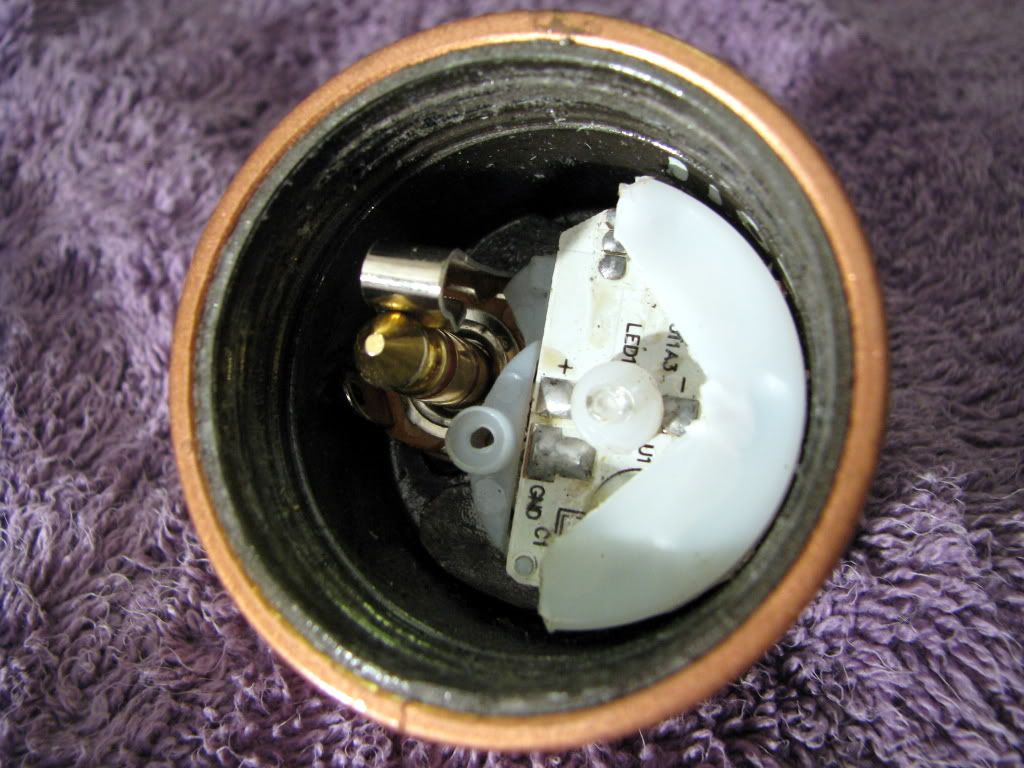 The stereo cable adapter in this picture just shows how the jacks would work, and it was easier to use than a full length cable.
The raised text around the copper tops was achieved with small embossed letter stickers. I played around with doing them over and under the paint; I think I like under better.
The tea lights don't really make them act like light bulbs, but it does impart a certain odd glow, and in the dark they stand out nicely.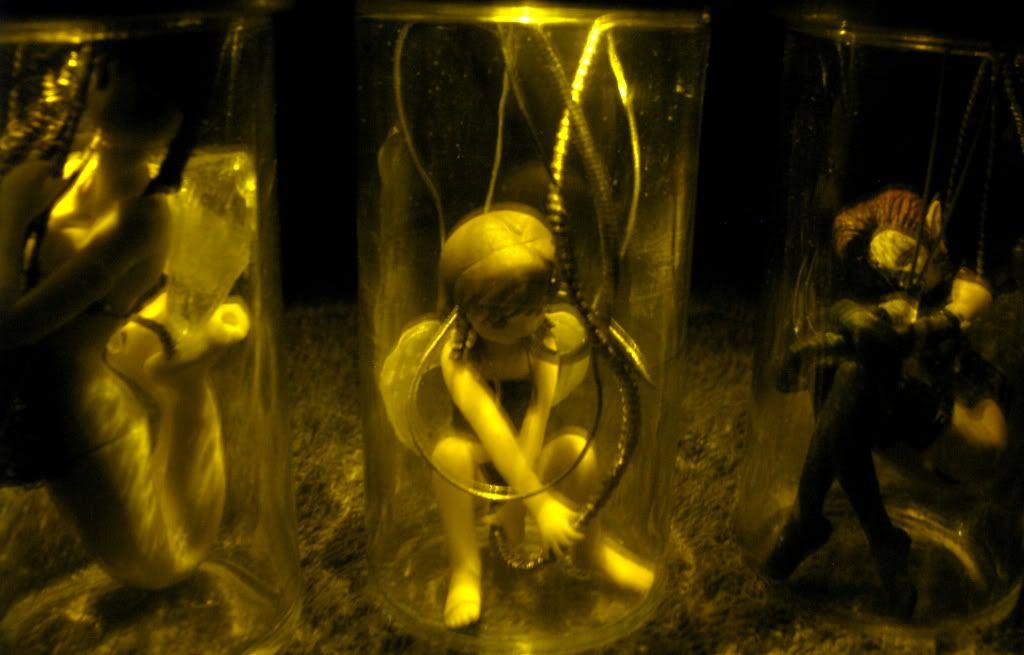 The faeries themselves are collectable Japanese figurines.
Their poses were altered slightly to fit the jars, mostly a matter of boiling them so I could cram them throught he jar mouths. The wings were fun. Some are plastic Disney toy fairie wings, some are fishing loures, and there's a plastic dragon fly wing in there, too. I've got some strange stuff to try if I make more of them, like metal meshes and stuff.
The cabling was the fun part. The cables are a mix of guitar, banjo, and cello strings. I drilled holes in the girls where I wanted the cables attached, held them in palce with super glue, and crammed them into the jars. Easy peasy. The ends of the cables don't attach to anything, but you can't tell that inside the caps.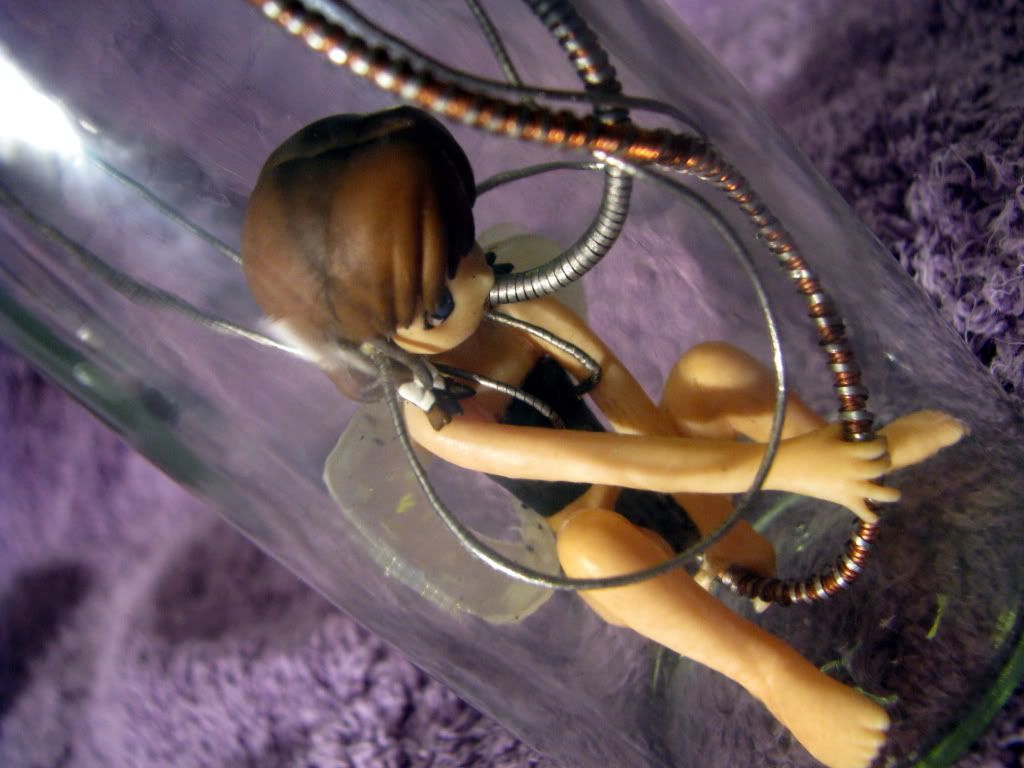 I guess I should also explain the joke (because that
always
make things more funny...). FaeriesHell is supposed to be a play on the brand name, Duracell. Say it like they used to in the old commercials, it'll make sense.
I haven't decided yet if these (or others like them) are for sale or not...