Over the summer I started playing around with making holsters and such from raw leather. These were the first ones I made (after the holster that goes with the Duck Hunt gun).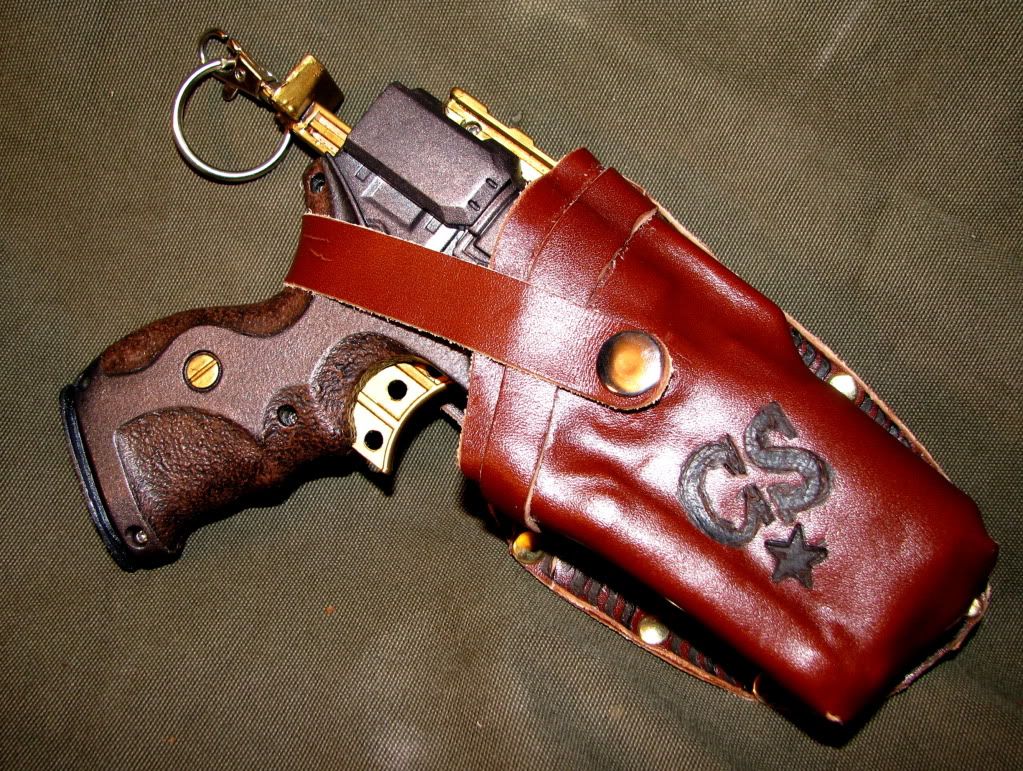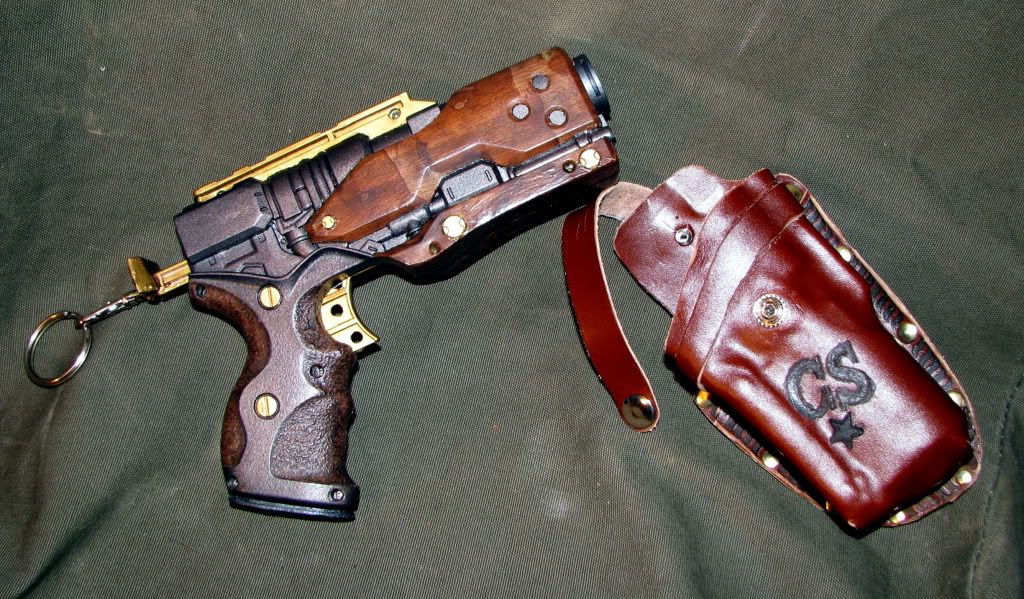 My process is as simple and intuitive as can be. I make a prototype loosly shaped like the gun in paper, and transfer that to the leather with plenty of room to spare. Then I rivet the whole thing together -- I just don't like to sew.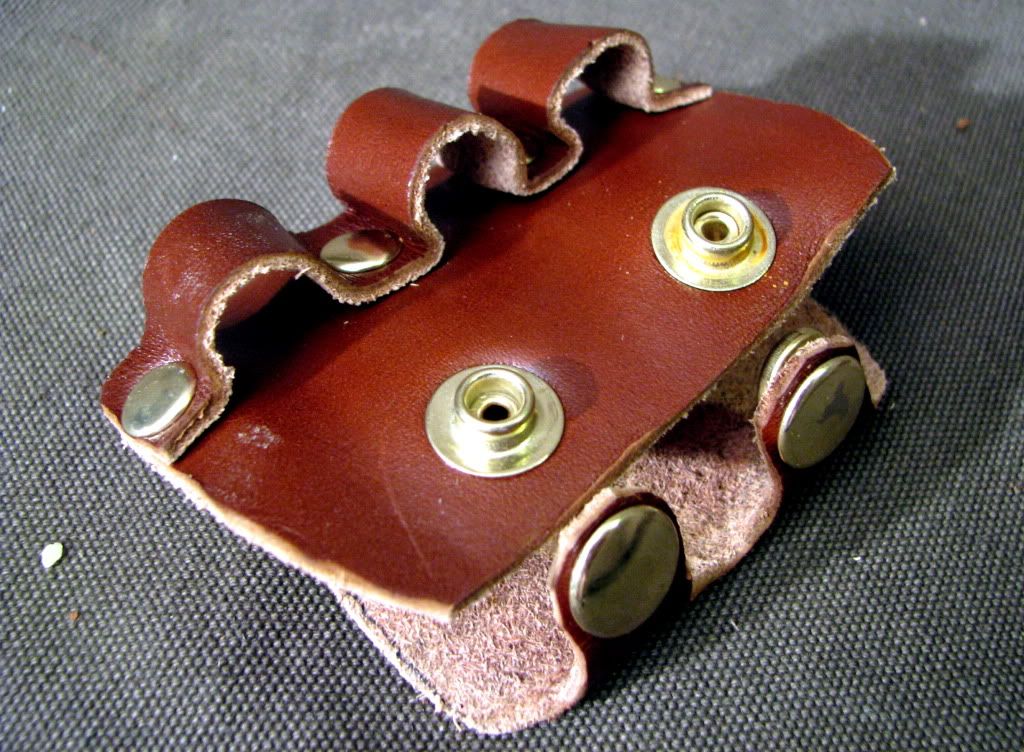 Once I've got the basic holster fitting properly (there's lots of fiddling and adjusting going on while I set the rivets, making that stage as tight as I can) its time for the water soaking. I wrap the gun up in plastic to keep it dry, and set it aside. Then I dunk the holster completely in water for a few seconds and flick off the excess.
I had a lot of fun with this shot gun rig, coming up with the straps for a low thigh holster that also fits my shoulder holsters for the over-the-back carry.
Then I put the gun back in the holster, and work all the folds and creases with my thumbs and fingers. While it sits on the counter drying all afternoon, I go by every now and again and work the folds a bit more. As it dries and shrinks slightly it really starts to take the guns shape. Then when its all dry I go back and glue the edges tight with shoe glue.
After I'd made some for the guns, I figured I needed in-costumes for my every-day items, like a cell phone, multi-tool, and .mp3 player.
After I'd gotten a few simple holsters under my belt, I decided to try something nutty. I had this old pair of combat boots laying around with a few big holes in them, and my wife had mentioned wanting some spats, so...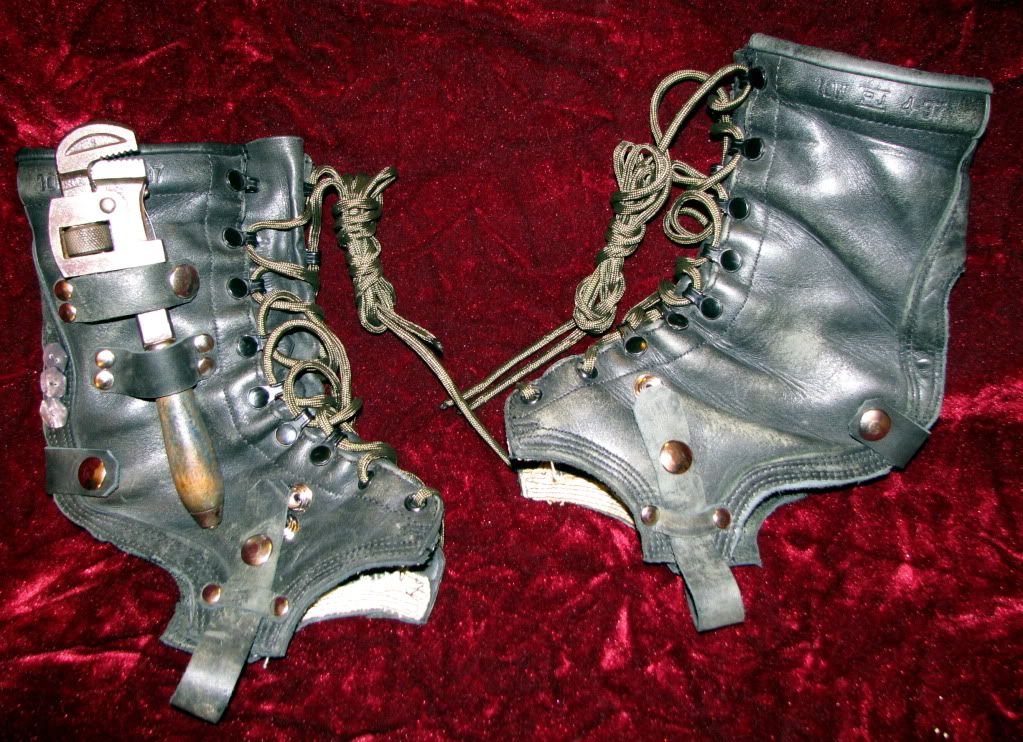 There are a few buckles secured with snaps to get them on and off. The fit is pretty much set to her feet, though strangely I can wear them myself as an elbow brace (interesting, as I've shattered one elbow and dislocated the other over the years...) I even gave her a little loop to hold her pipe wrench!
I like this leather working thing, and aim to do more of it. I'll probably have to learn how to sew at some point....