DragonCon 2009 Posts:
DragonCon 2009 - After Action Summary, Thrusday and Friday
DragonCon 2009 - After Action Summary, Saturday
DragonCon 2009 - After Action Summary, Sunday and Monday
DragonCon 2009 Costumes: Super Heroes
DragonCon 2009 Costumes: Star Wars
DragonCon 2009 Costumes: misc.
DragonCon 2009 Costumes: SteamPunk
DragonCon 2009 Gun Babes
DragonCon 2009 - The Ladies of DragonCon
I'm not even going to try and blog every single picture I took, so here's a link to the big photobucket with all my DragonCon 2009 photos.
A Note On Picture Size
--
Photobucket doesn't make it as convenient to make the pictures links as they used to. It can still be done, but I don't feel like going back through and making all these pics links. That said, the images as posted are full resolution, the size is just reduced in the HTML. What that means to you is, if you want the pic full-size just Right-Click and Save or View Image. Either way, you'll get it full-size.
I'm not even going to try and blog every single picture I took, so here's a link to the big photobucket with all my DragonCon 2009 photos.
Saturday
Ah, Saturday, that fine morning when everyone at the con rises early, puts on their finest, and struts in the parade or just goes to watch... everyone, that is, except the 20-somethings and anyone else out too late partying the night before. Suffice to say, we missed the parade this year.
We spent most of the day stimulating the economy -- buying pieces of costume, toy guns, little Japanese figurines, stuff like that. I picked up a new little treat
from my favorite miniature terrain company,
The Miniature Building Authority
, from their new High Adventure line:
Its a sweet little piece, and will make a good anchor for the pulpy adventure type gaming I'd like to drag some folks kicking and screaming into.
I also picked up a new shirt Saturday morning. I had planned on doing the dress-up thing Friday and Sunday night, and just kicking it casual on Saturday, but I was too excited for that. I don't remember the name of the outfit I got it from, but I picked up another cross-buttoned cowboy shirt down in the dealer's room. Here's someone else's picture of what I looked like that afternoon/evening with all the fixin's:
At some point I found our little lost lamb of doom, Genni. Her convention adventure was such a monumental clusterfuck that I hesitate to recant it here. Suffice to say, if you ever want to know how to scientifically minimize your fun at a convention do it like she did. I'm amazed she's talking about going back.
The need to keep the troops fed lead to our first goofy celebrity encounter of the con. Jacob and I had been sent downstairs to fetch various foodstuffs, including but not limited to mayonnaise for my wife's tuna fish. The only place to get any was the hotel gift shop, which also sold salads. These salads were presently attracting the attention of
Malcolm McDowell
, and
blowing his friggin' mind
. If you hadn't known him as the face of malevolence for two generations of genre cinema, he'd have come off as someone's dottering grandpa, confused at the prospect of salad and dressing sold together despite their placement on different shelves. It was cute, in that, "don't make me smack you kids with a giant ceramic penis," kind of way.
Anyway, once we'd gotten her properly fed Mrs. Utini rejoined the fray in this lacy little black number: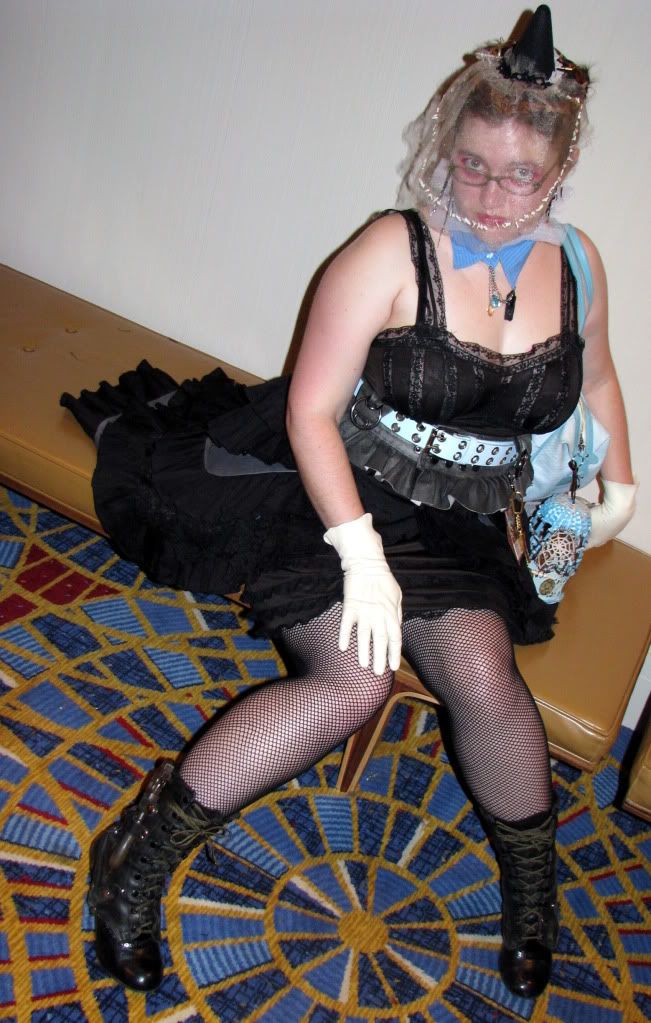 Saturday night is pretty much the big night of the con. Sure, people are flush with excitement on Friday, and trying to wring out the last drops of fun on Sunday (actually, I really like the "last round, fight!" vibe of Sunday nights) but Saturday night its friggin' everybody, full tilt all out bat out of hell partying. Here are some of the friends we ran into, and another good quote from my chronicler:
Jason was tromping around in his steampunk renegade gear, a pipe-chomping frenzy of photography darting around the lobby like a brass-festooned dervish that was also a flashing pinball with ADD.
--
Luggagemonkeys
Me with
Maloy
and her boyfriend
Dolph
: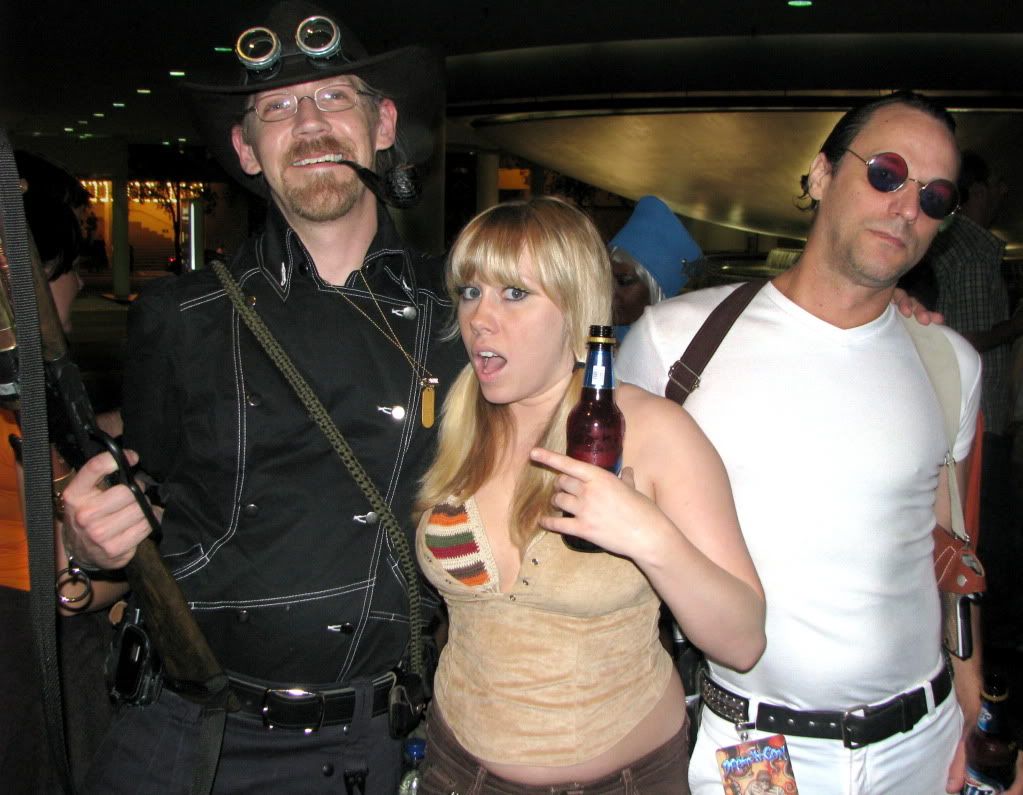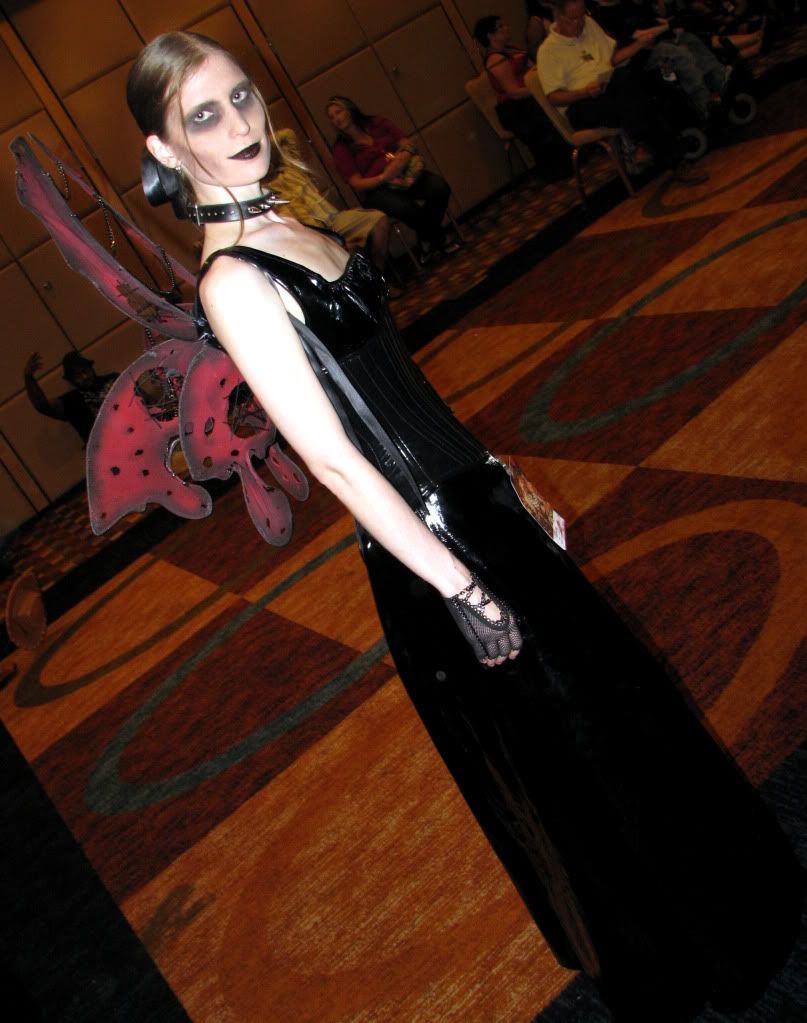 I love her smile... she should be a baby sitter.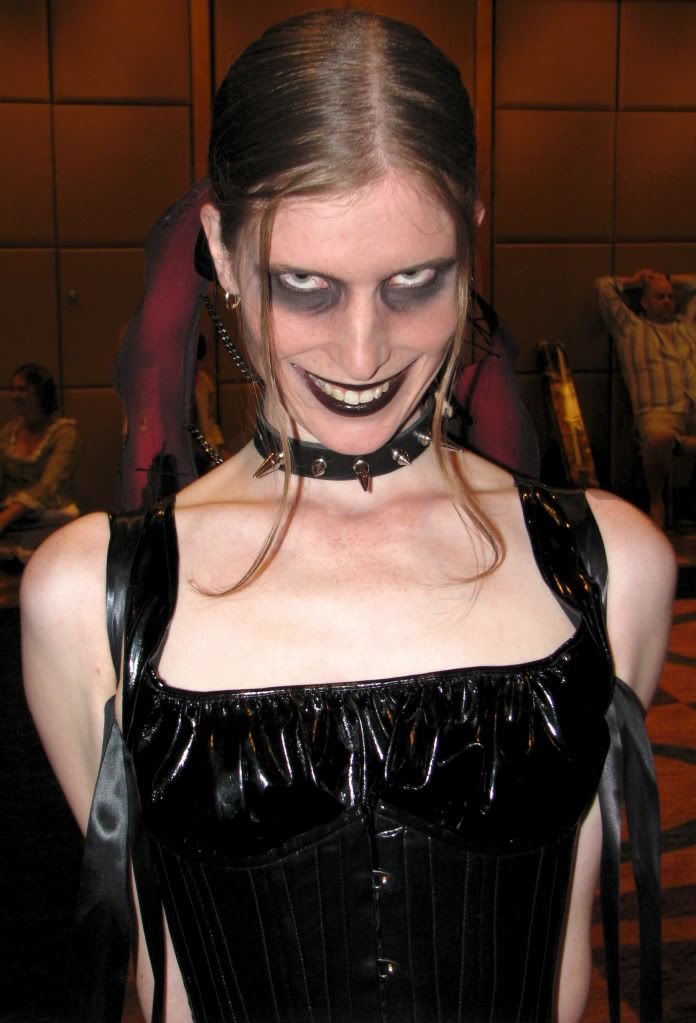 At some point in the evening, which chillin' out with my Chronicler, he was attacked by Harley Quinn!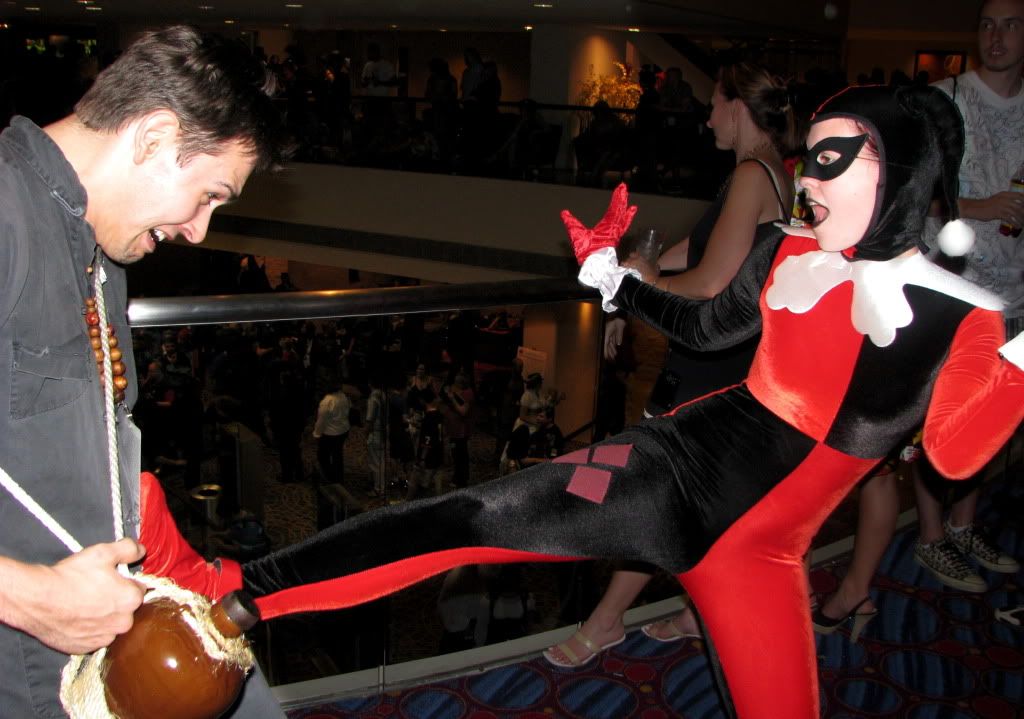 But it turned just to be his
fiancée
.
She was a popular girl that evening. One complimenting admirer went so far as to call her, "the
real
Harley Quinn.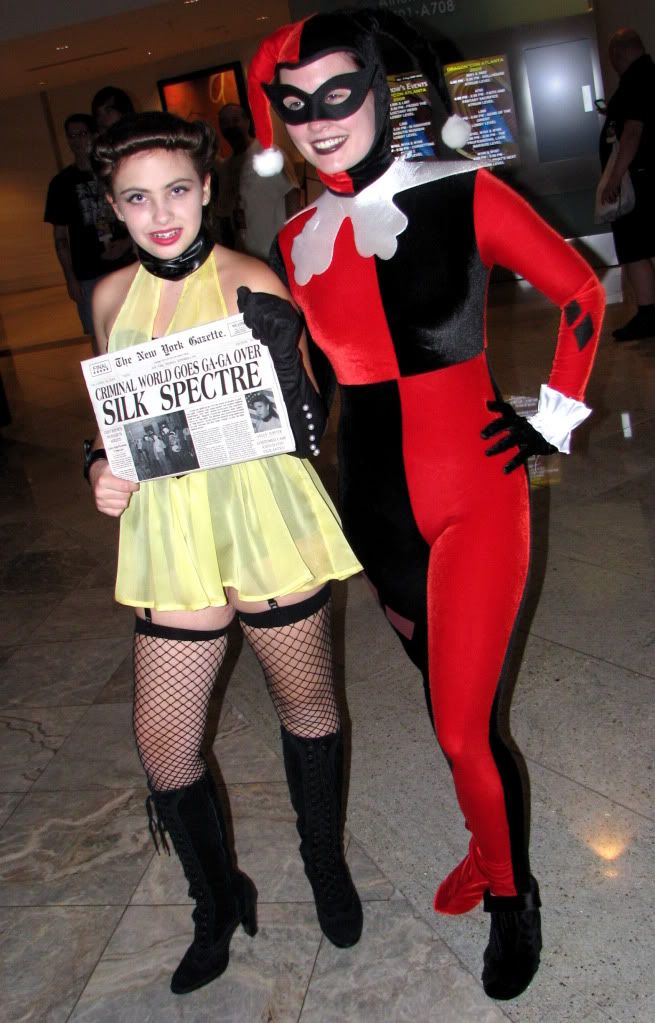 It was at some point in this vague, ill-defined time period that we had our next
close encounter of the celebrity kind. Weaving his way through the crowd in a cut off t-shirt and do-rag, a dark and swarthy character caught our eye. After Luggagemonkeys drew my attention to him, we both moved through the crowd to flank him and get a positive ID. As I broke into his line of sight, I asked as if I'd half-recognized and old class buddy, "Lani?" His reply was a curt nod, a murmured, "ya," and a look that said, "You, fan boy, have in fact seen through my clever disguise and recognized me. More over, you are neither of these hot blonds I've got on either arm, so fuck off."
I had just been dissed by
Lani Tupu
,
Farscape's
Bialar Crais.
That put a little spring in our step for a while.
After that, it was more people watching. In retrospect, it occurs to me that all I did this Con was people watch. I went to a few shows, but other than that I didn't do
any
of the scheduled events, no panels, no room parties. I just worked the crowd for a few days. I think this might have had something to do with just how retardedly long the lines were this year for fucking everything this year...
But that running around was good fun, because I was with several of my favorite people! I never actually took a picture of Jacob this year, despite logging several hours as wingmen. But if you keep your eye open, he does show up in the background of a lot of pictures.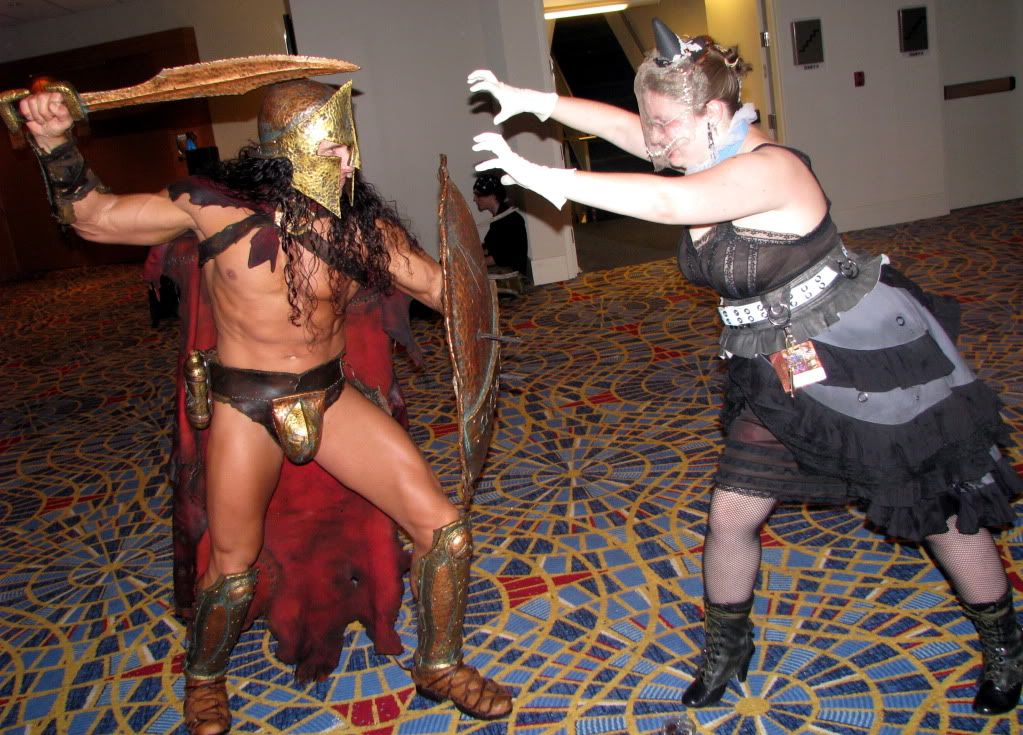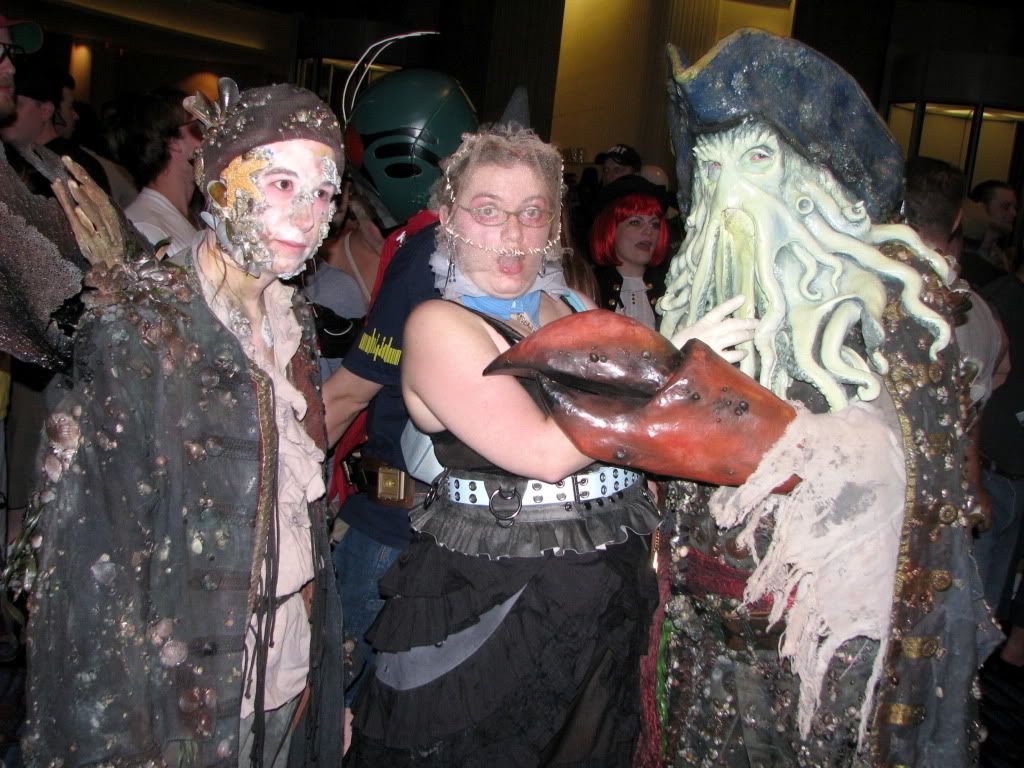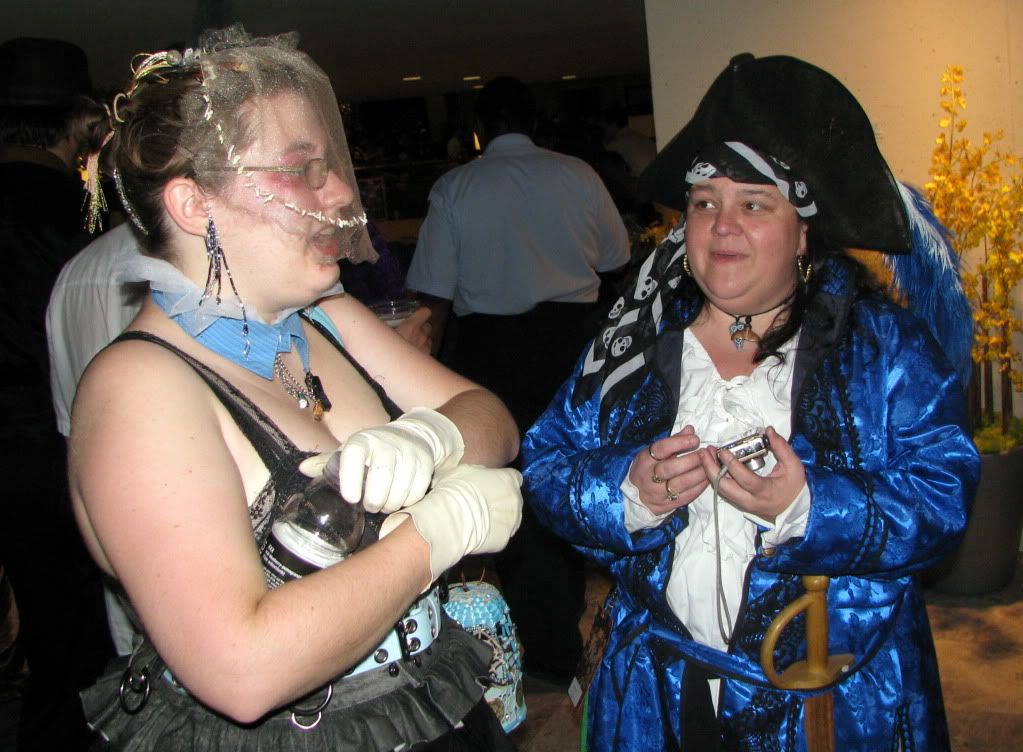 Saturday night, I finally found Andi! Should have known I'd find her loitering around before the Cruxshadows show (which I missed, not sure why.) When you look at this picture, you should feel fear. She can leave scars, man.
One show I
did
make it to was the rave thrown by
Secretroom
.
They do something pretty much every year, and while I have no idea what these folks do most of the time this year it was really something: A Star Wars themed burlesque show.
DJ Nemesis spun dressed up as Princess Leia, spinning while various dancers got up on a pair of raised platforms on the stage.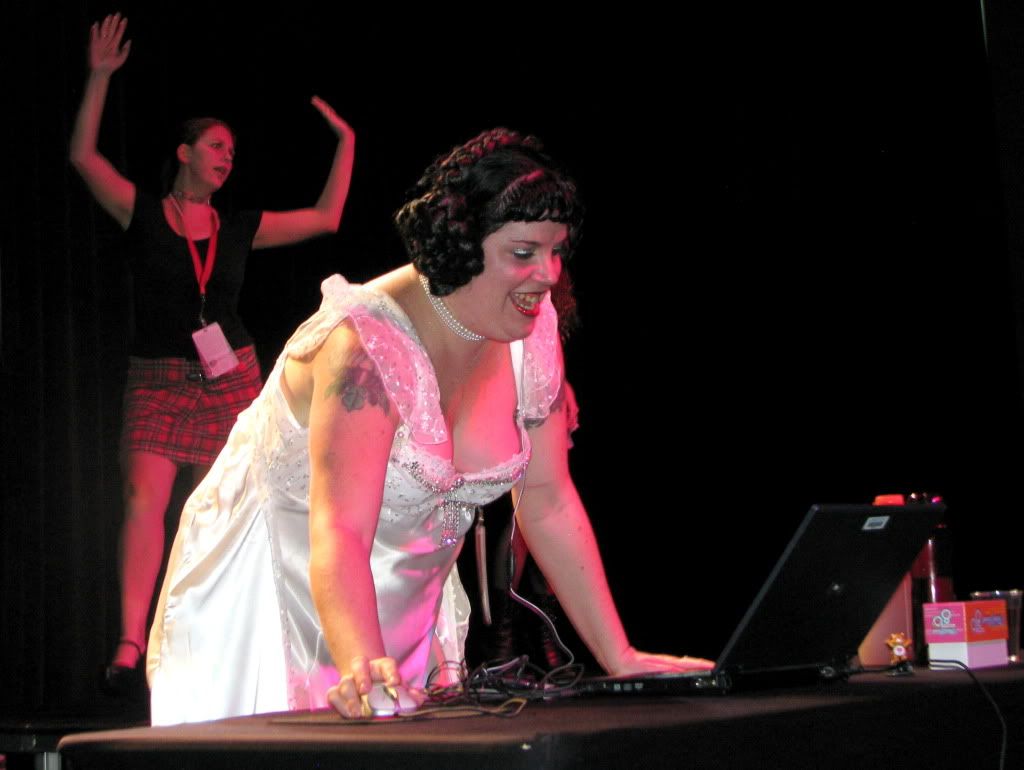 The dancers were really what caught my eye (I've got more pics that may go up later, elsewhere)...
(or, just look in the damn photobucket)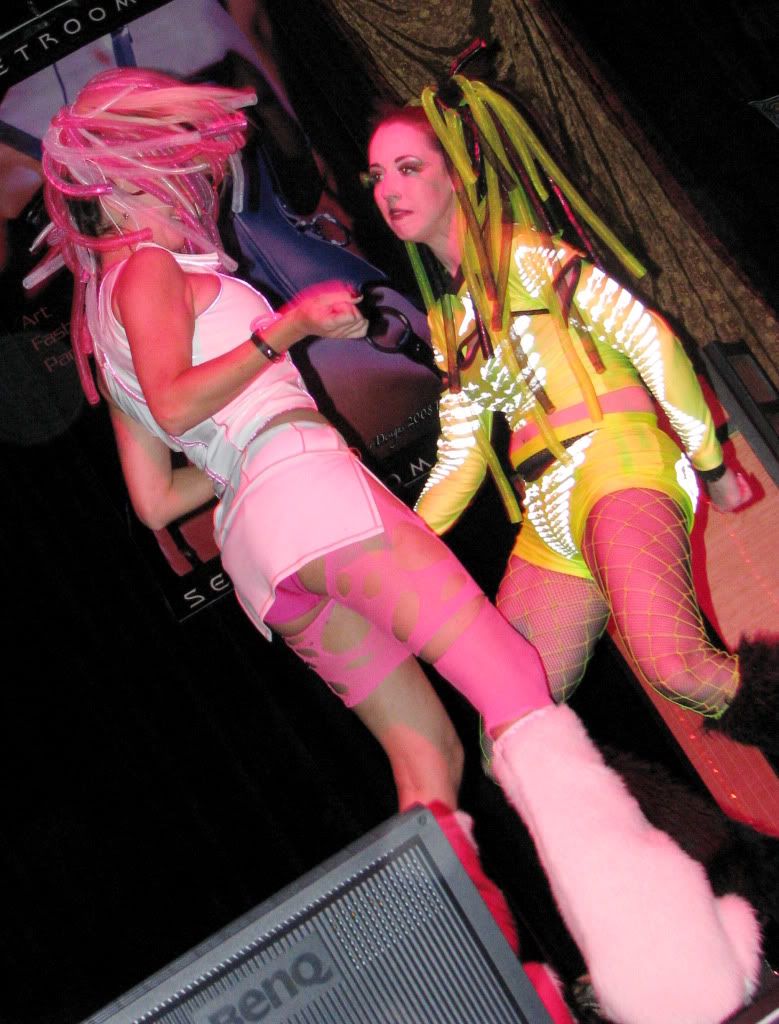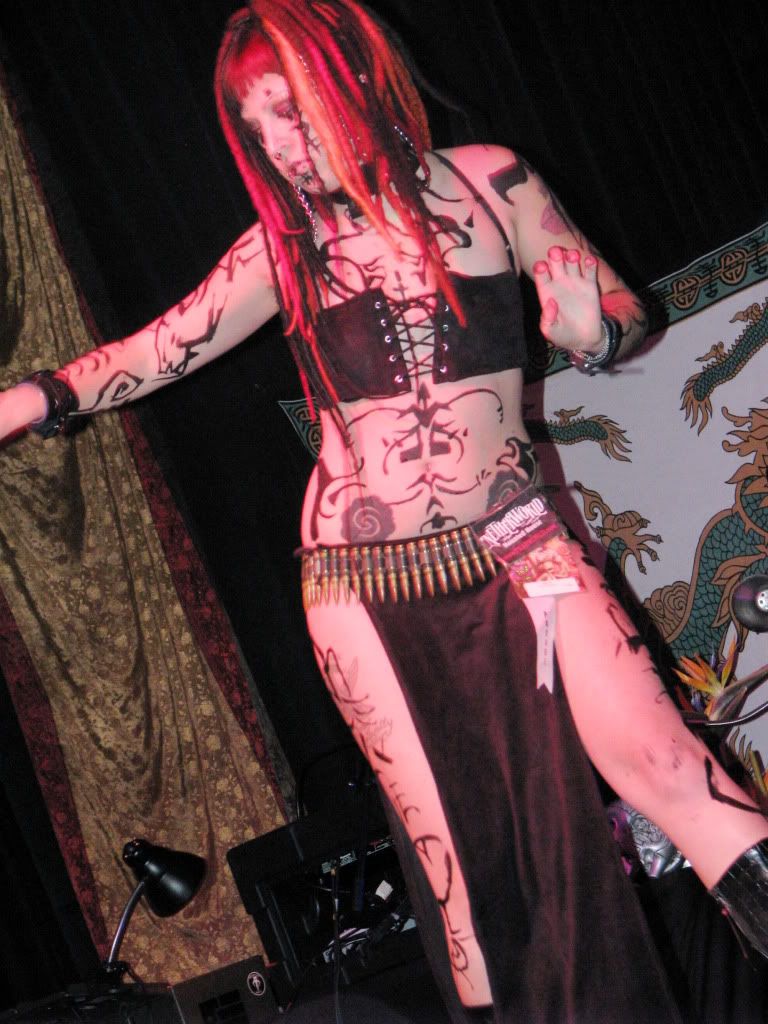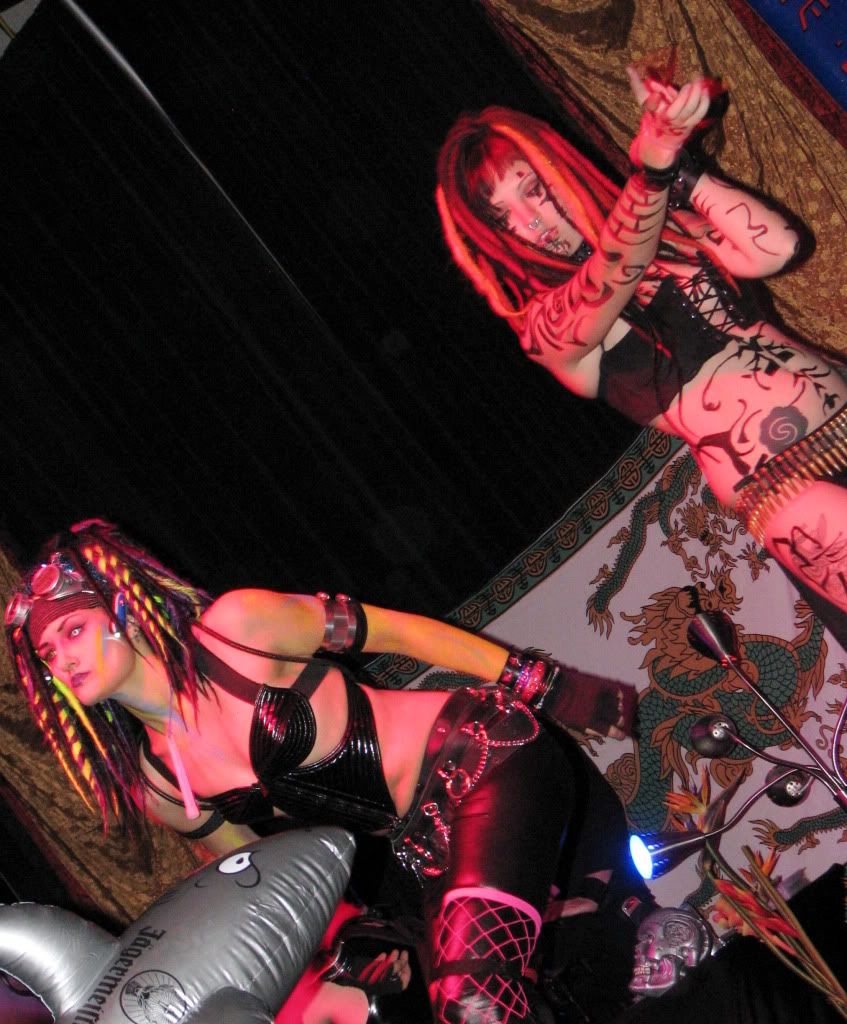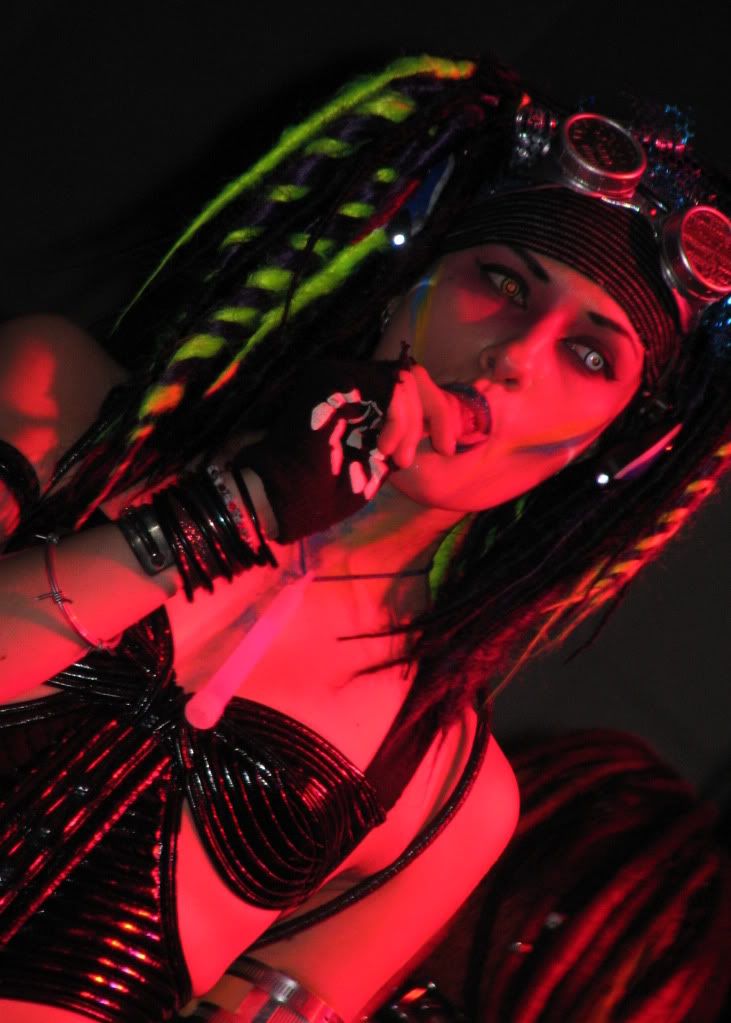 Seacret room brought in a few "special guest" dancers, too.
Defenzmechanizm
was dressed up as a yummy-yummy Twi'lek: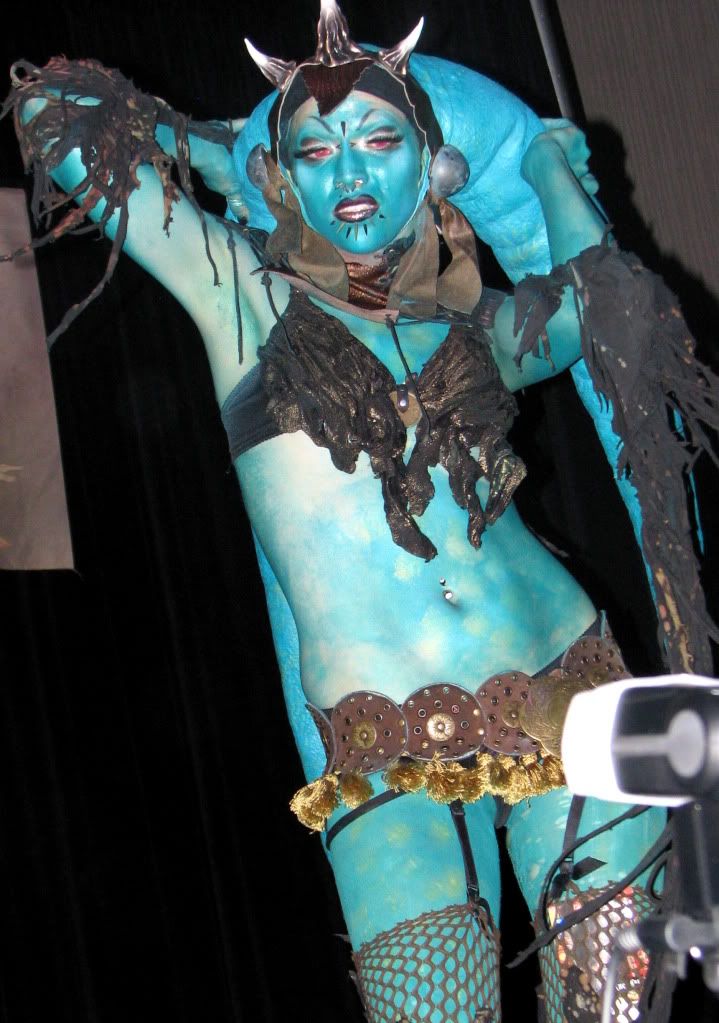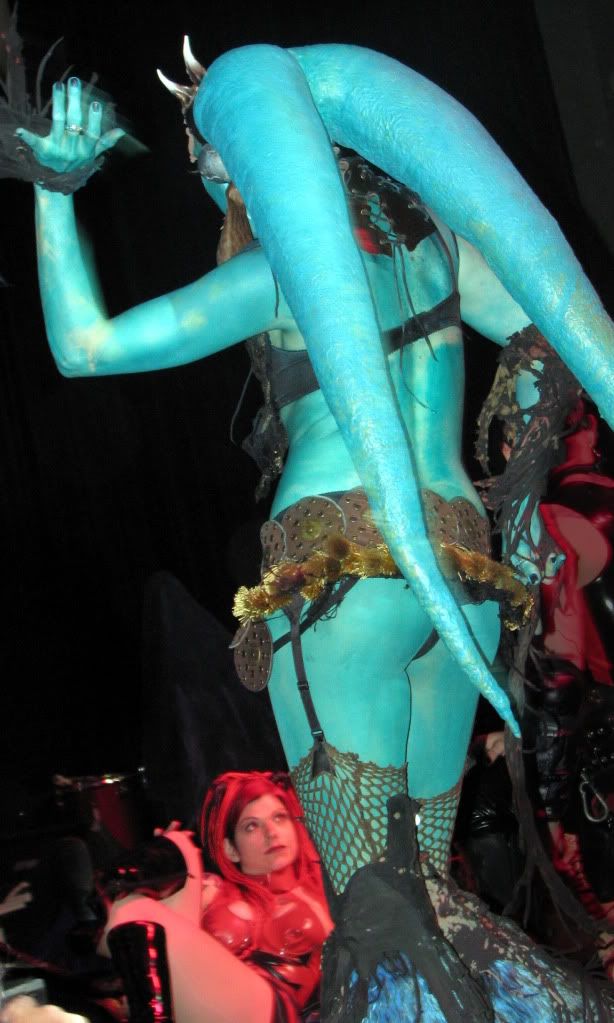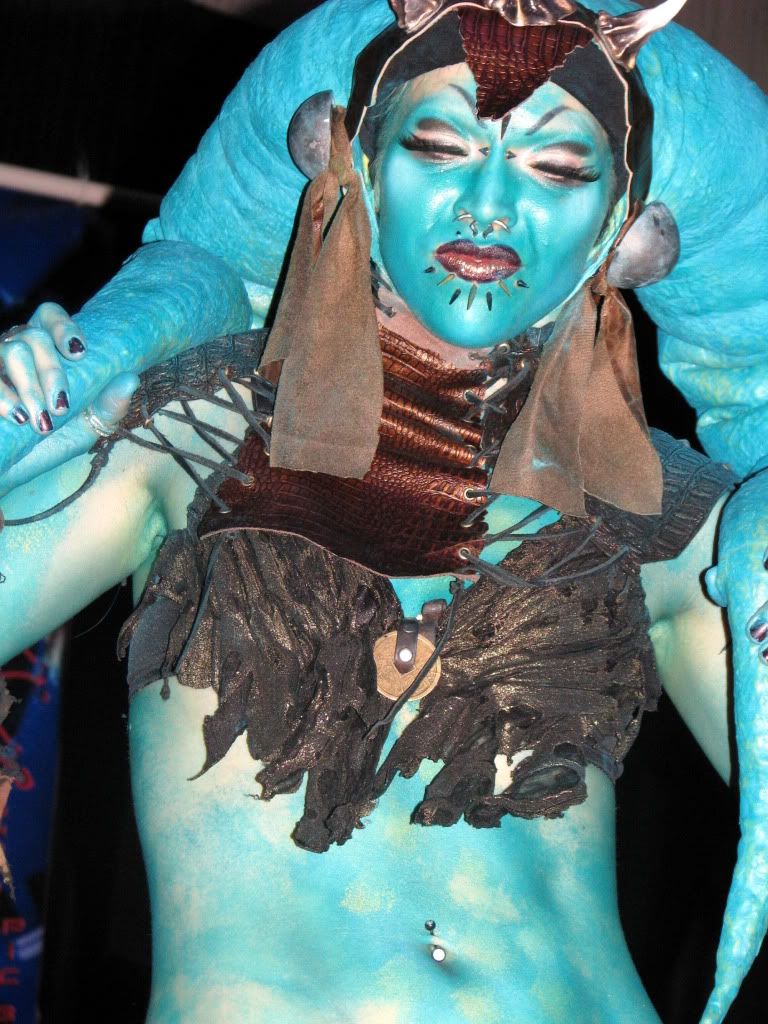 Alisa Kiss and a few other girls did the Slave Leia thing...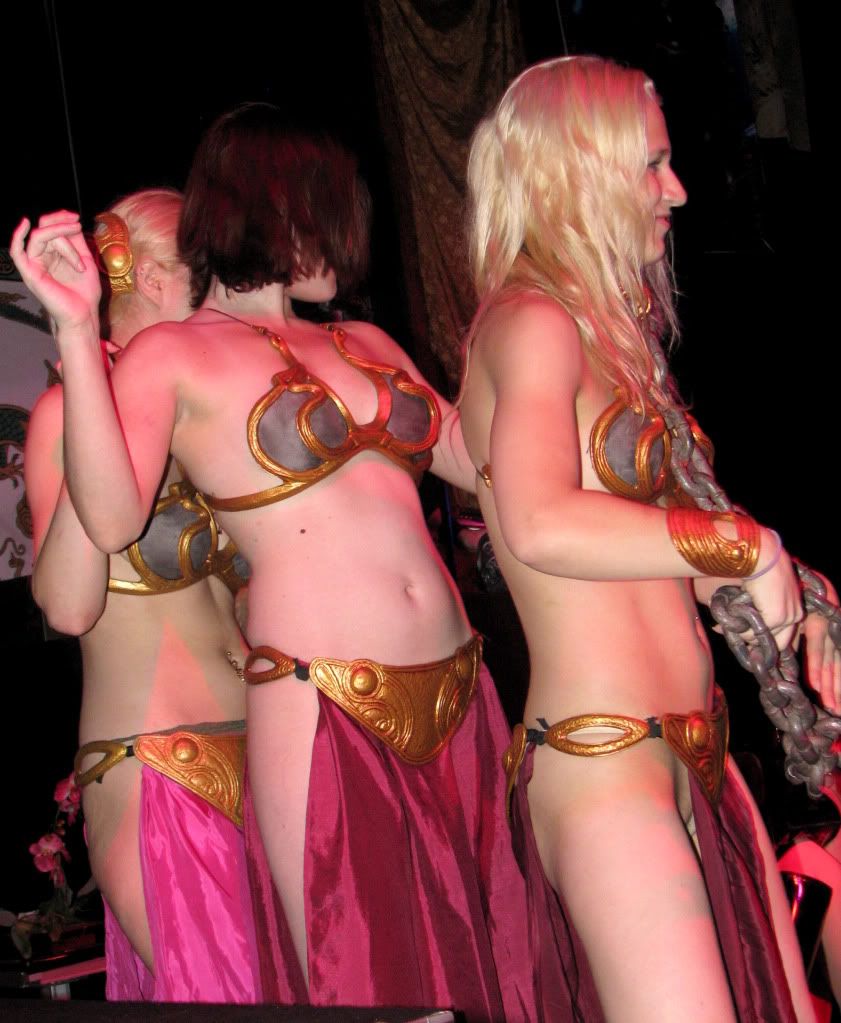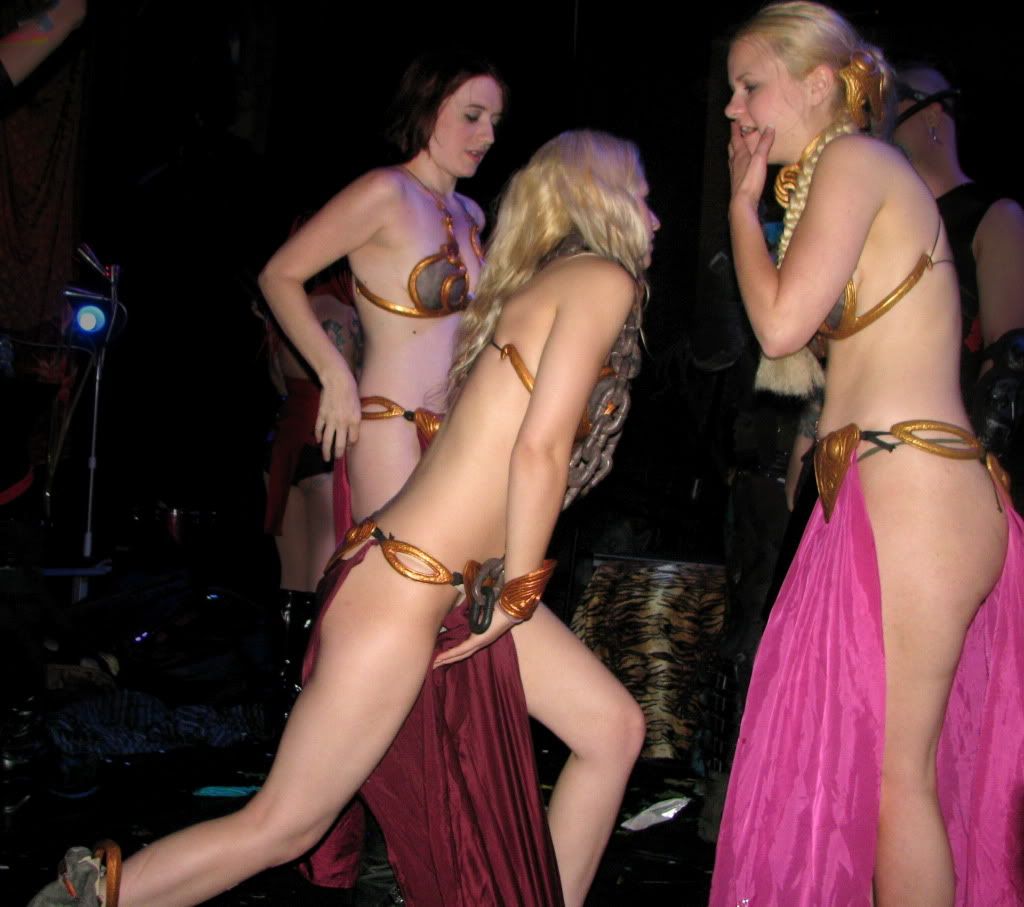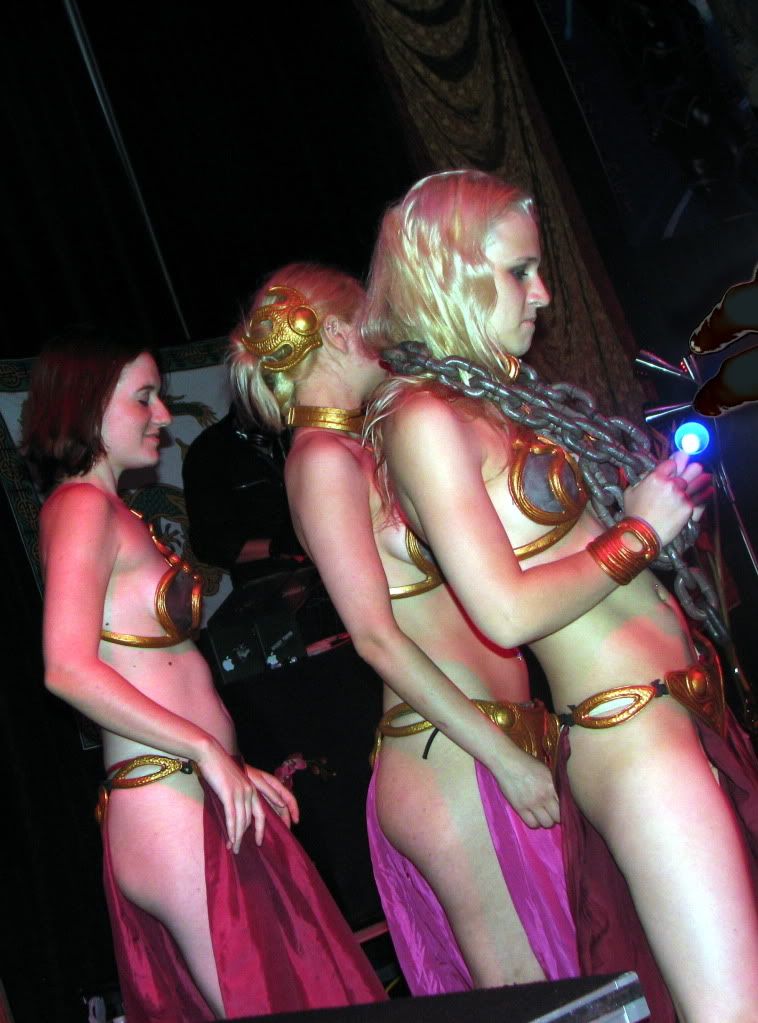 And they even had Gia Nova as a green Orion slave woman!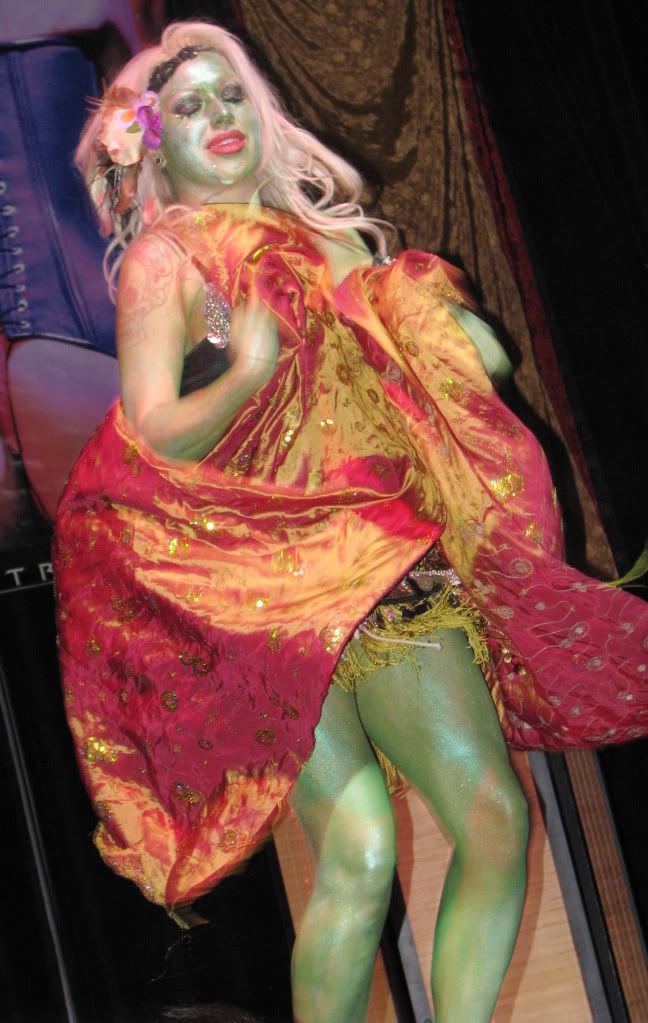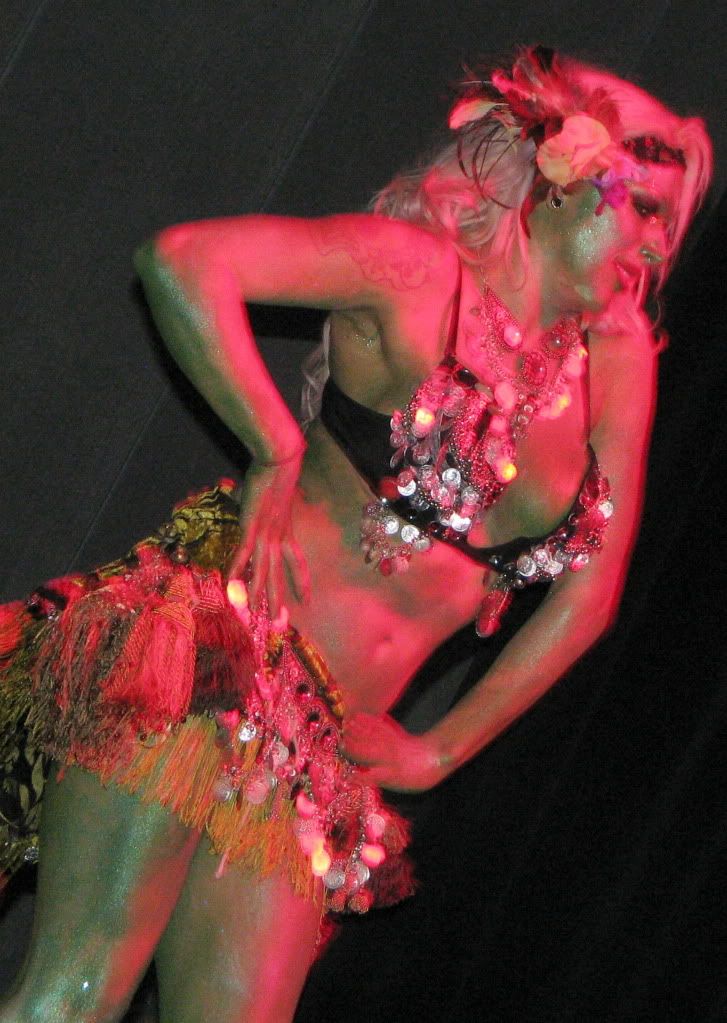 But the climax of the show was, without a doubt, Baunfire as a Sith Domme. But they had to get the crowd ready for her first, you see. So they rolled out the one character guaranteed to get everybody in the mood: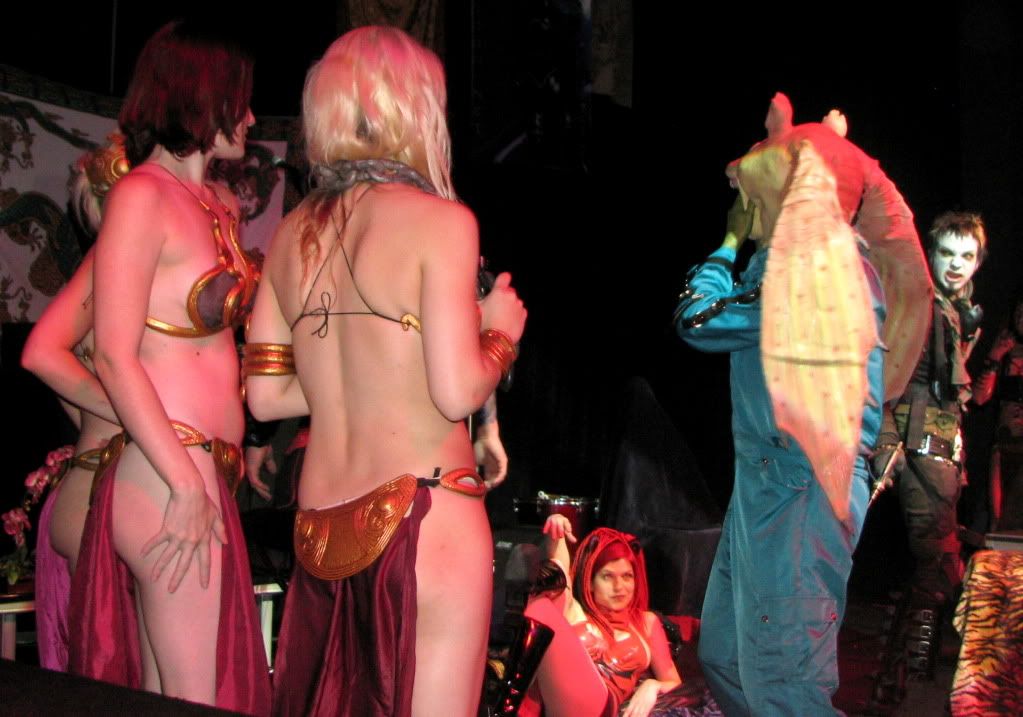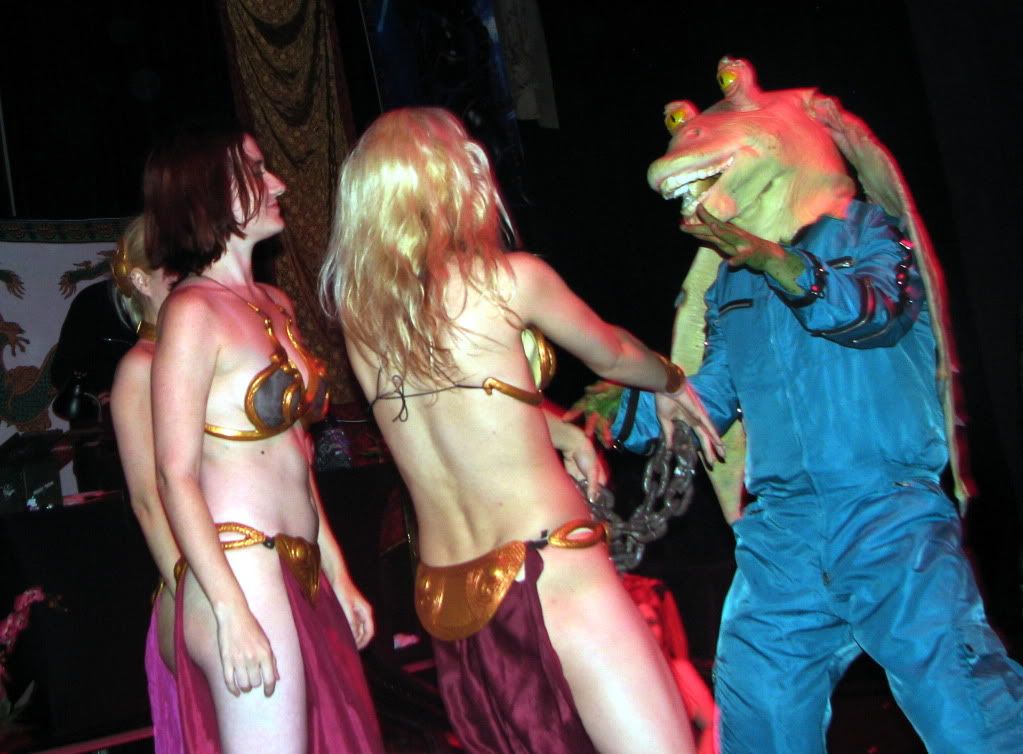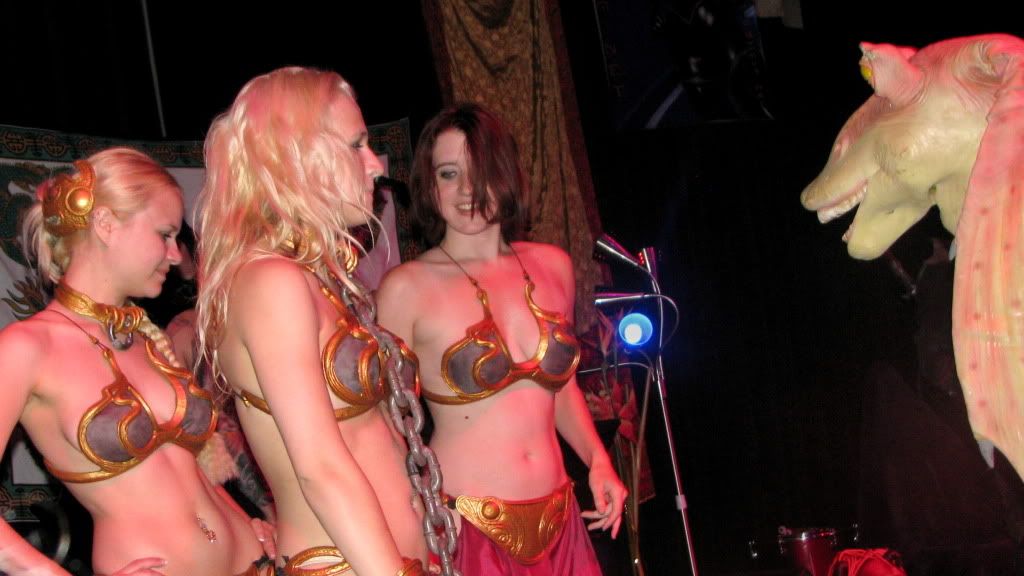 You gotta hype the room...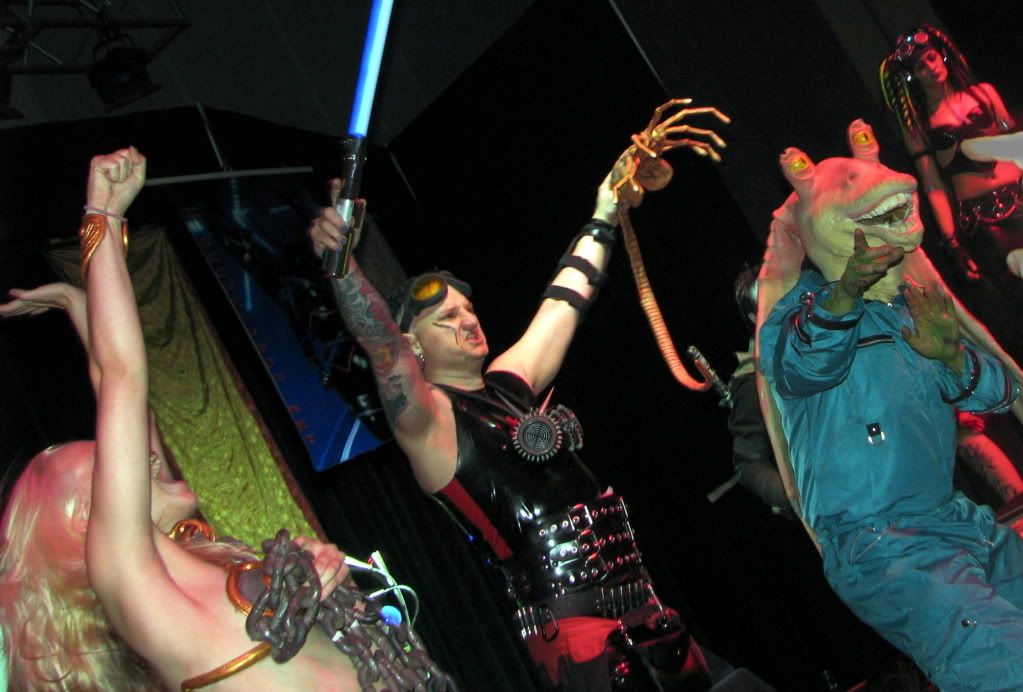 You can just see Baunfire over his shoulder...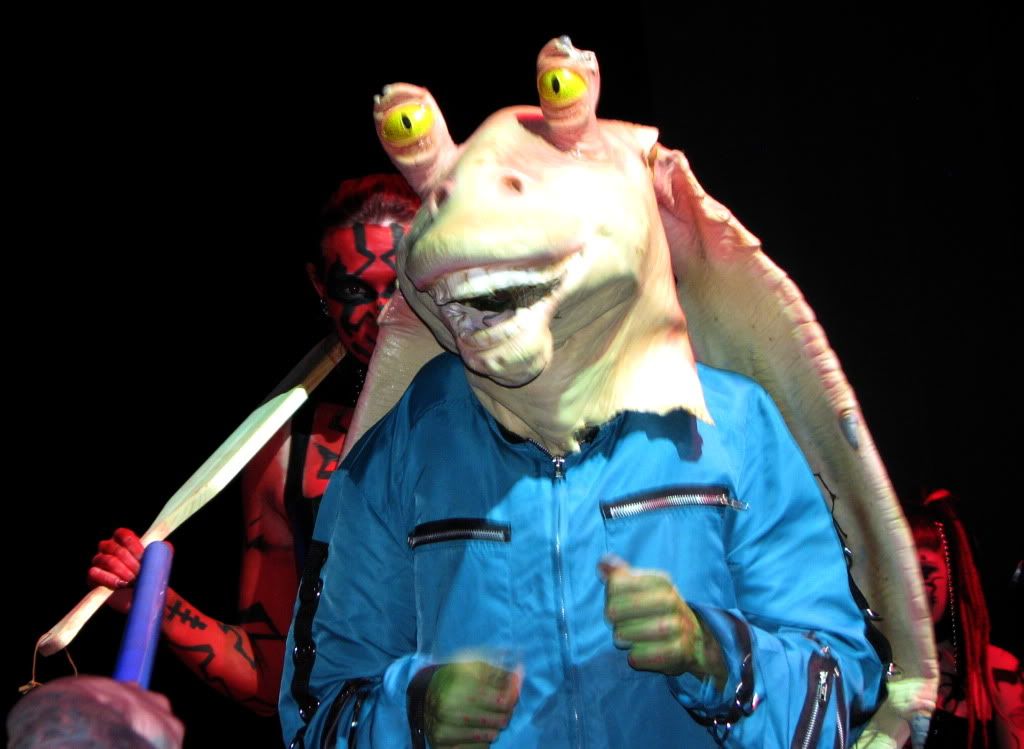 She showed everyone what she had in mind...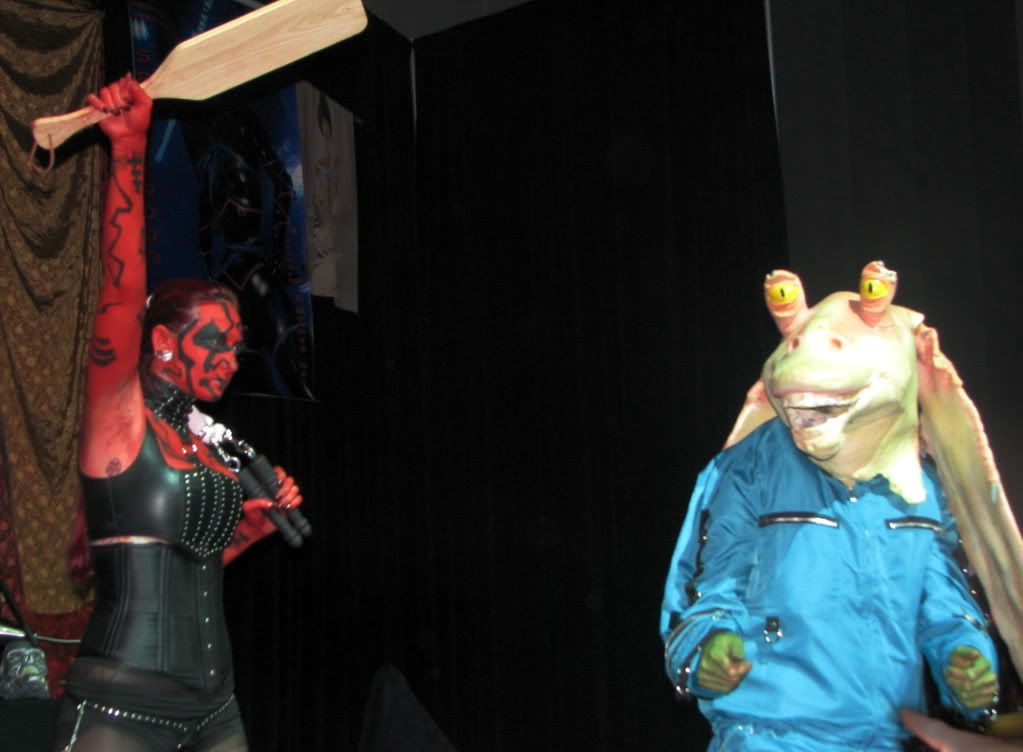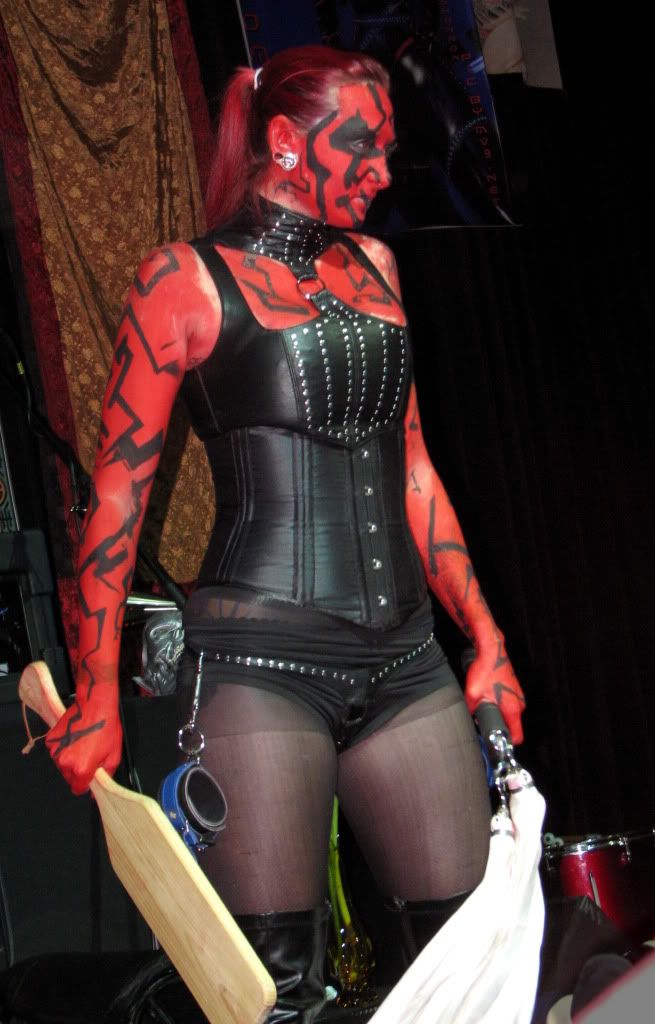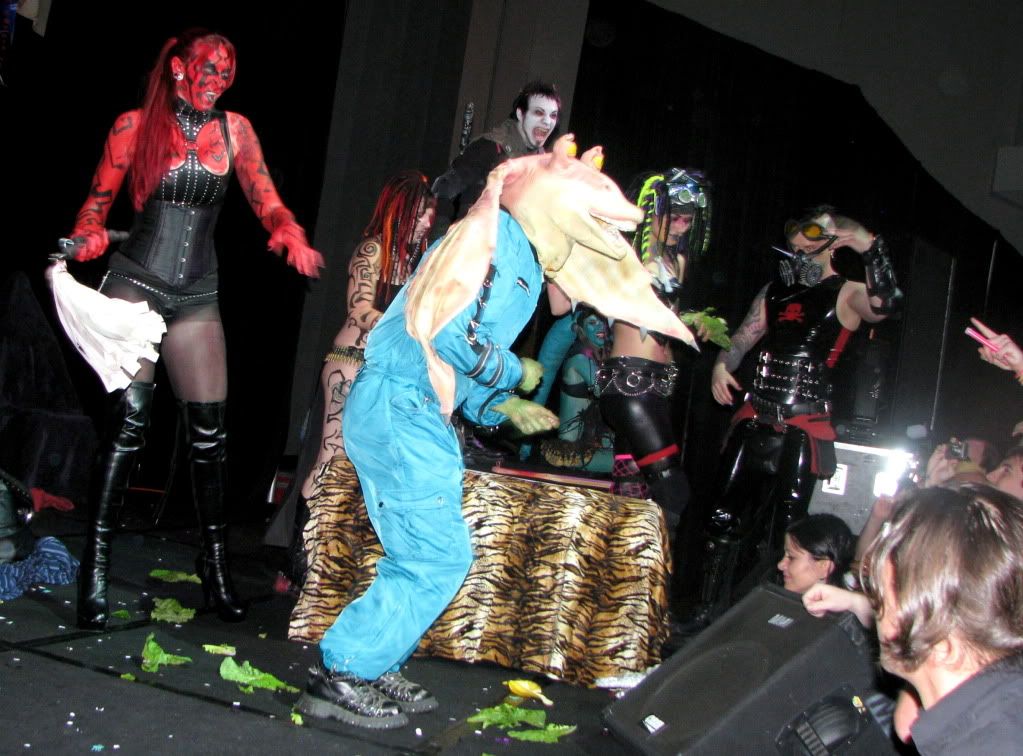 Then she got to work!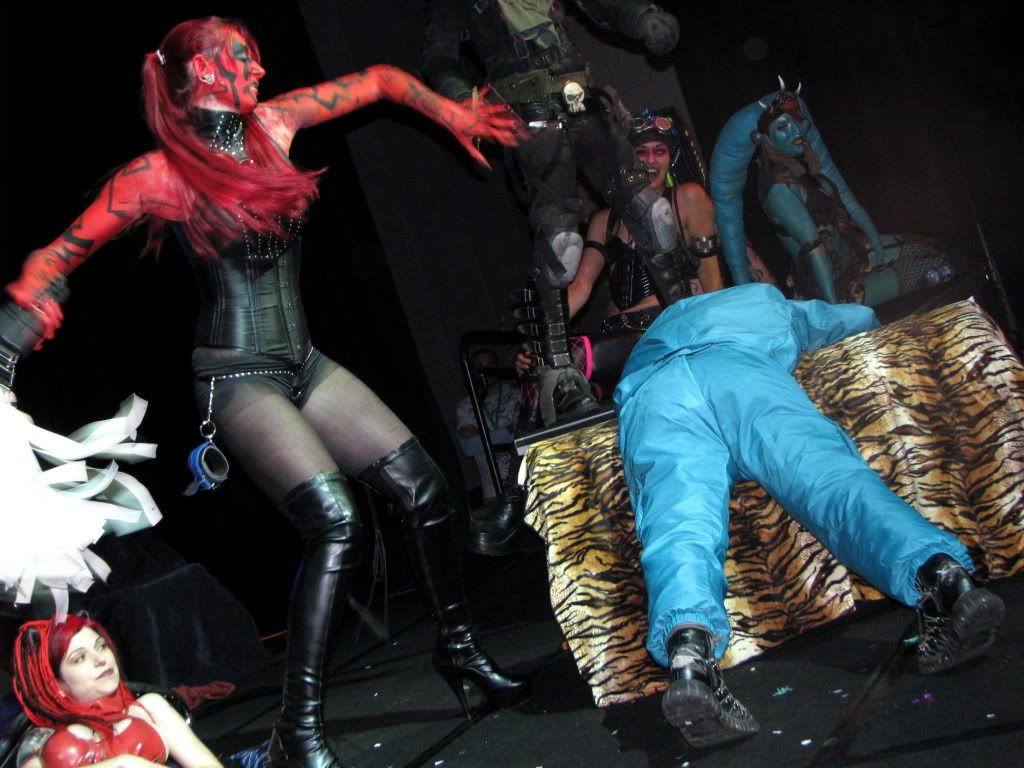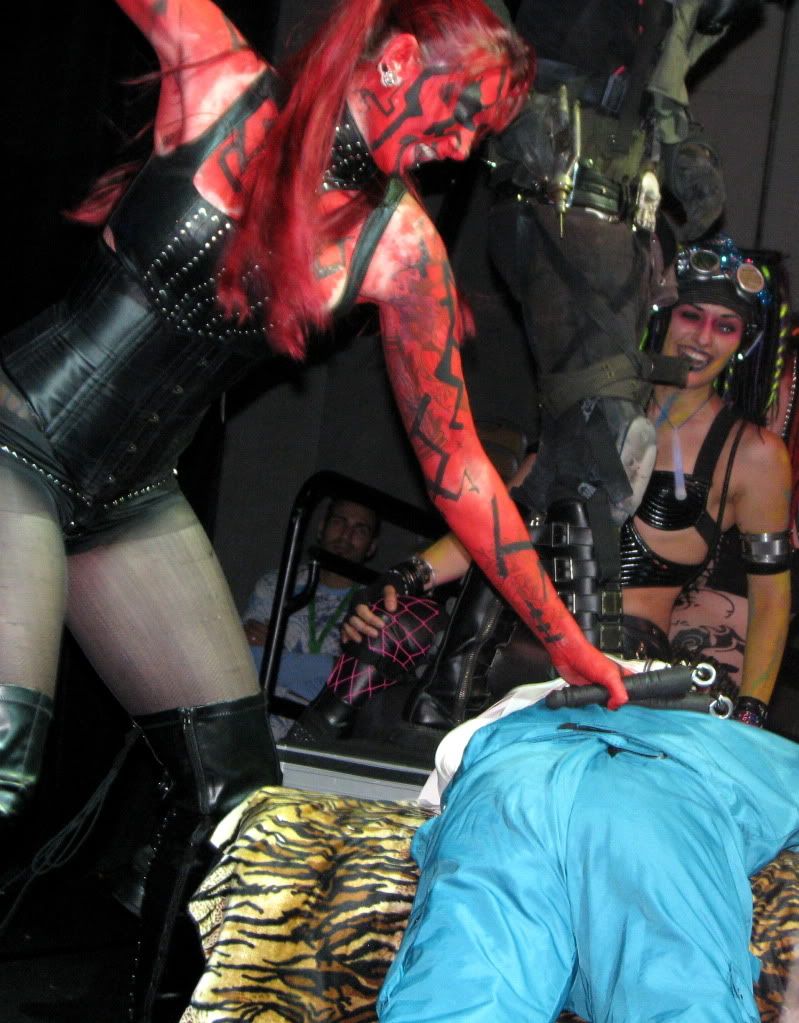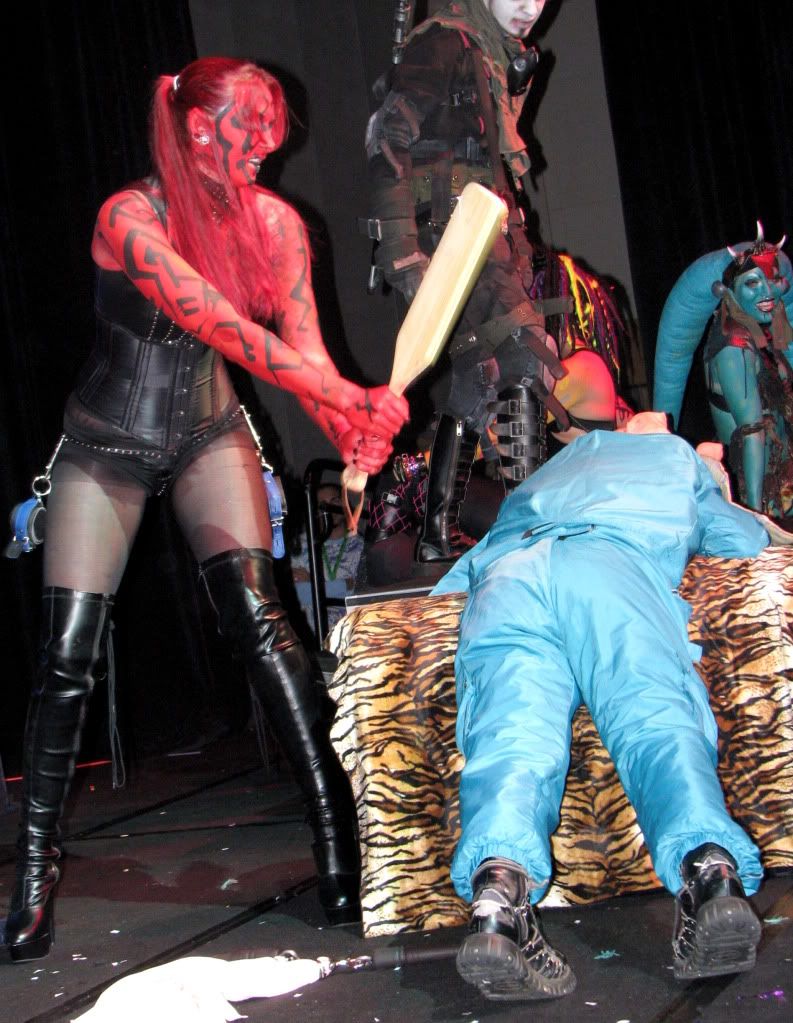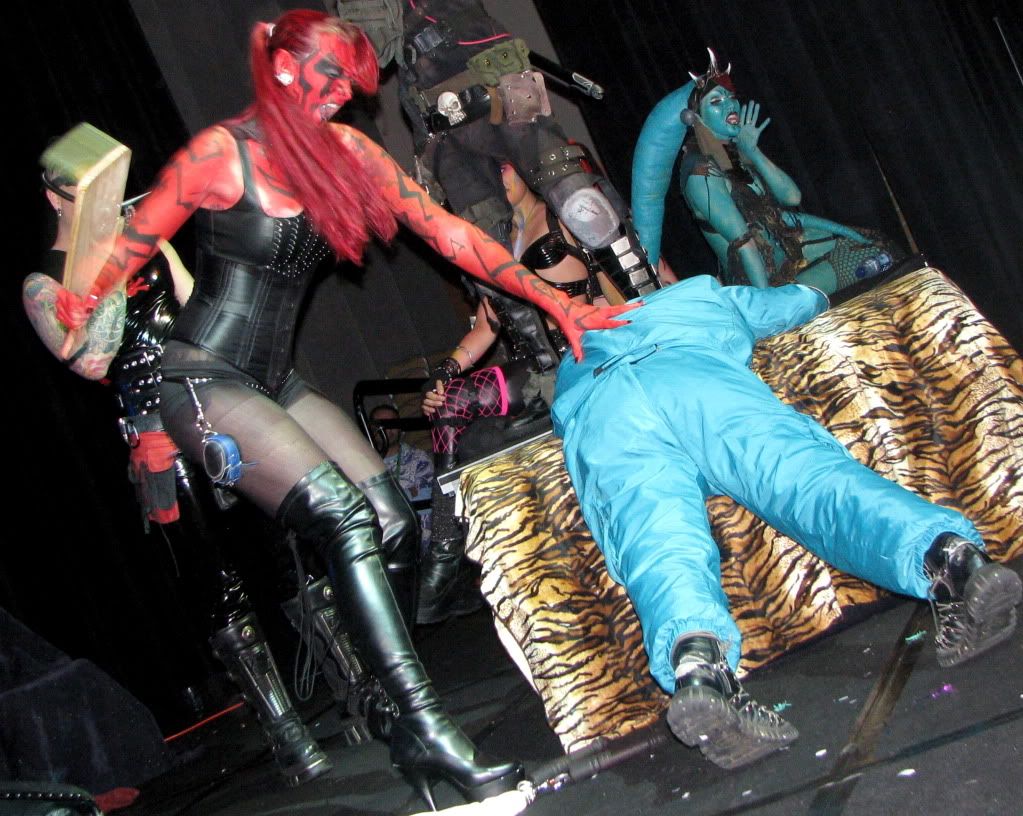 Finally, they brought her a (toy) saw...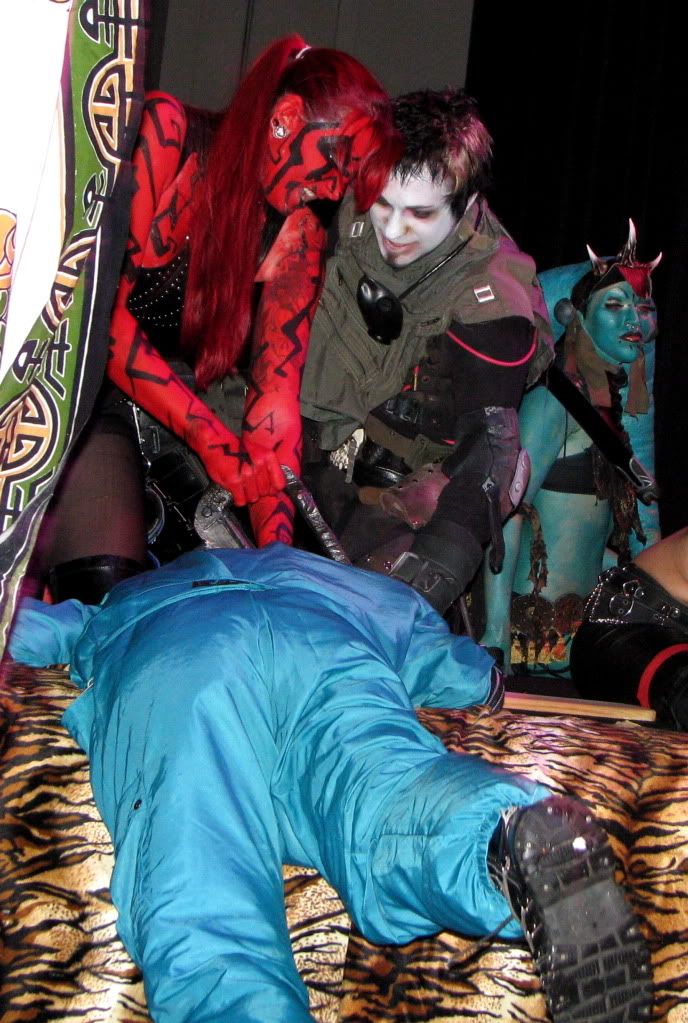 Now, that's what I call a show!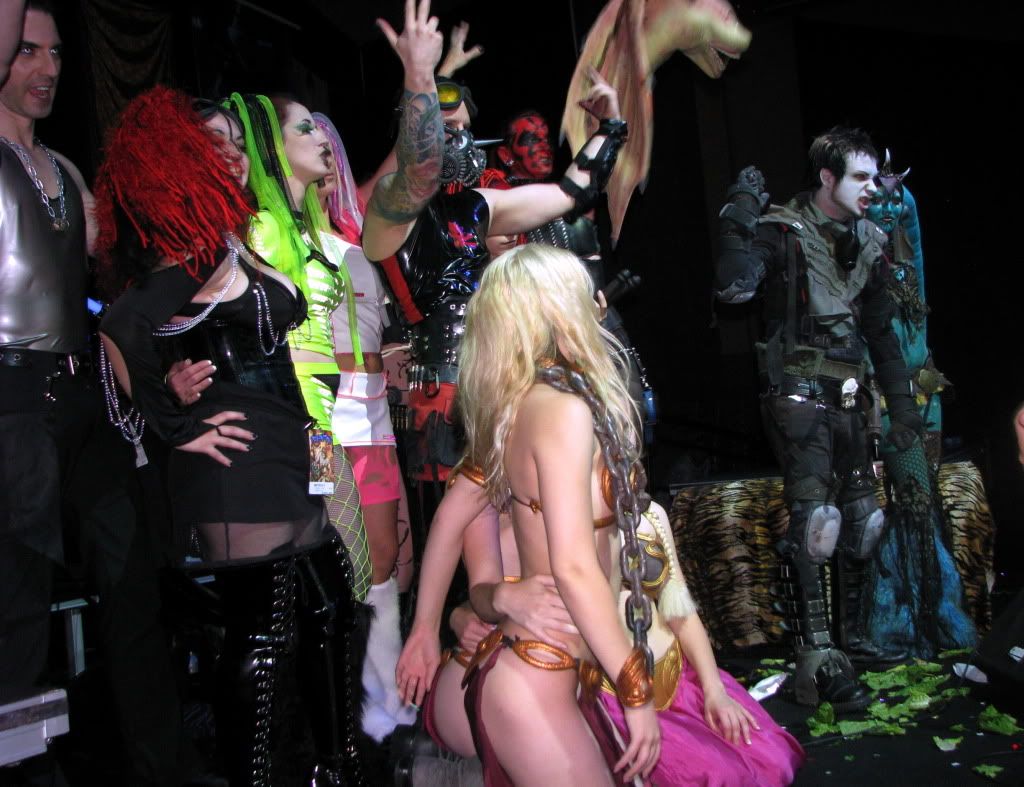 After that, the show over but the DJ still spinnin', it kind of turned into amature night on the go-go tables -- not that I'm complaining! You'll see a good bit more of this when I post the "Ladies of DragonCon" but here's a quick shot or two: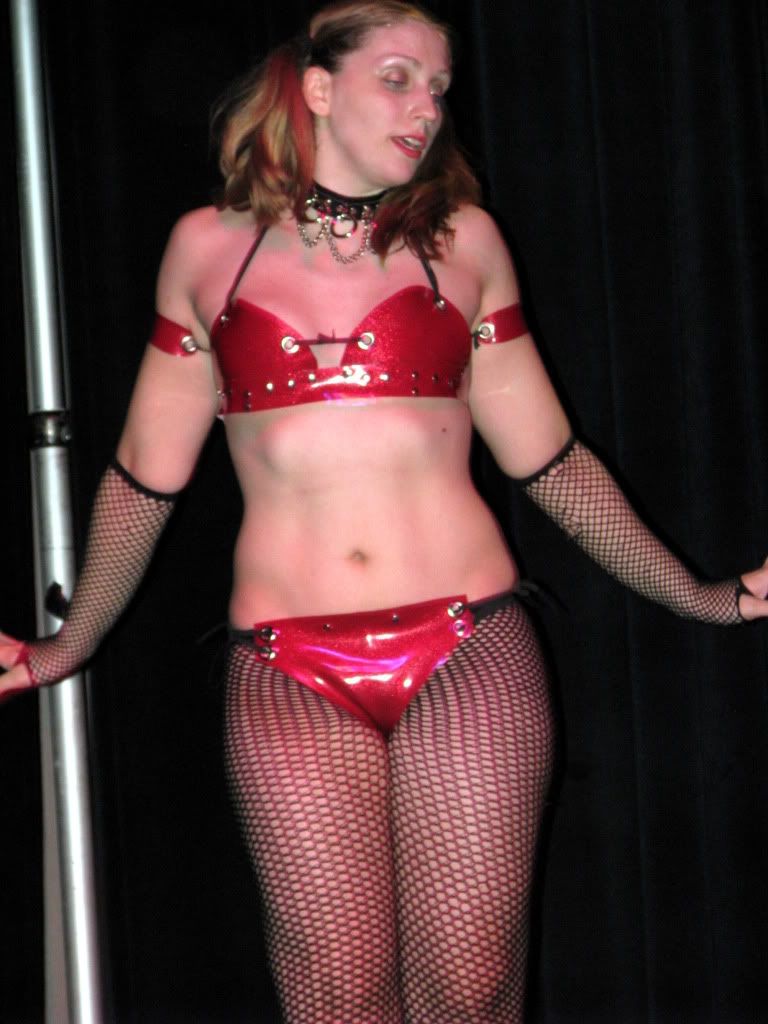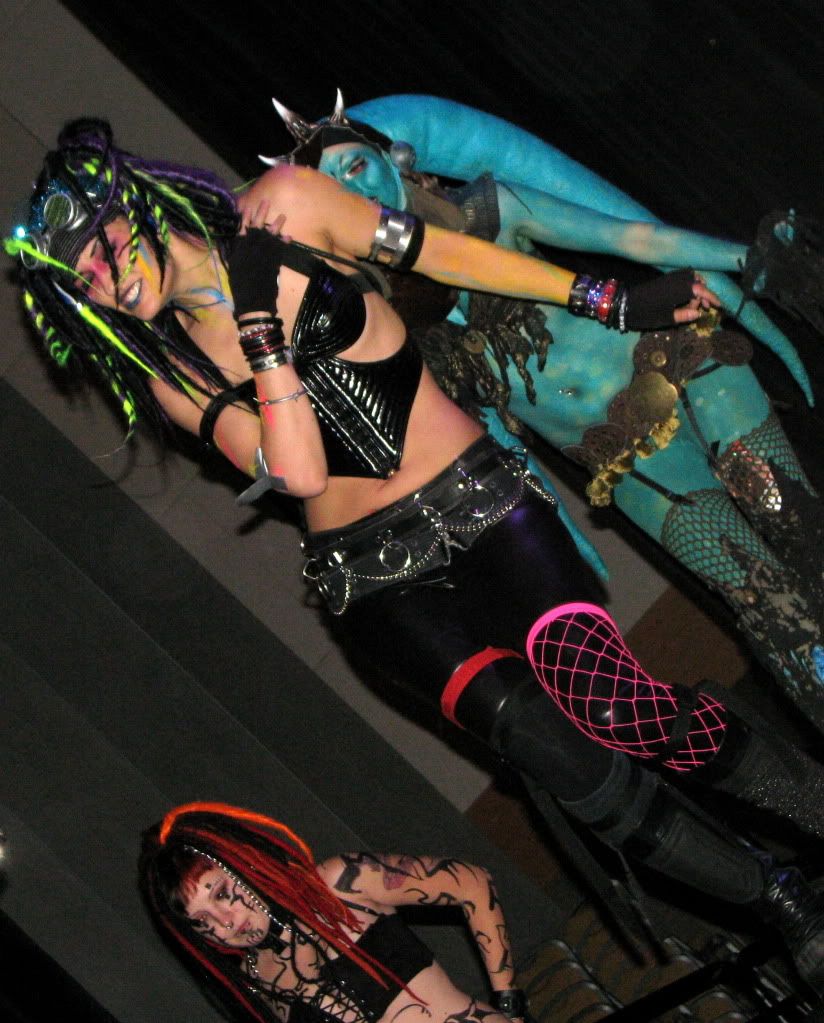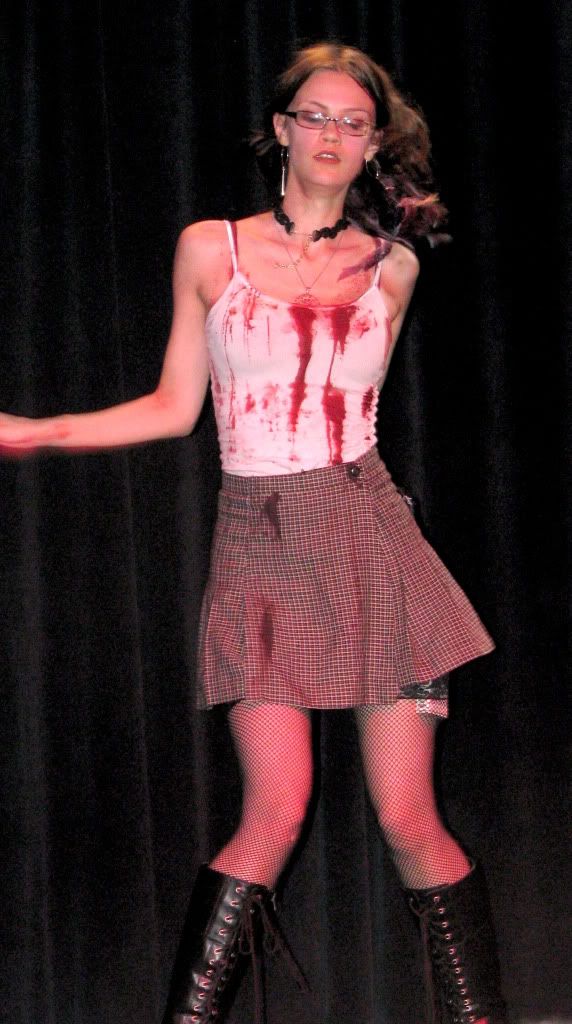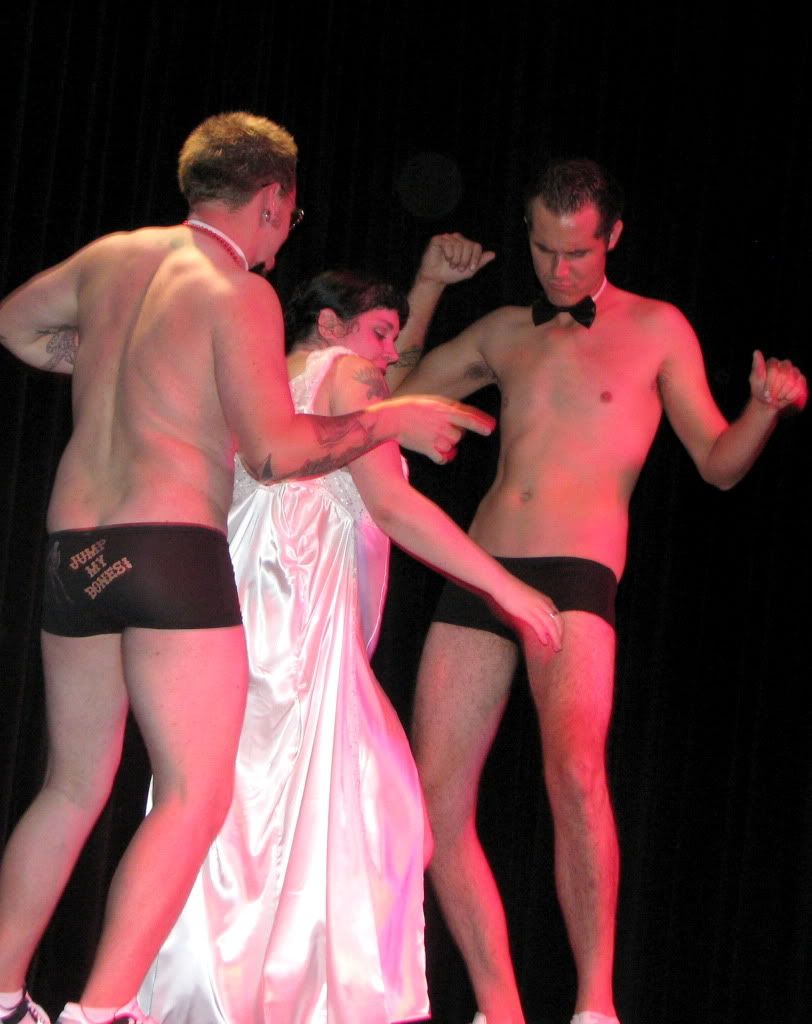 I hung out in and around the party, back and forth between the two hotels, until about 6:00 am. That's a pretty decent DragonCon bed time, don't you think?

On to Sunday!