The convention season, it has begun!
Just over a week ago (I know, posting way too slow) I took an adventure to New Jersey. Nate and Brooke, some of my oldest, closest friends moved up there a while back, and I finally got around to planning a visit. And, since we were just picking a date out of the hat, why not go on a con weekend? Thus I found myself able to attend the
SteamPunk Worlds Fair
in Piscataway, NJ. I'll be posting some pics of the rest of my explorations of New Jersey and New York, but lets start with the con, shall we?
The nice thing about this con was the people. That's always the case with a con (or any other event, forthat matter) but it was super-extra-true in this case. Somehow, this con became a sort of defacto meet-up for the miscreant users of
Brass Goggles
, and I really enjoyed the chance to meet in person folks I yack with regularly from as far afield as Alabama, Canada, and Great Britain.
The group photo from Saturday night (sorry we missed you and your lovely wife for this, Tinker!)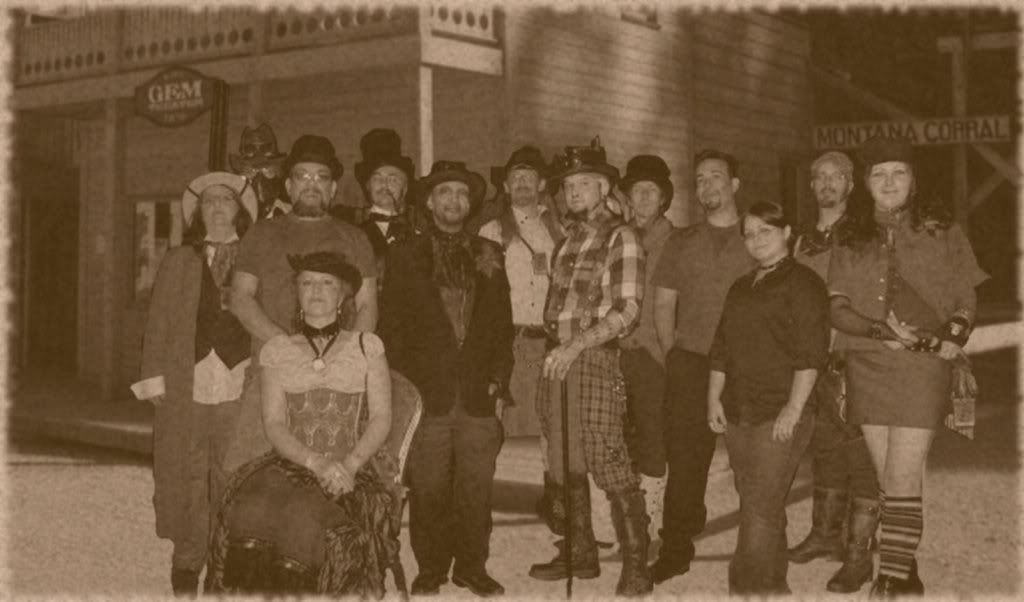 Over all, I had a blast, but there were a few minor quibbles. The host hotel seems to have had no idea what to expect from a costuming con, with pretty lousy slow bar service and very limited food. How the hell do you run out of chicken fingers? I think they are used to more business-oriented conventions, where folks stay for the parts they have to and then scatter to the four winds at the first opportunity. Still, it was a fine enough place and the issues were pretty minor, hardly capable of denting the fun.
I'm in a bit of a hurry to post all this, so I'm probably not going to offer much commentary, just a bunch of pics with maybe a few random comments stuck between them. I can always add more yack-yack later, right?
Friday Night
This is Vagabond Gentleman, with one of his lovely canvases (he's the artist who did her ink).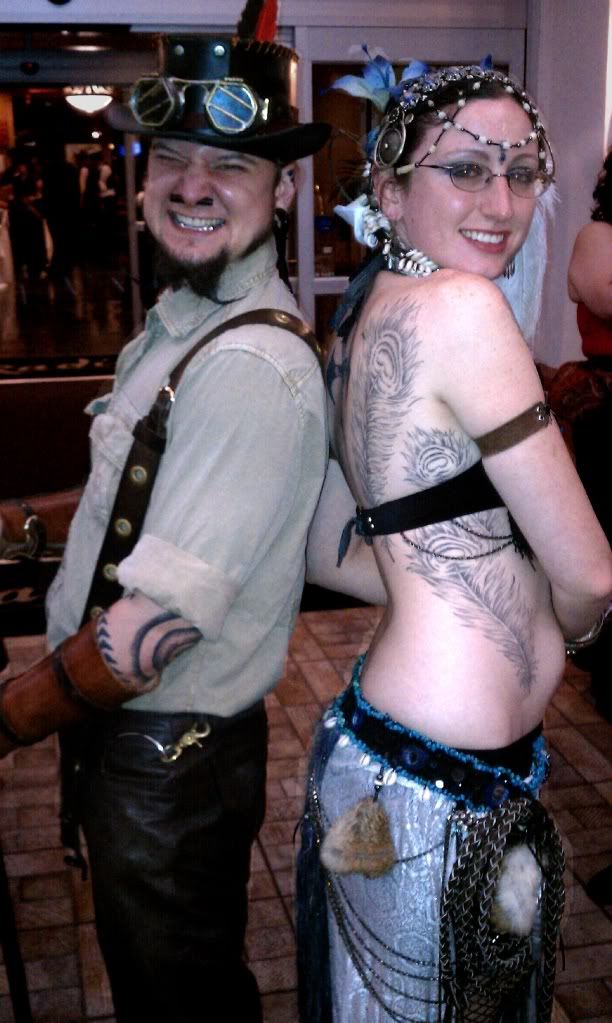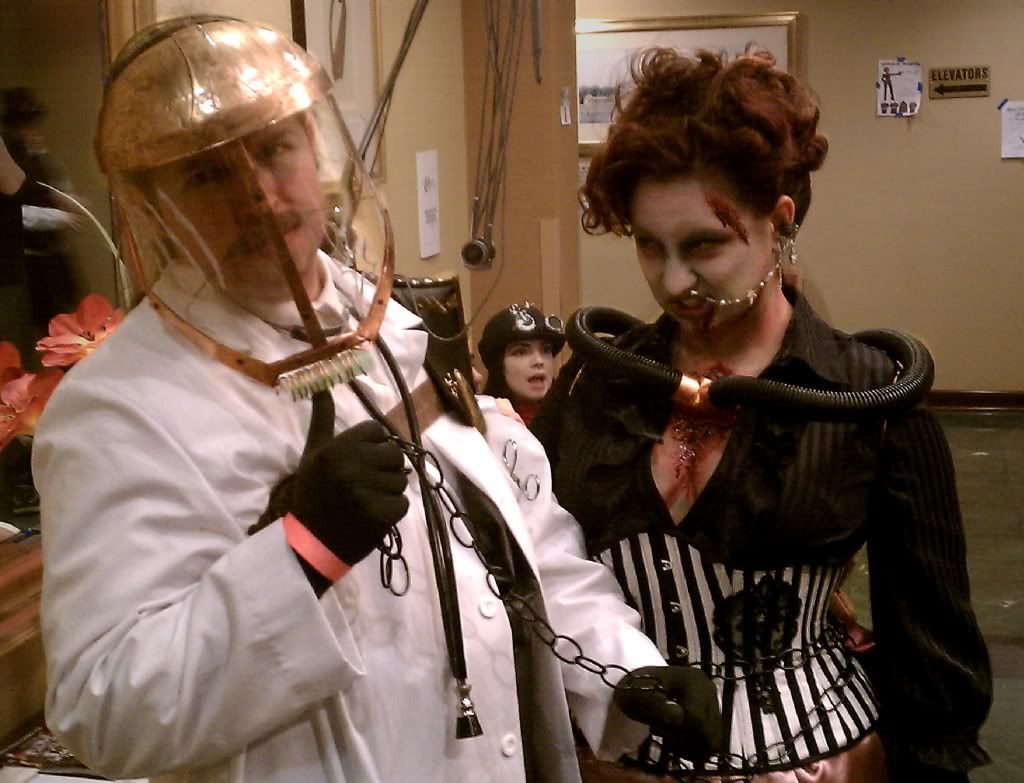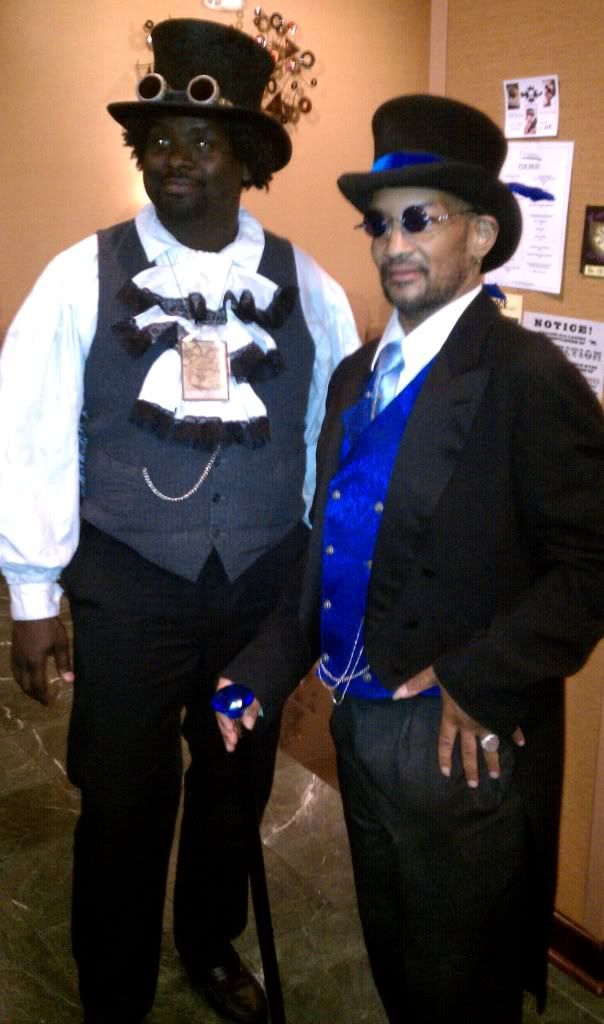 He's wearing real watch movements, and has plans to start casting them to fit common ear gauge sizes.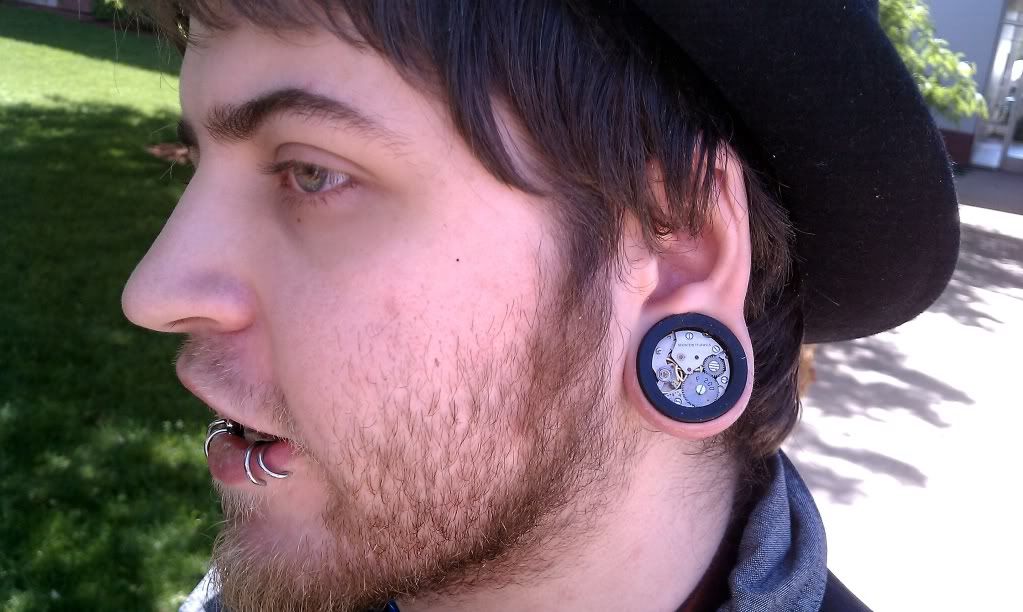 Saturday
Nate and Brooke love them a good costume party, and while SteamPunk isn't really their normal thing I think they managed to pull it off pretty well:
Seriously, y'all. Me and this guy go
way
back.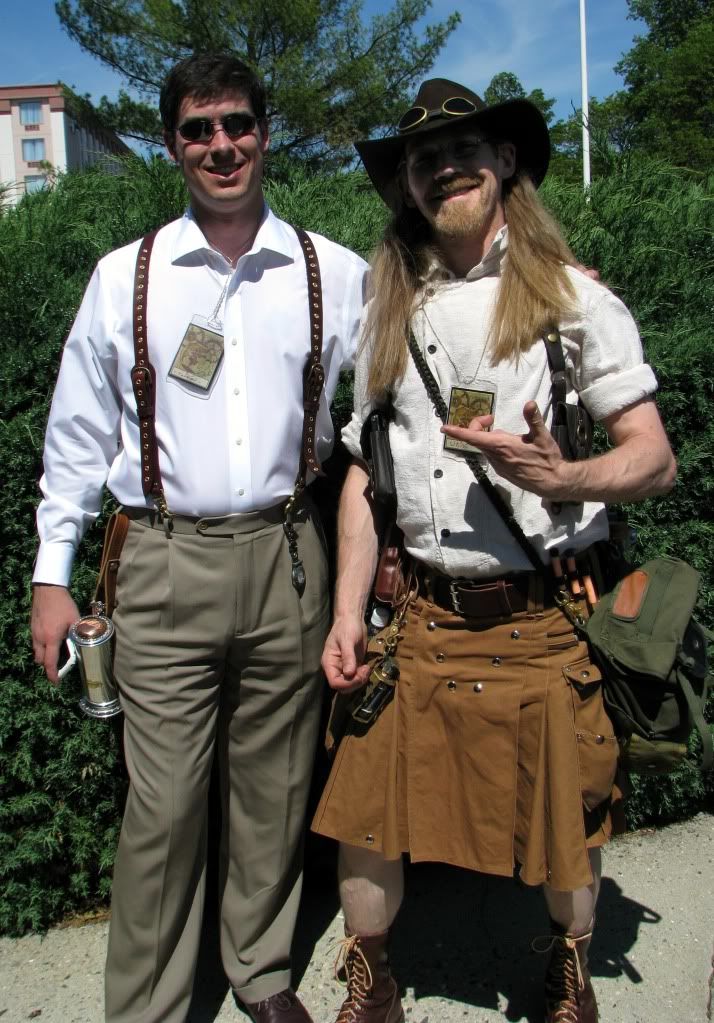 Myself and Malcontent, on of the BG fokls I have the most fun disagreeing with ;-)
(How'd you hid from all my other pics, dude?)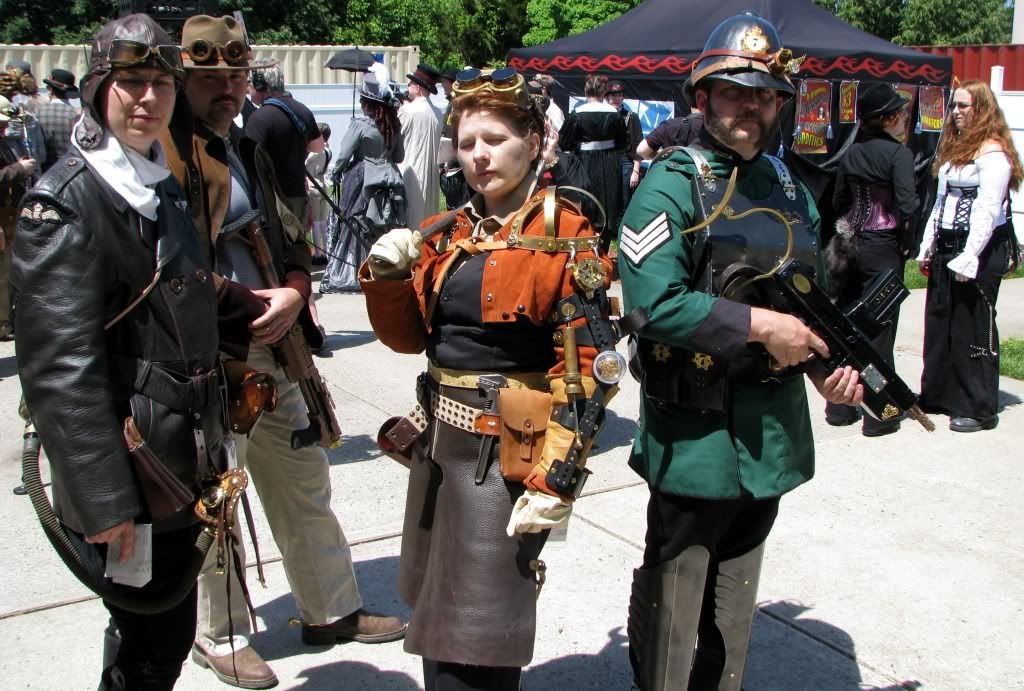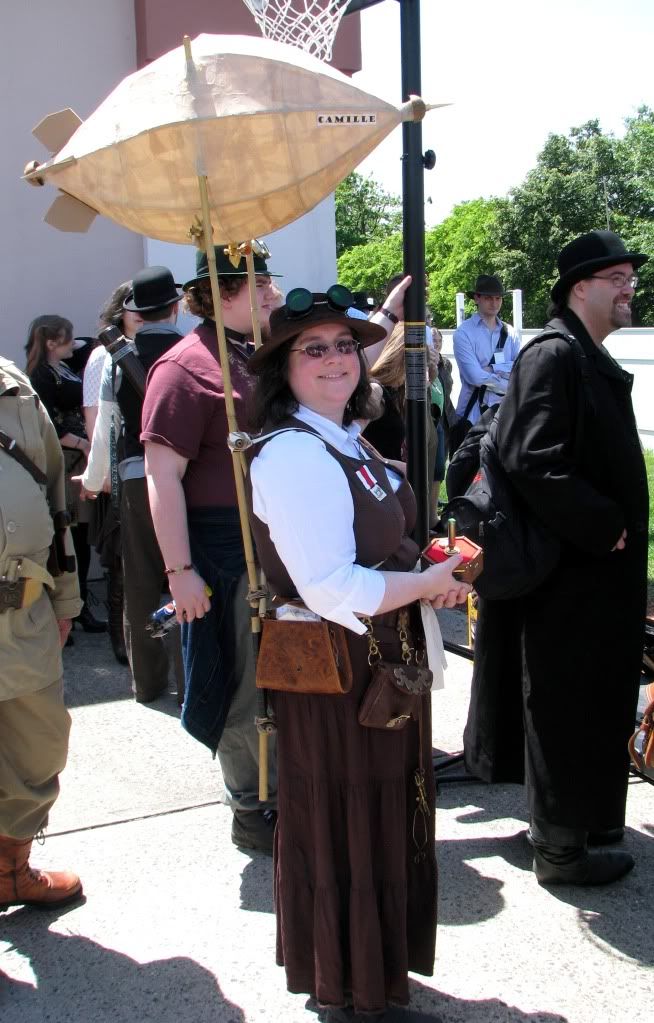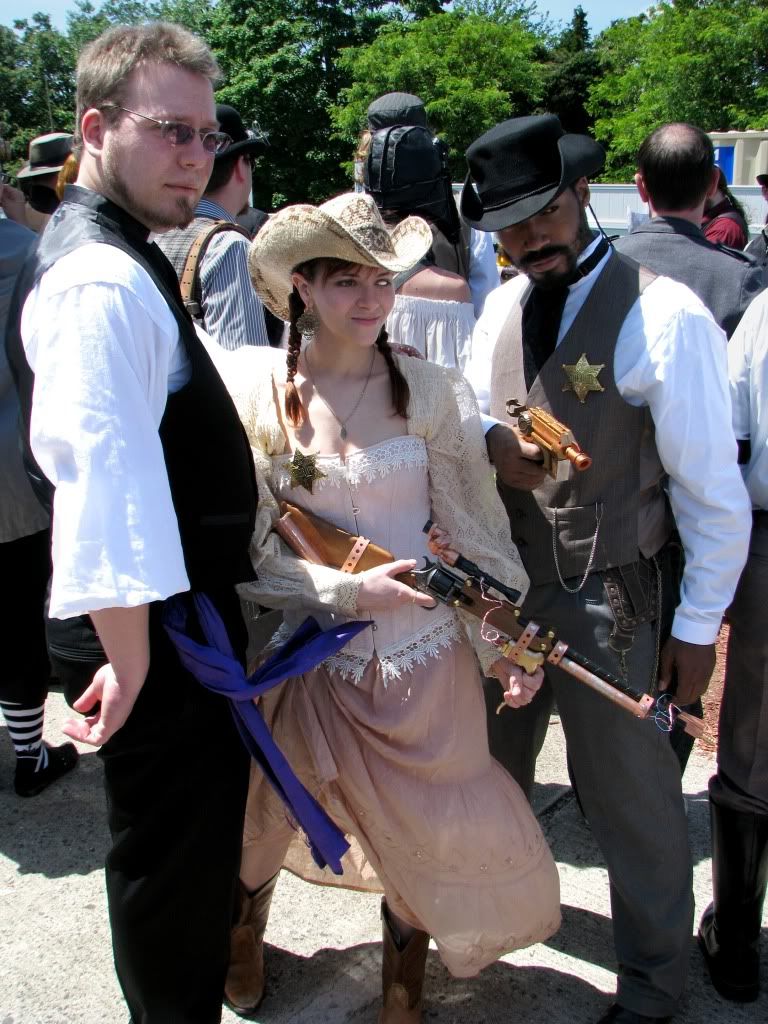 Yes, its a real bass, and yes, he could play it.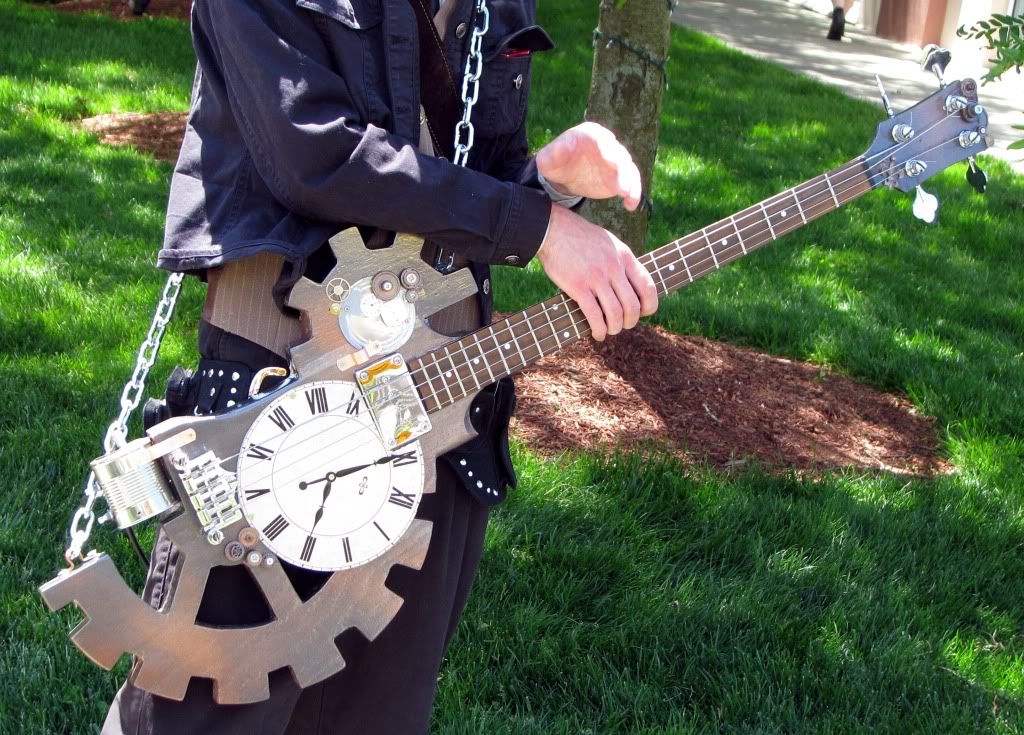 Utility Corset for the WIN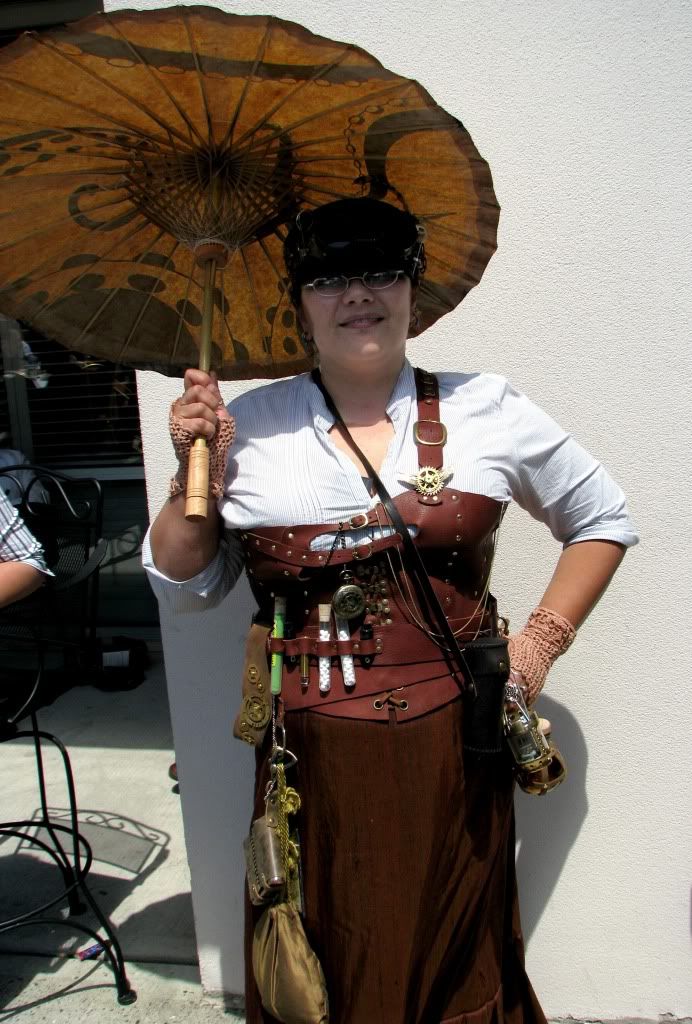 Some of the Boys from Brass Goggles: TimeTinker, Vagabond Gentleman, myself, and Maj. Clive Hathaway .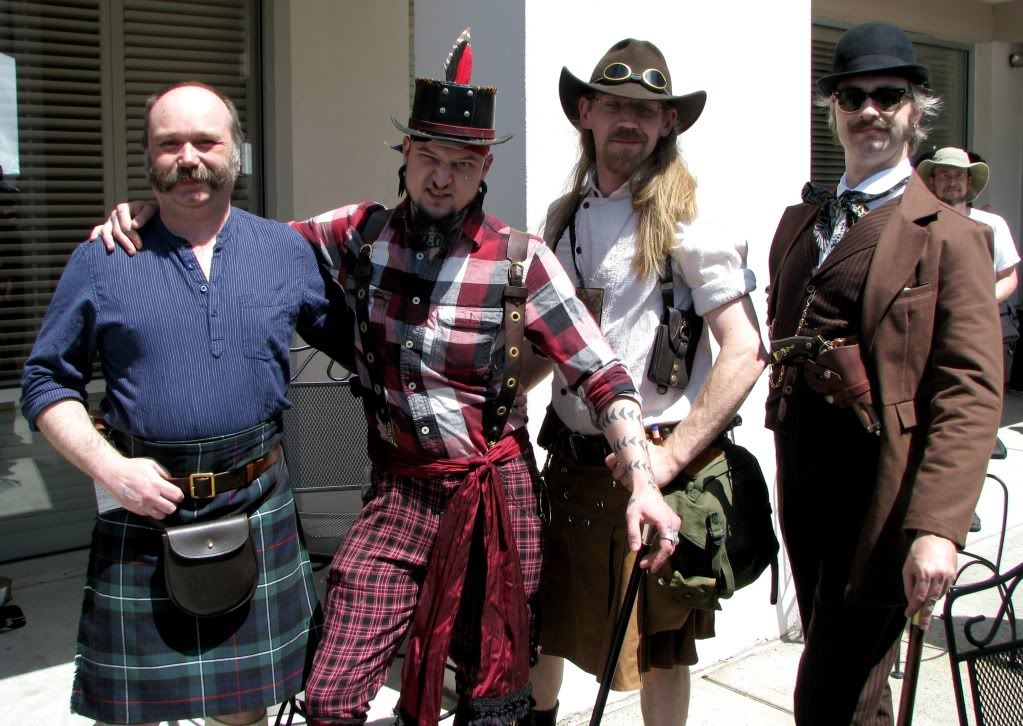 SteamPunk Boba Fett (who I'd have a chance to get to meet and hang out with, but that would have to wait for the next con, which at the time of this posting has already happened)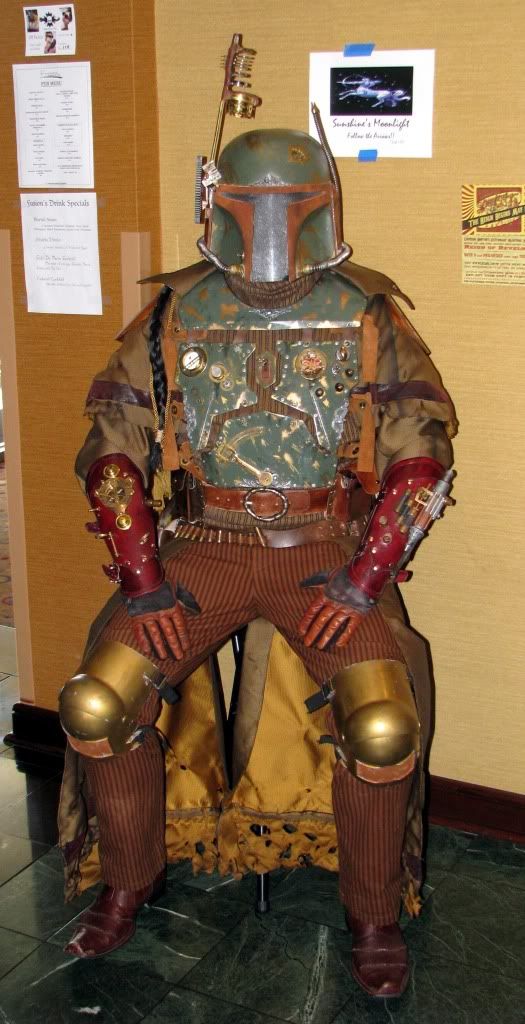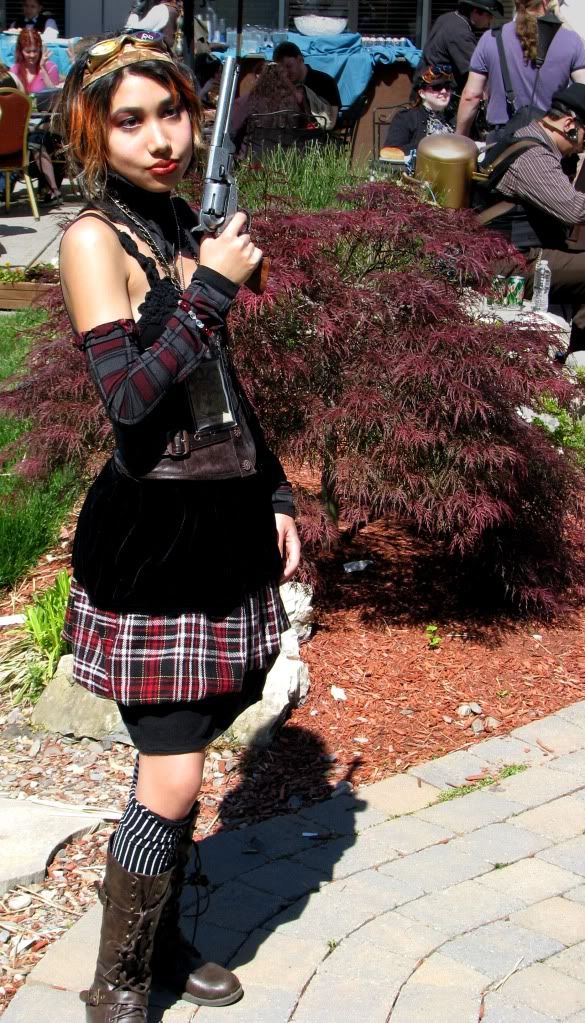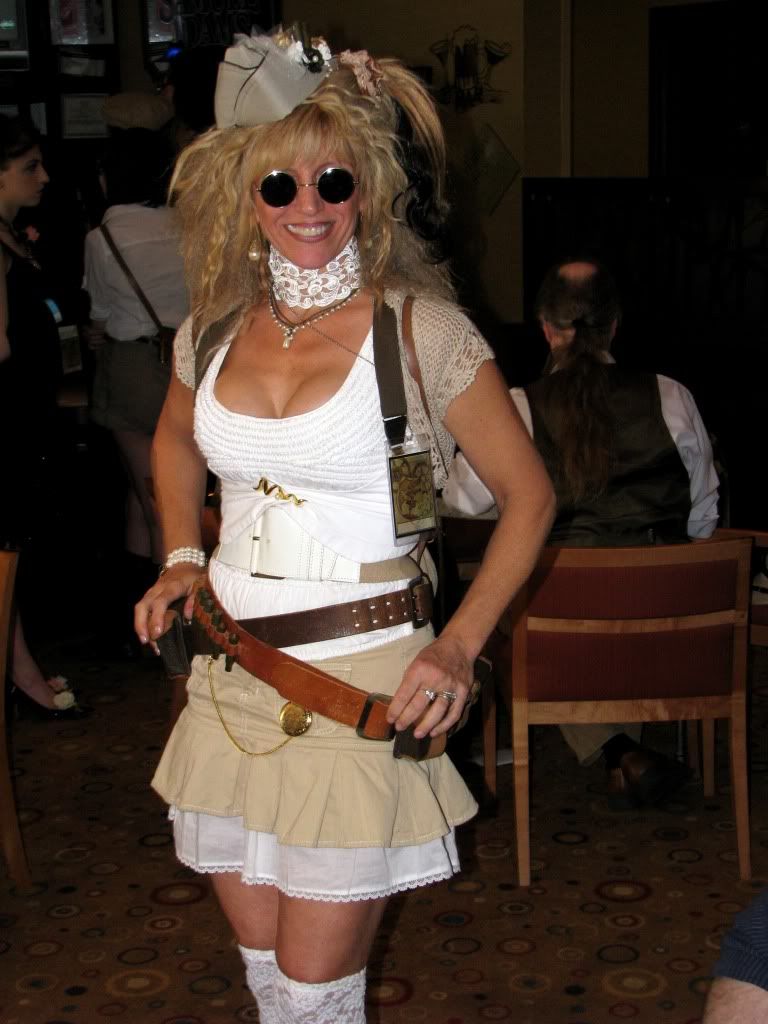 They had a whole hall way full of this stuff set out all weekend.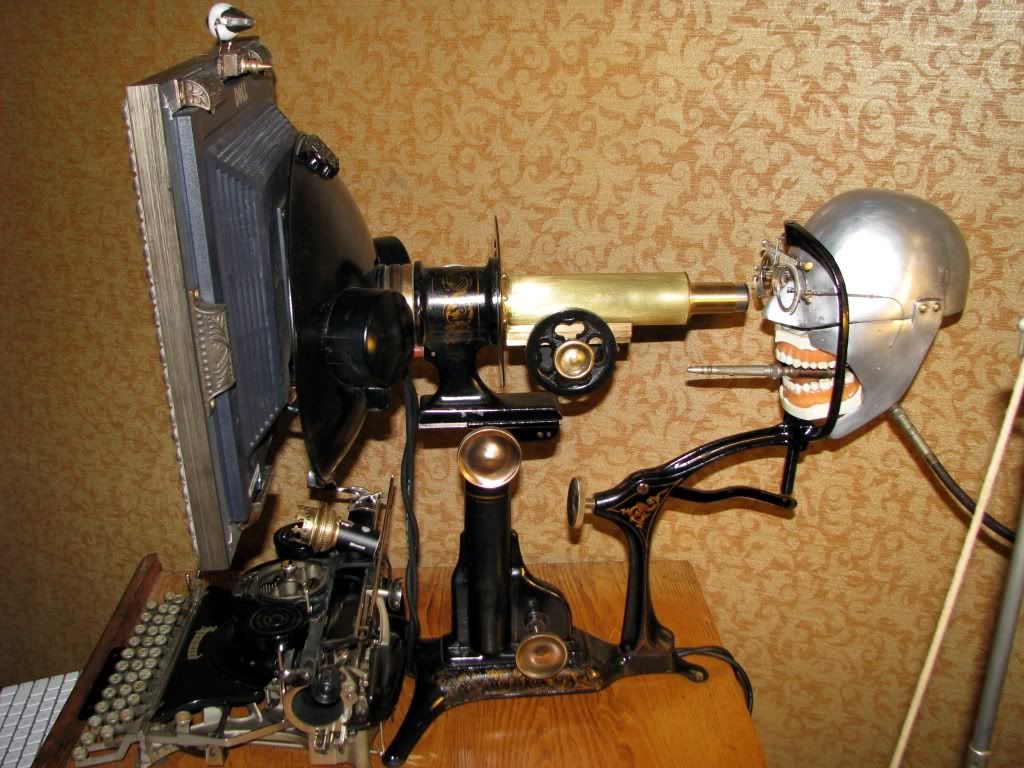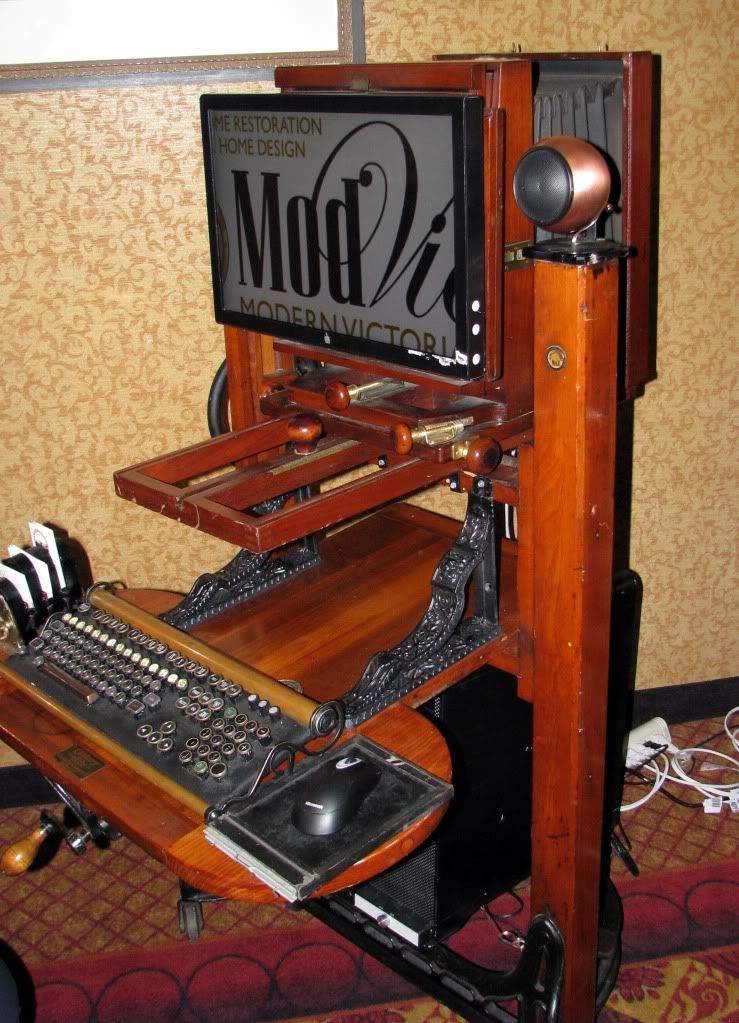 A lady of class in a den of thieves
Jake von Slatt
, demonstrating his
Wimshurst machine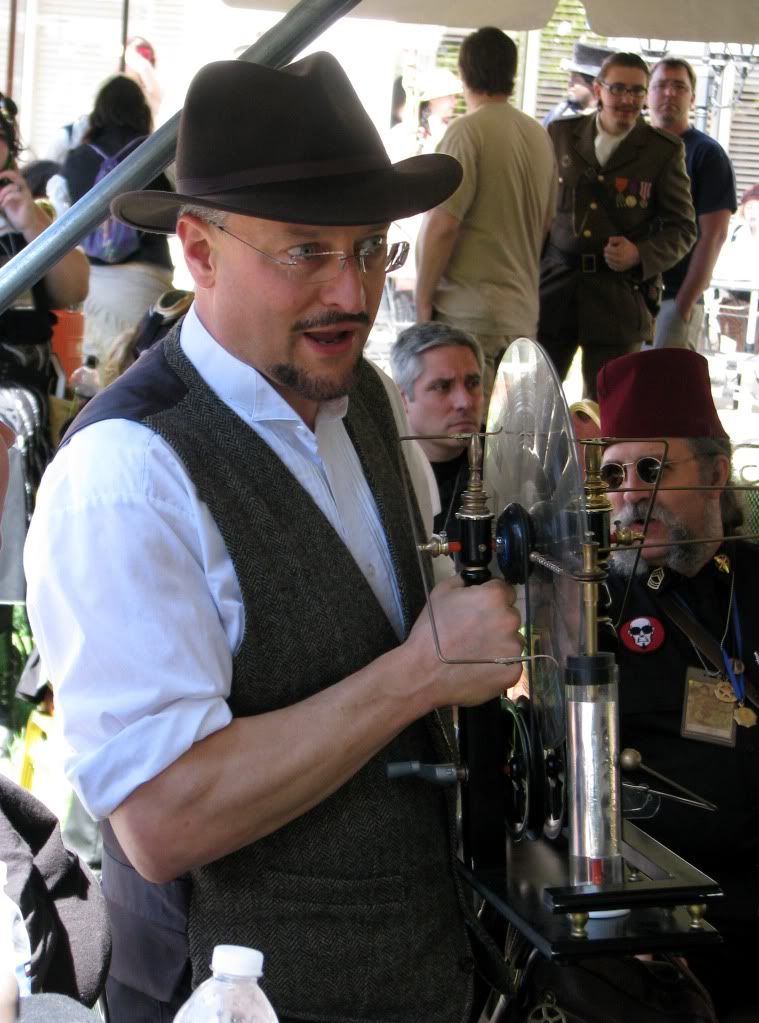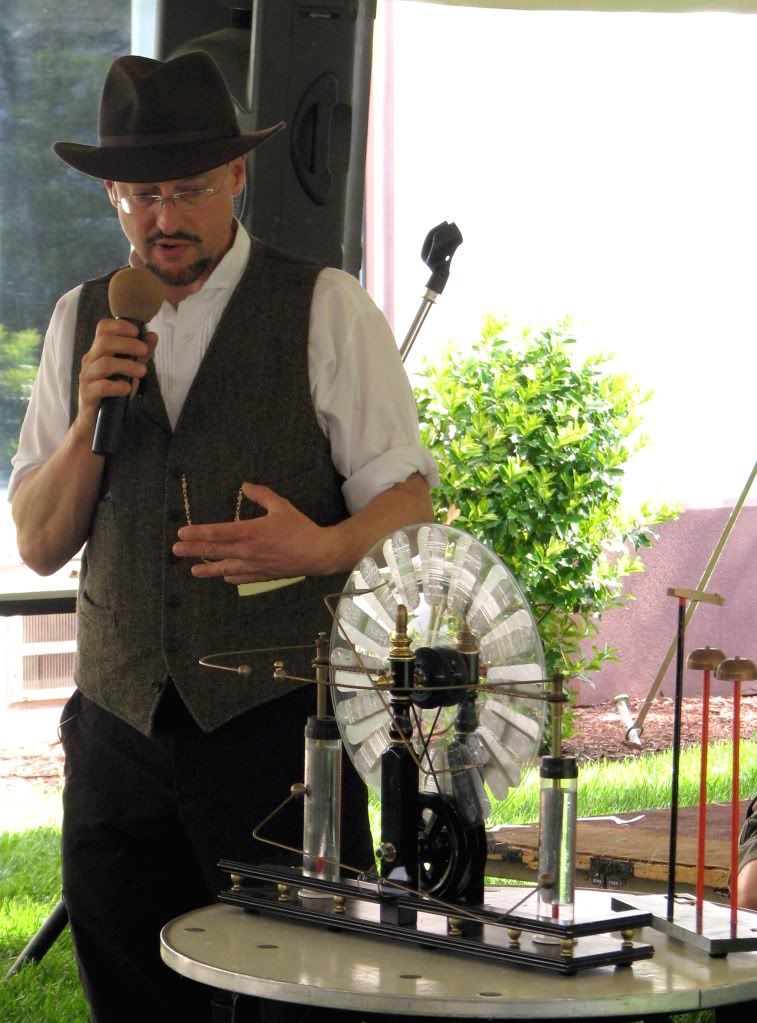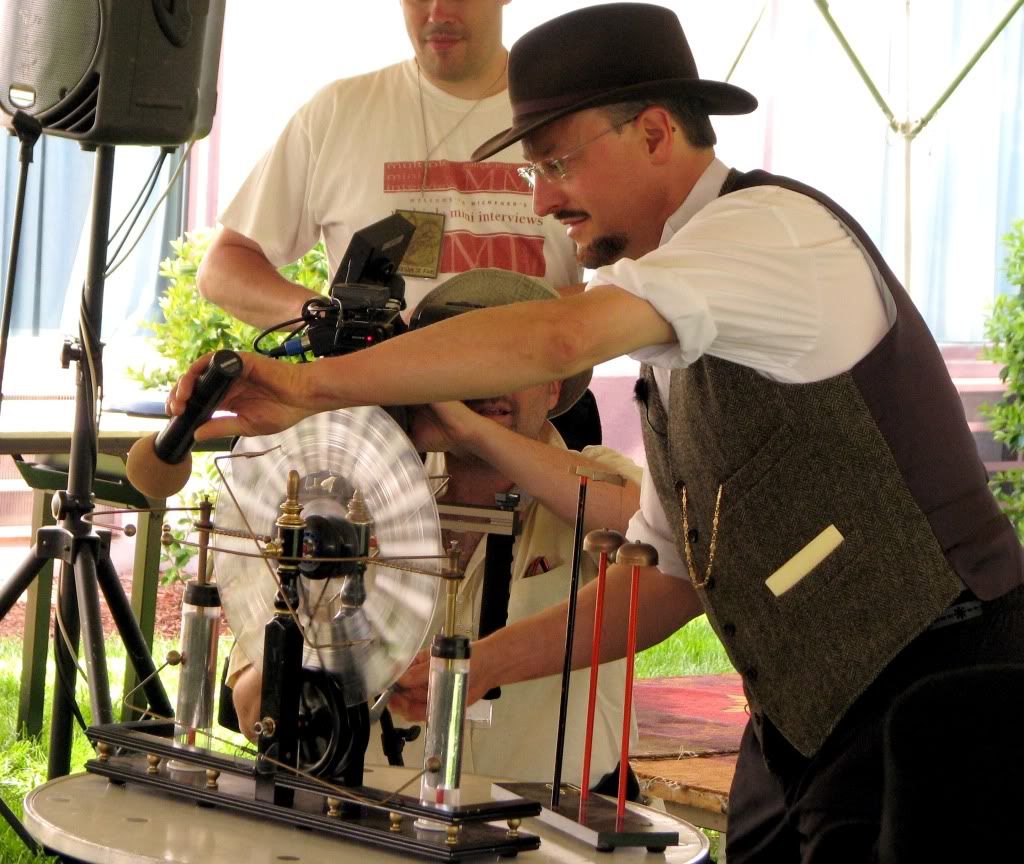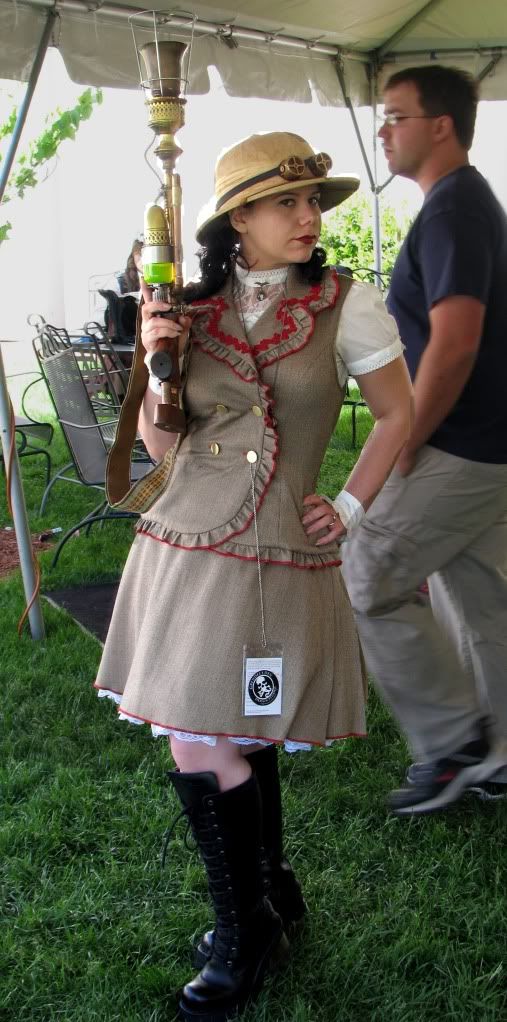 The utterly inimitable Vagabond Gentleman, makin' his pimp rounds...
that sexy douche-bag!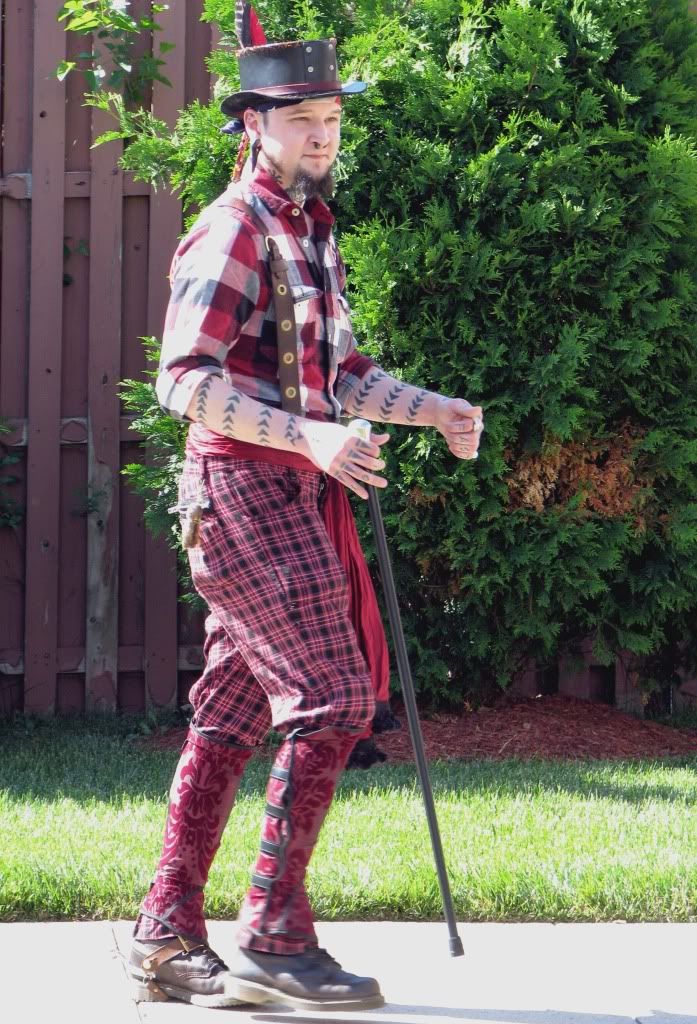 Dedication to a look.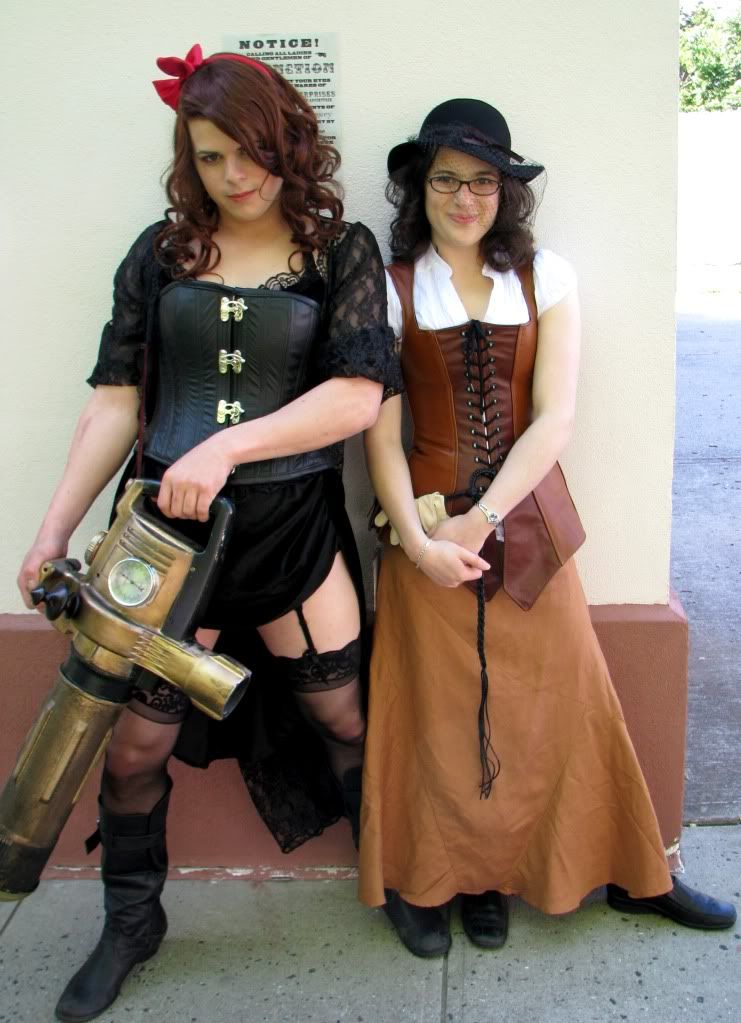 Brooke with Steamed Princess Leia from
Outland Armor.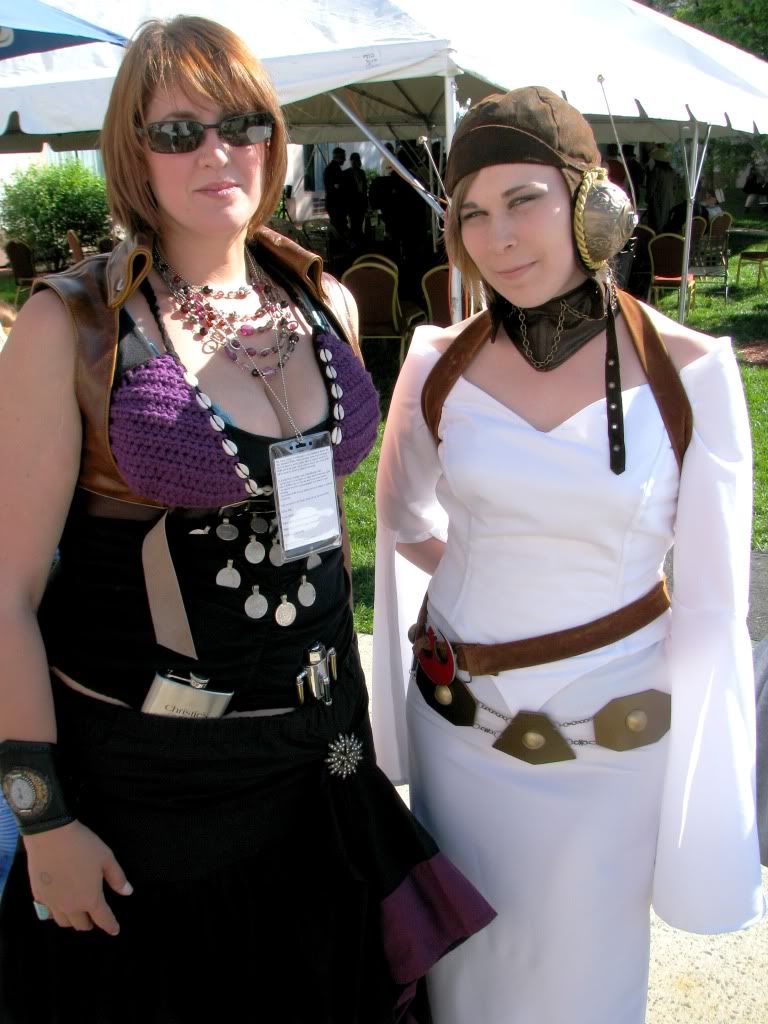 Emperor Norton's Stationary Marching Band (more about them later)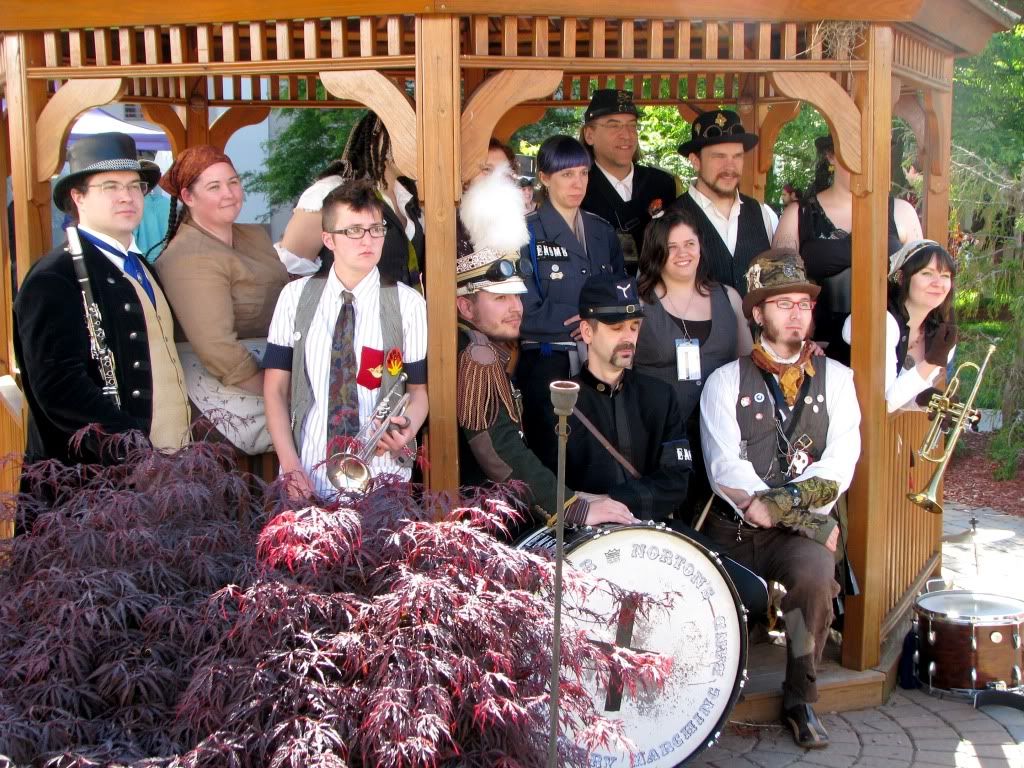 There's a working digital camera down in there.
Myself with the Nordic One
Me with a little bit o' trouble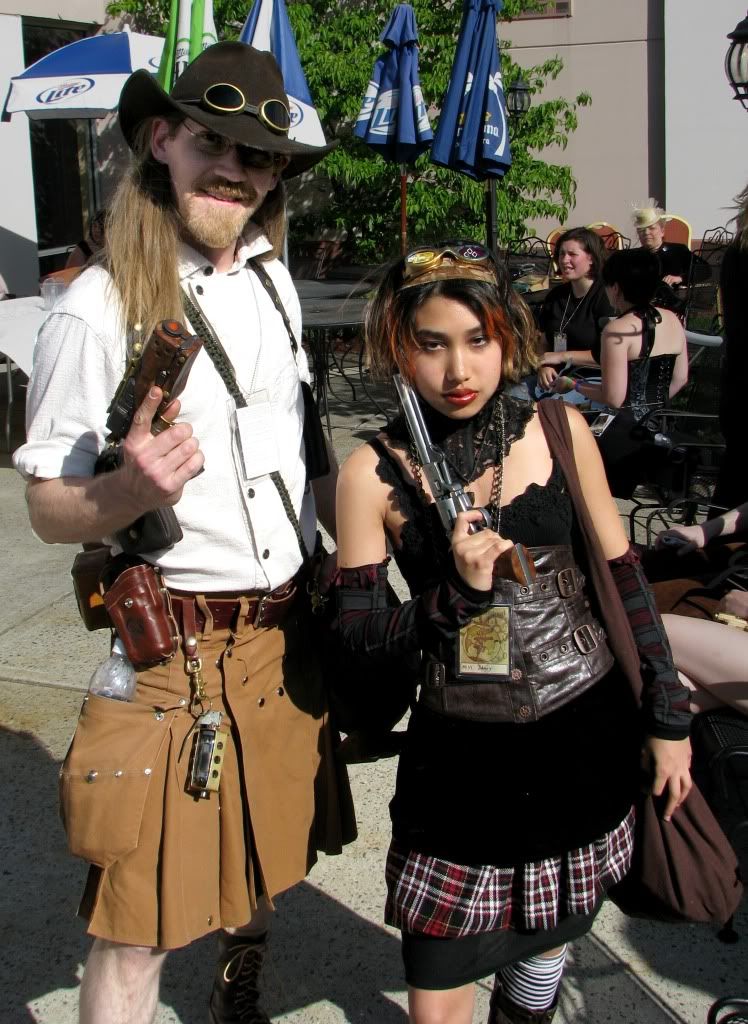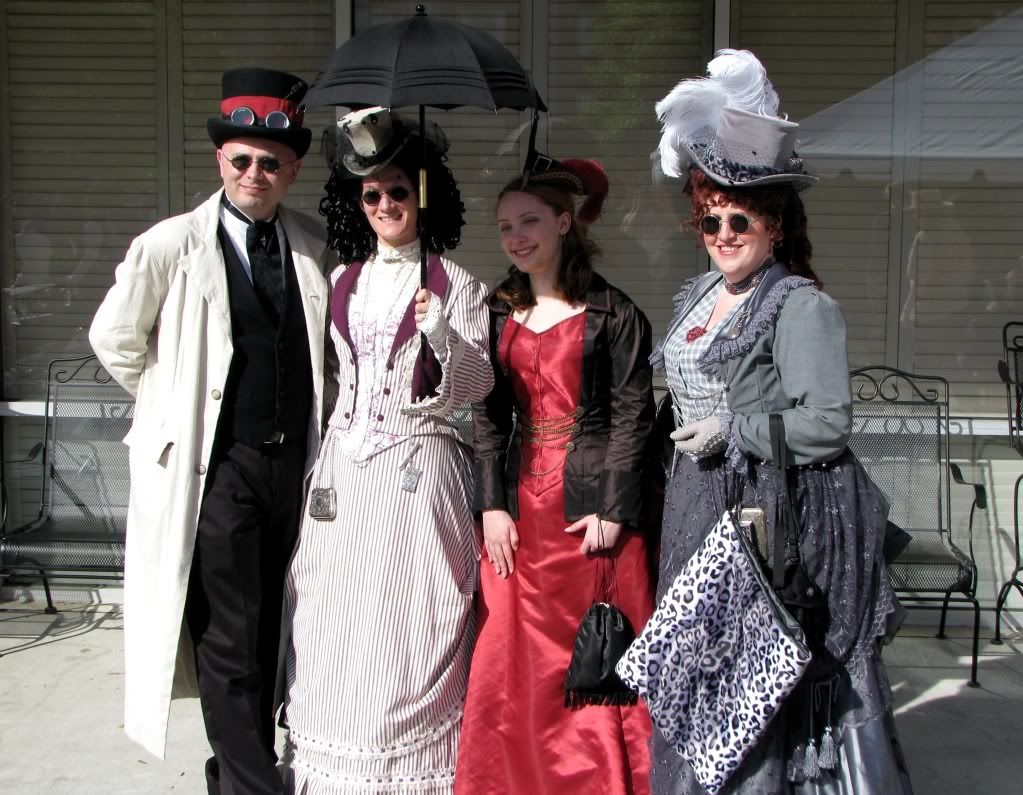 Maj. Hathaway and his lovely companion, chillin' with the Vagabond.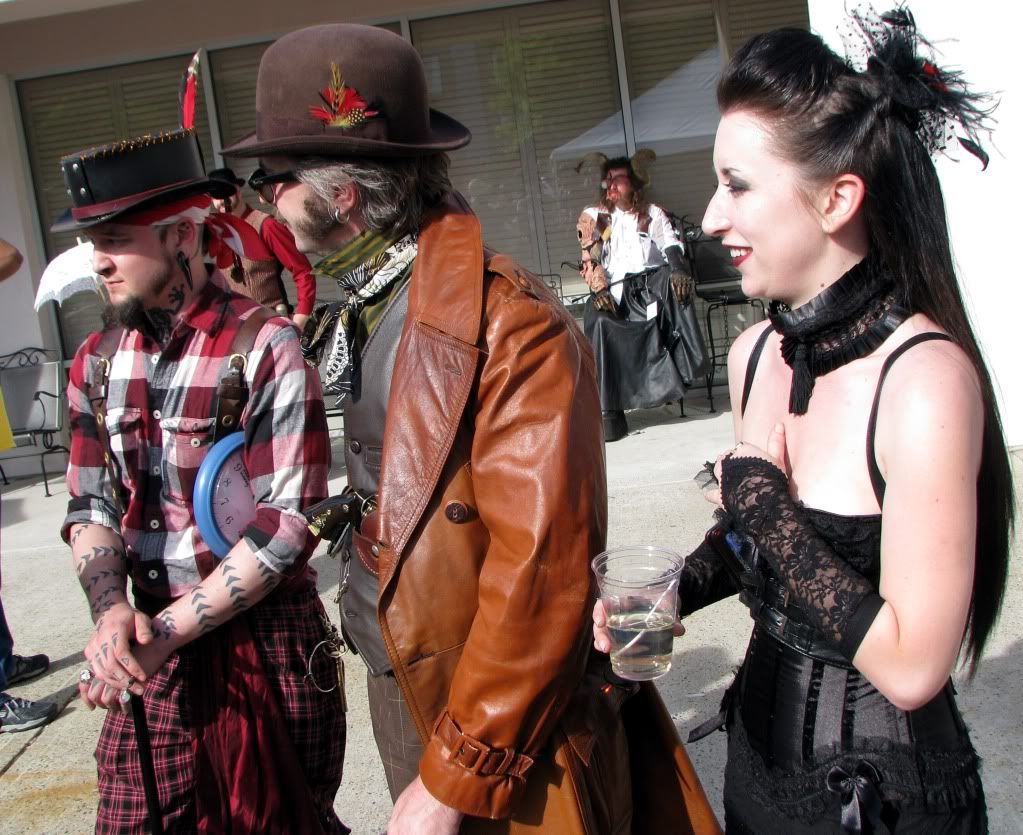 They changed cloths a LOT.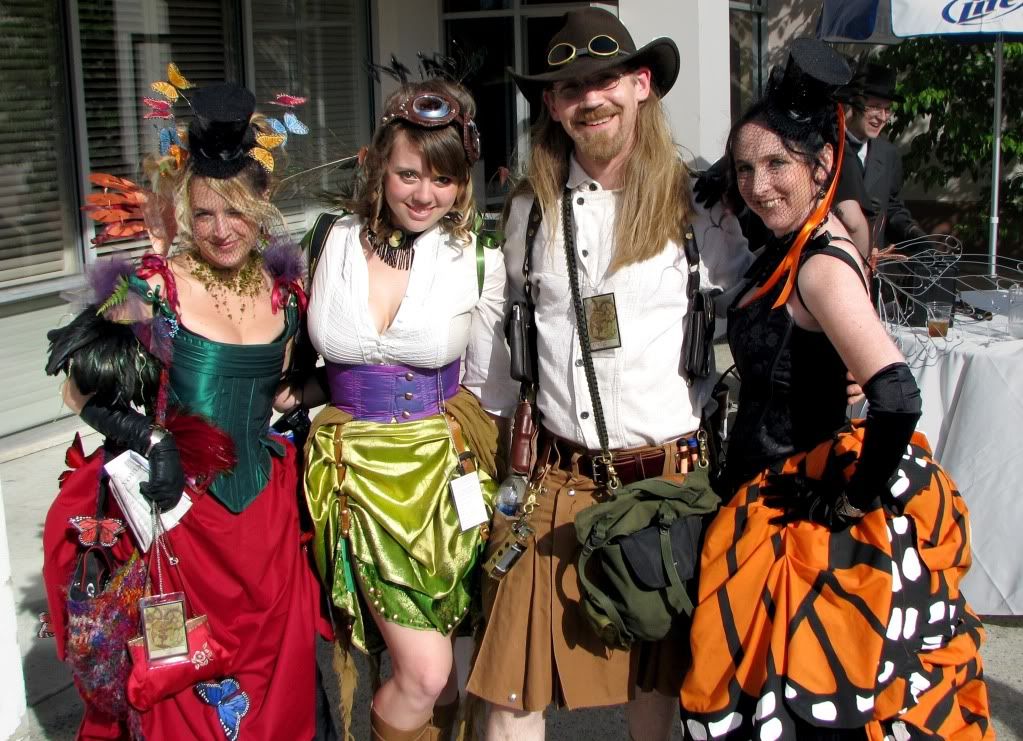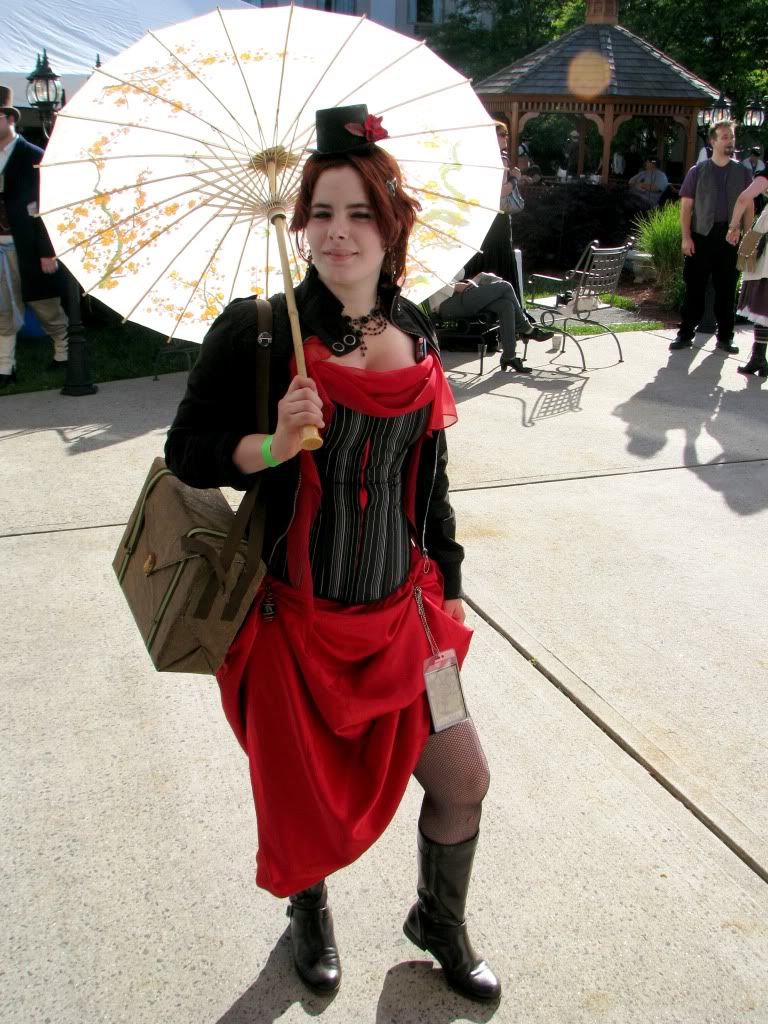 She was so shy...
Lord Wraste and SillyLilPuppet.
Mjr. Hathaway again, this time hunting Replicants.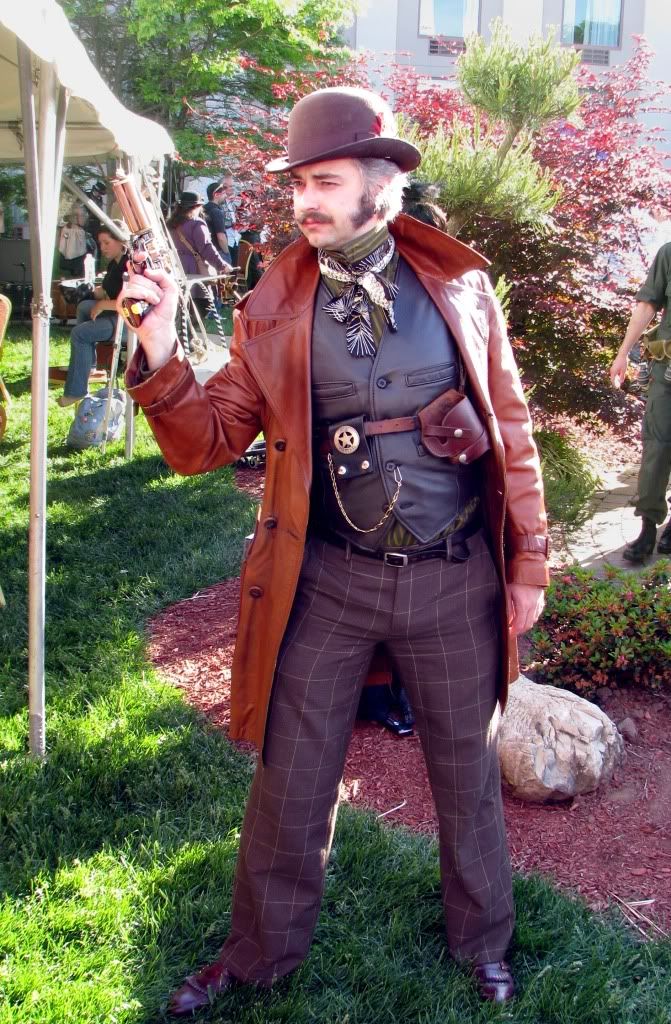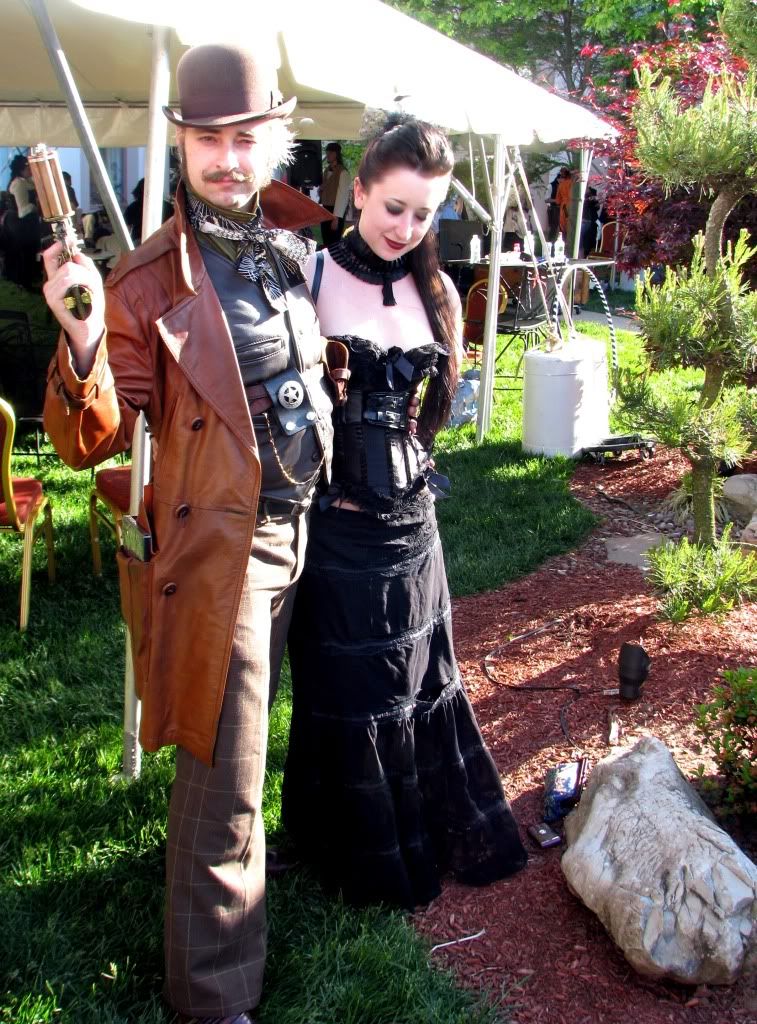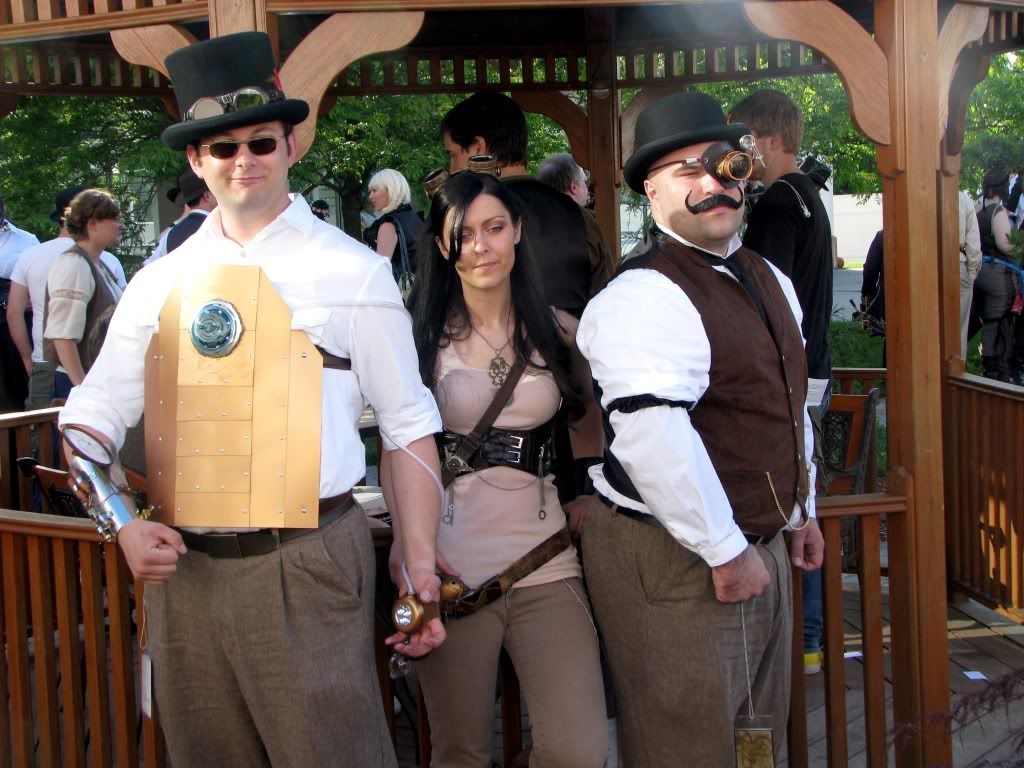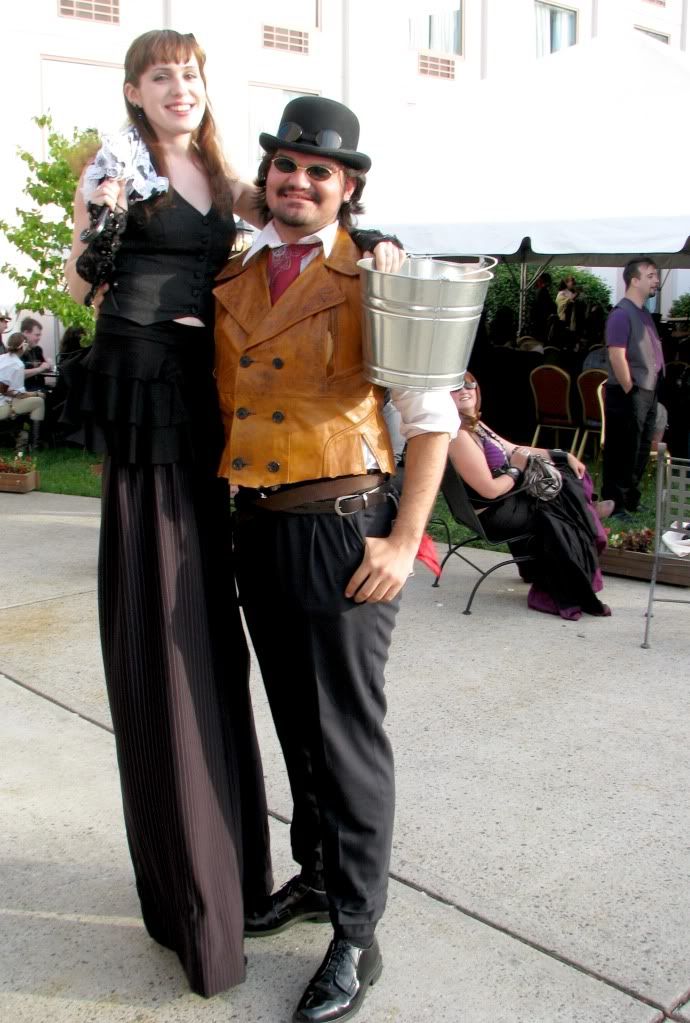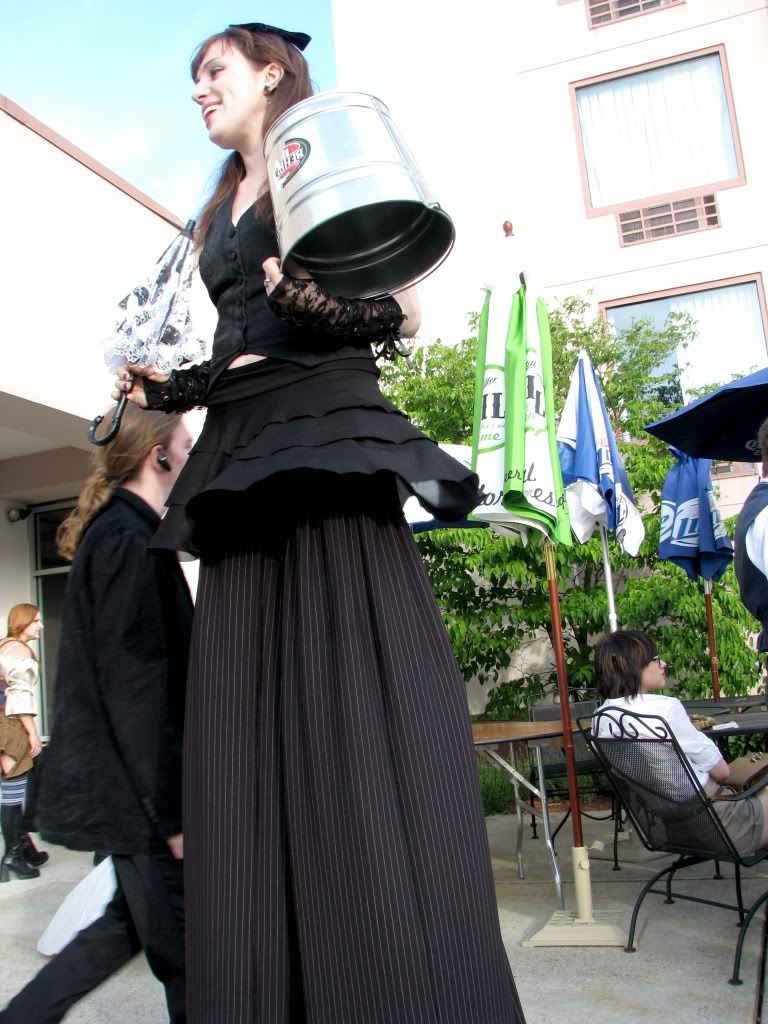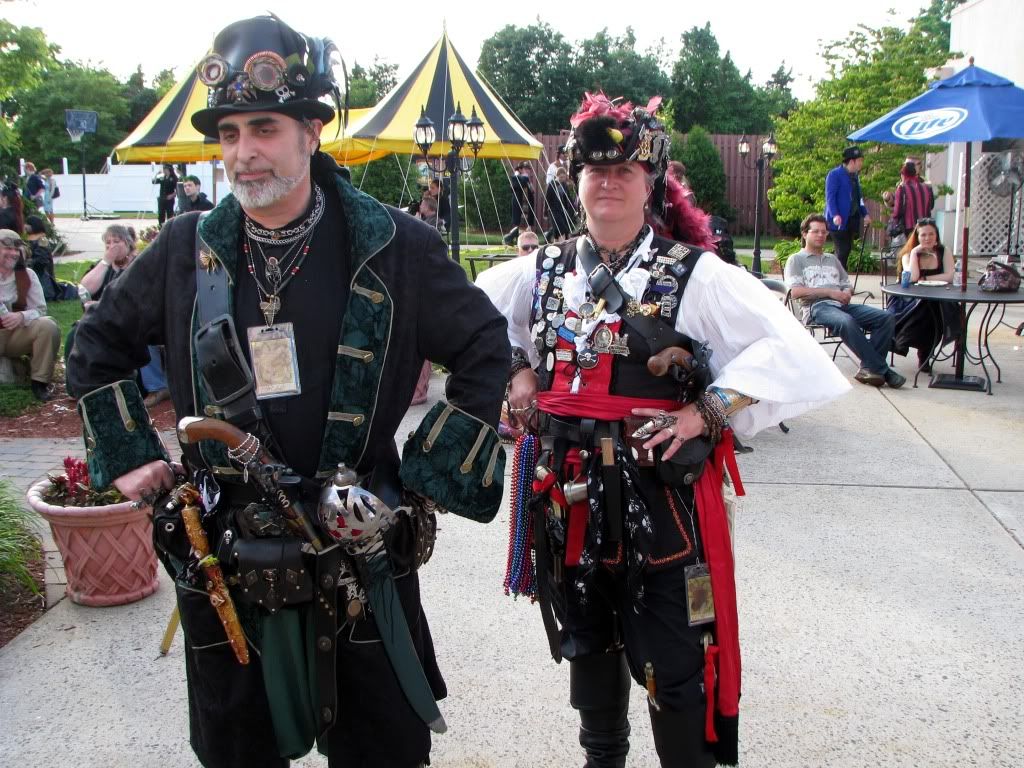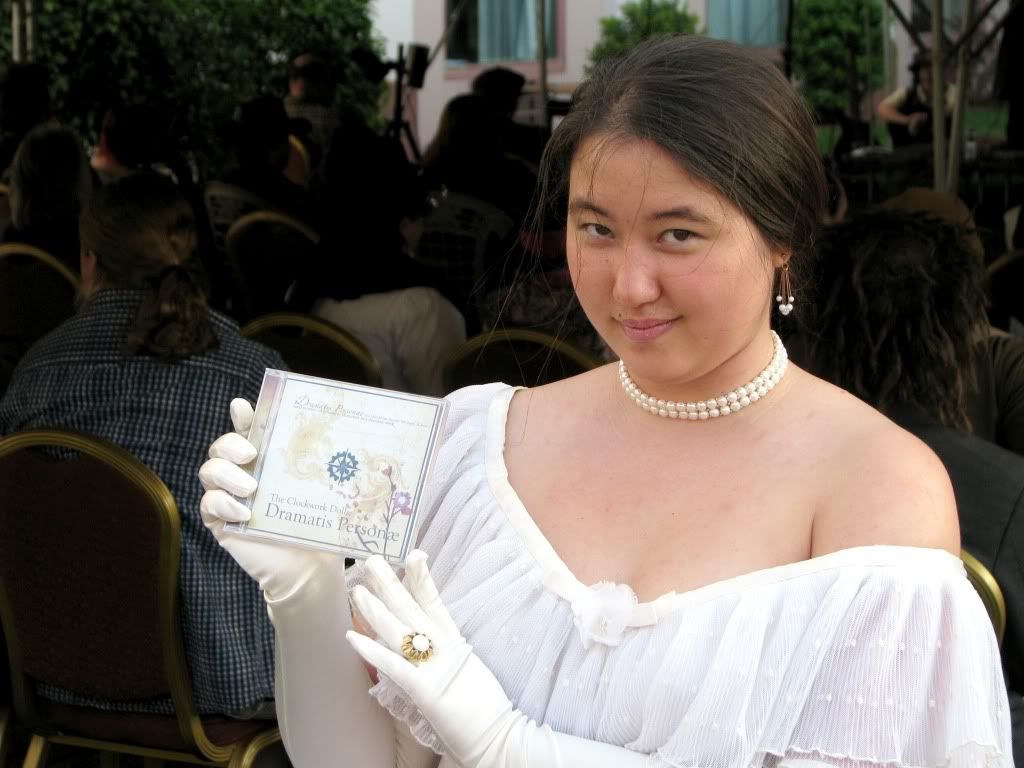 Resistance is, after all, futile.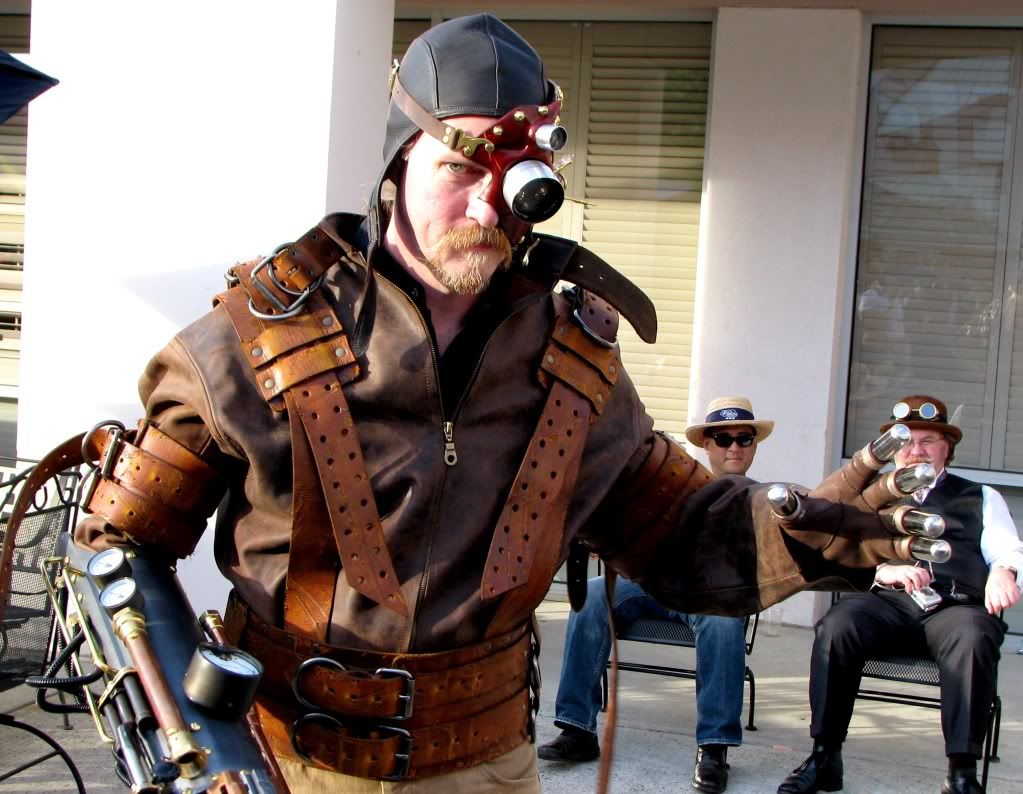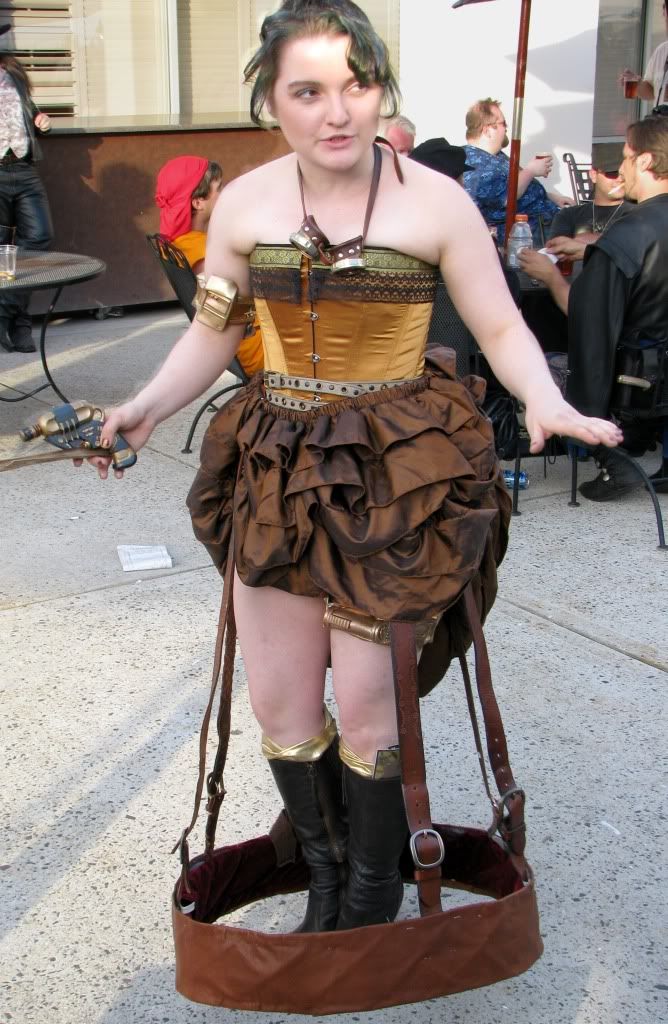 Yummy yummy skirt of belts
He makes knives.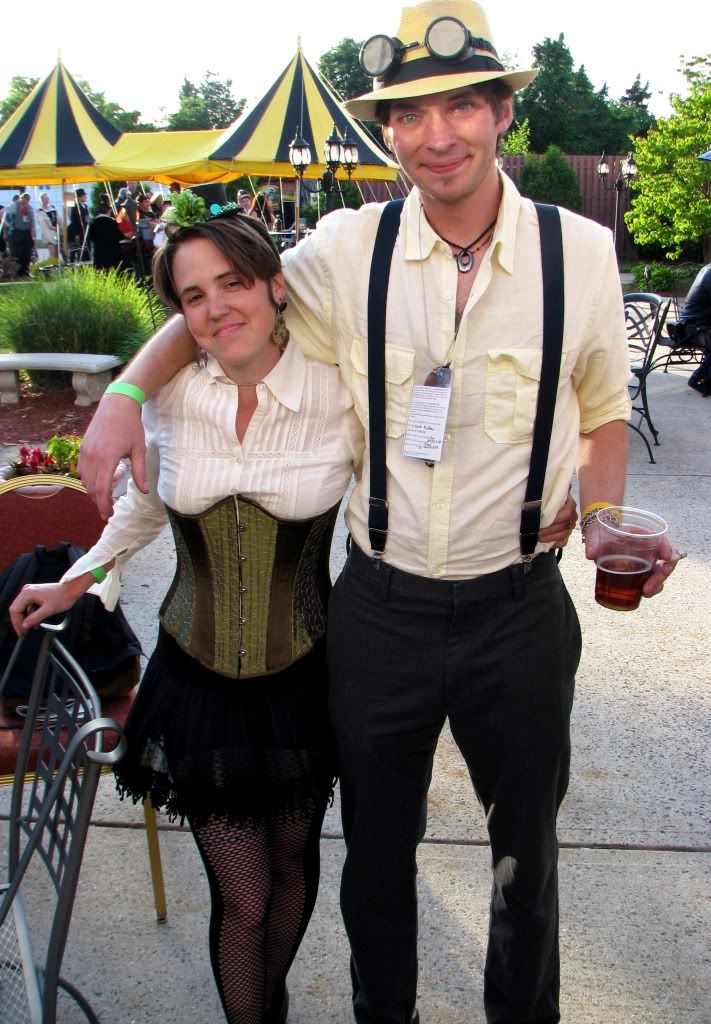 mr_Apricot
Me and the girl from
Humanwine
.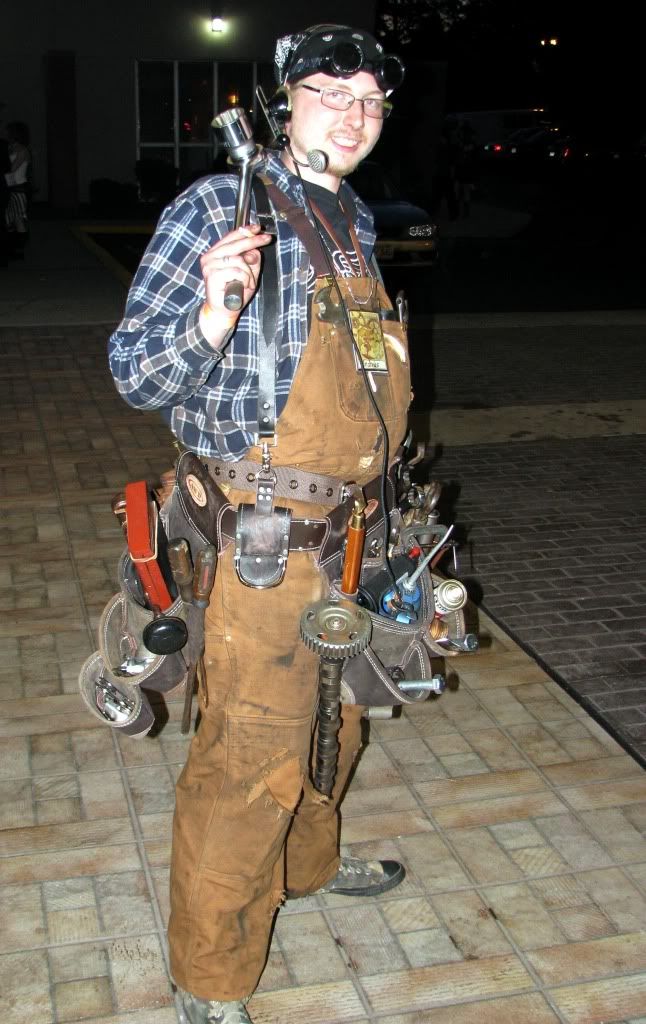 For a while it looked like Wraste would miss the group shot, so I took this to photoshop him in, and liked it anyway.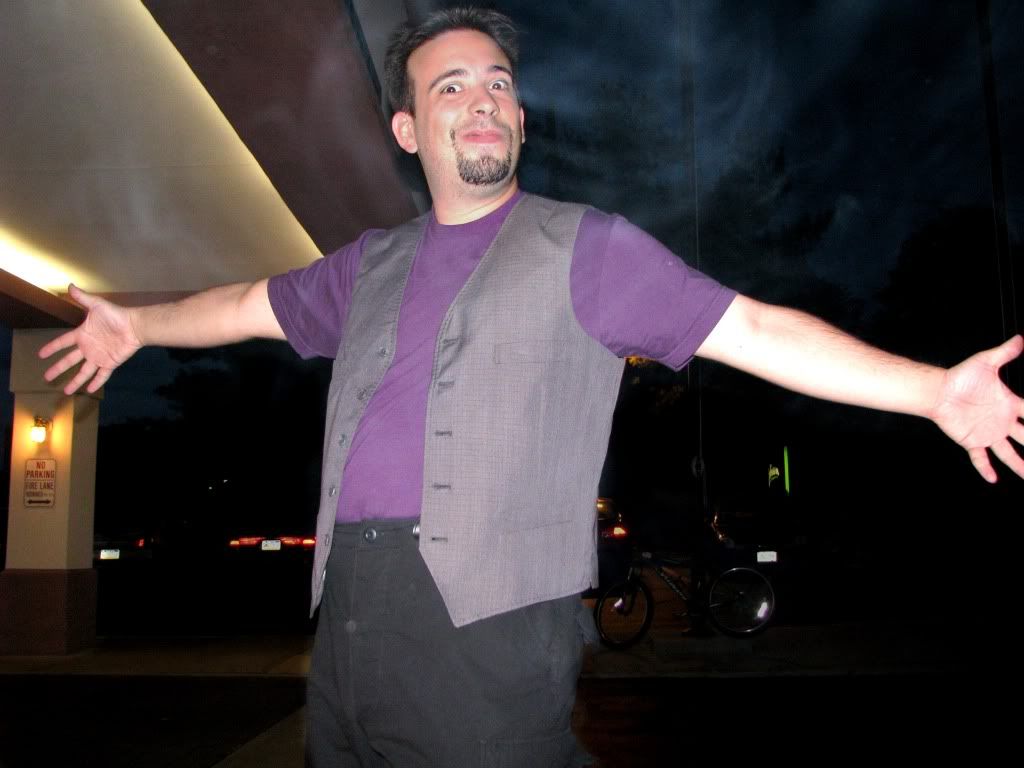 clockwork clones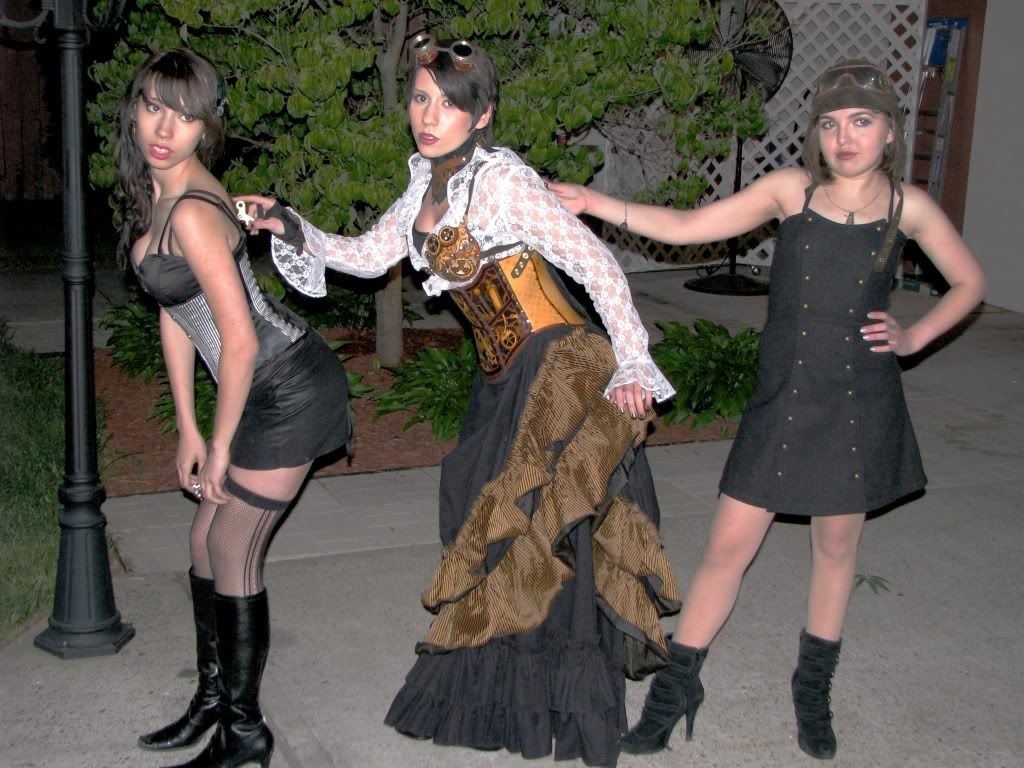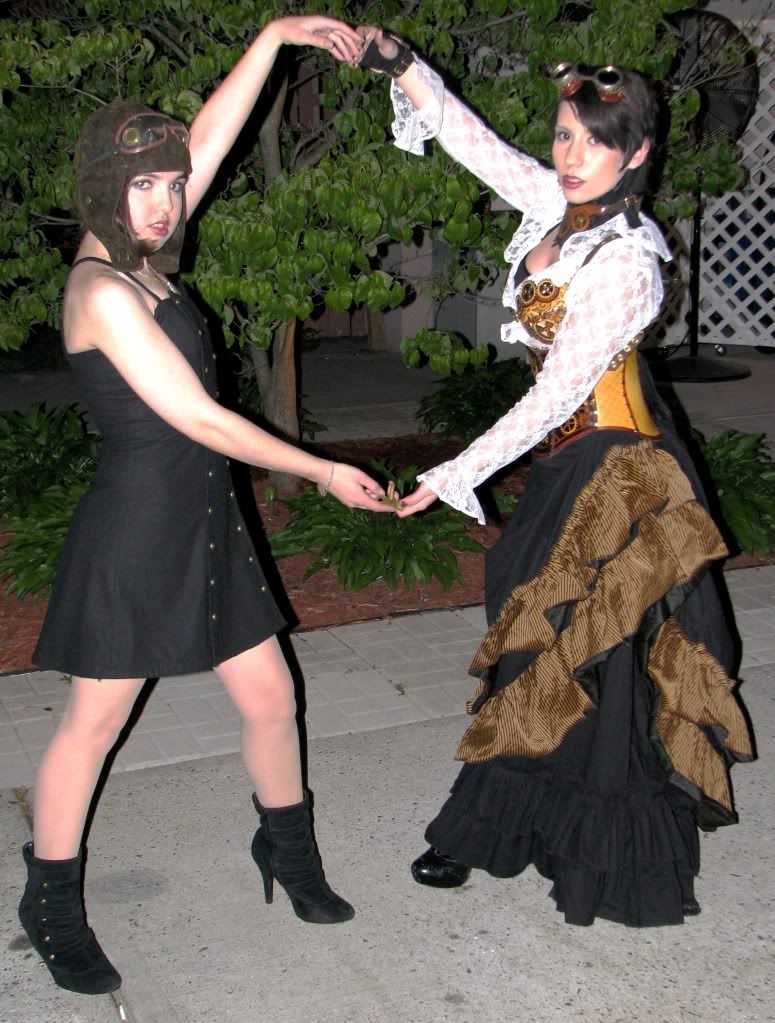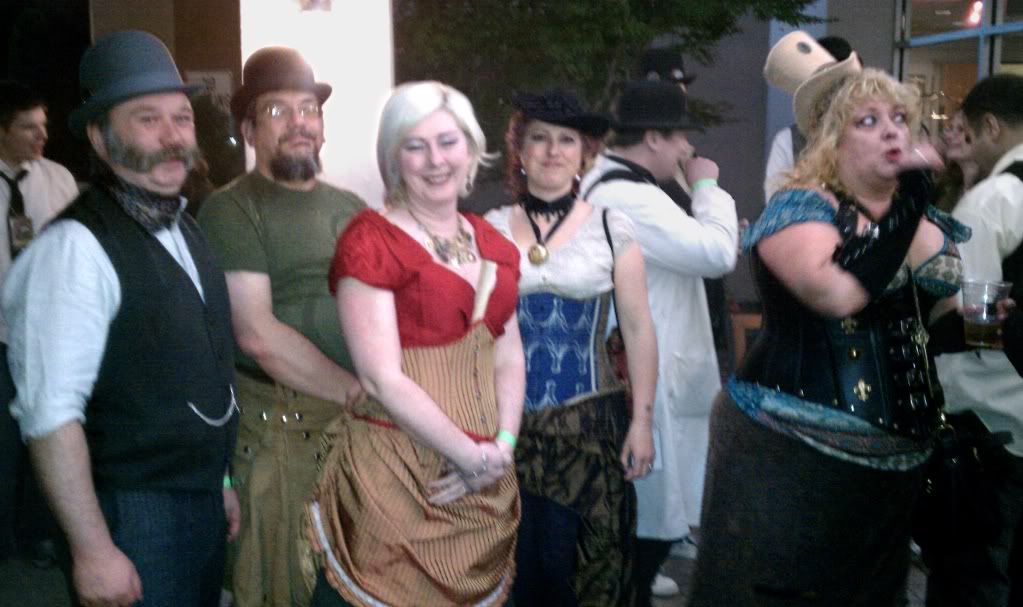 There were some smart-arsed comments made about getting the three of us in a picture...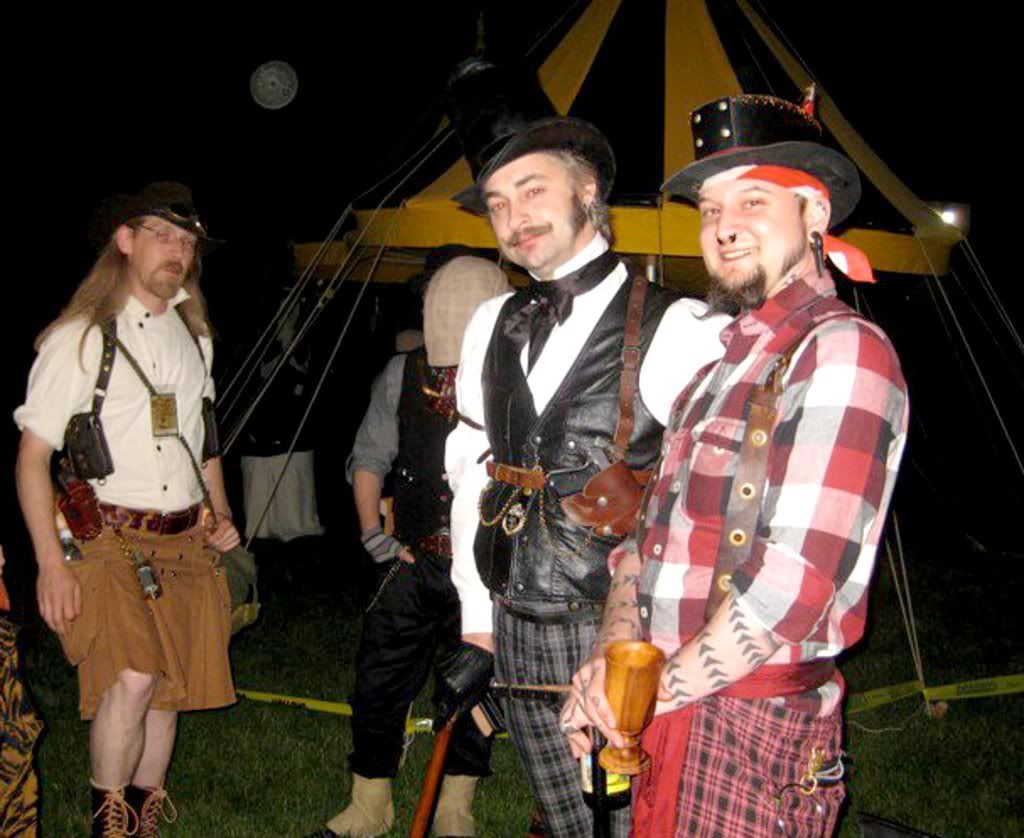 Vagabond and I make the most of the lame-ass dance party.
Emperor Norton's Stationary Marching Band
These kids deserve a special mention, and were the highlight of the show.
They must have had about 150 people dancing in the street Saturday night. NO ONE was standing still. I had to take three or four fast trips back into the dance party to rescue people from boredom and show them where the fun was (someone showed me, and I had to pass on the favor.
One of many
YouTube clips of their show that night,

here

.
OK, there's the pics from the Worlds Fair, with exceedingly brief commentaries. Next up, New Jersey and New York, followed by ImagiCon in Birmingham. Seriously, I've been having a LOT of fun lately.