Without a doubt, this year at DragonCon SteamPunk was the new hotness. Which was a lot of fun, because almost nobody knew what it was! In case you're among the uninitiated, here's what Wikipedia has to day about it:
Steampunk is a subgenre of fantasy and speculative fiction that came into prominence in the 1980s and early 1990s. The term denotes works set in an era or world where steam power is still widely used—usually the 19th century, and often set in Victorian era England—but with prominent elements of either science fiction or fantasy, such as fictional technological inventions like those found in the works of H. G. Wells and Jules Verne, or real technological developments like the computer occurring at an earlier date. Other examples of steampunk contain alternate history-style presentations of "the path not taken" of such technology as dirigibles or analog computers; these frequently are presented in an idealized light, or a presumption of functionality.

Steampunk is often associated with cyberpunk and shares a similar fanbase and theme of rebellion, but developed as a separate movement (though both have considerable influence on each other). Apart from time period and level of technological development, the main difference between cyberpunk and steampunk is that steampunk settings usually tend to be less obviously dystopian than cyberpunk, or lack dystopian elements entirely.
At least that's how Wikipedia describes it. Personally, I'd sum it up as Victorian but not at all goth, like cyber punk but in the past and not at all gritty, made of brass, powered by steam, fed by hydrolics (preferably exposed), governed by pressure gauges, wearing goggles with extra lenses, and unencumbered by all the crap that modern science says doesn't work. It is a fundamentally romantic esthetic.
I first got into it when I read
The Difference Engin
e at some point in school, but this was the first time I'd seen this much of it all out in one place. Obviously,
Abney Park
playing had something to do with it, but I'm really not sure what happened to push it all past the "critical mass" point so that a whole bunch of kids all showed up wearing brass at the same time. Two years ago there was nothing, last year one or two, and this year, well... just take a look. Pictures explain SteamPunk better, anyway.
The Man behind the Madness:
Near as I can figure, this is the guy who built most of this stuff. I'm also pretty sure this is his website,
The Steam Punk Workshop
. If I'm wrong, someone tell me.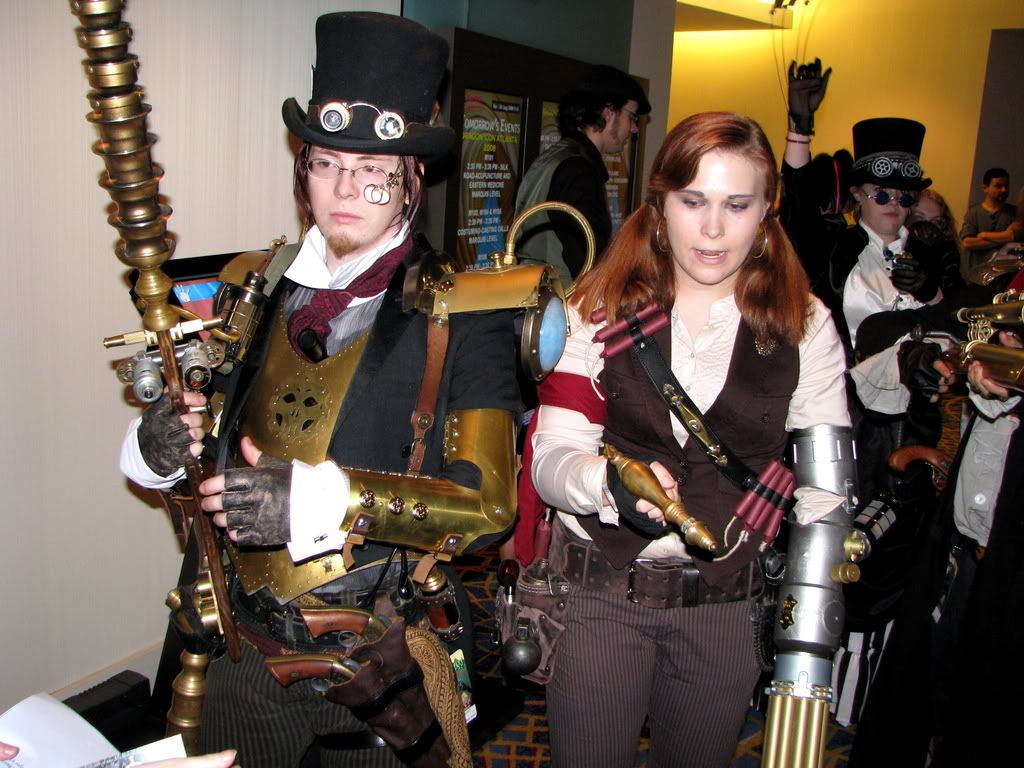 And he keeps pretty good company: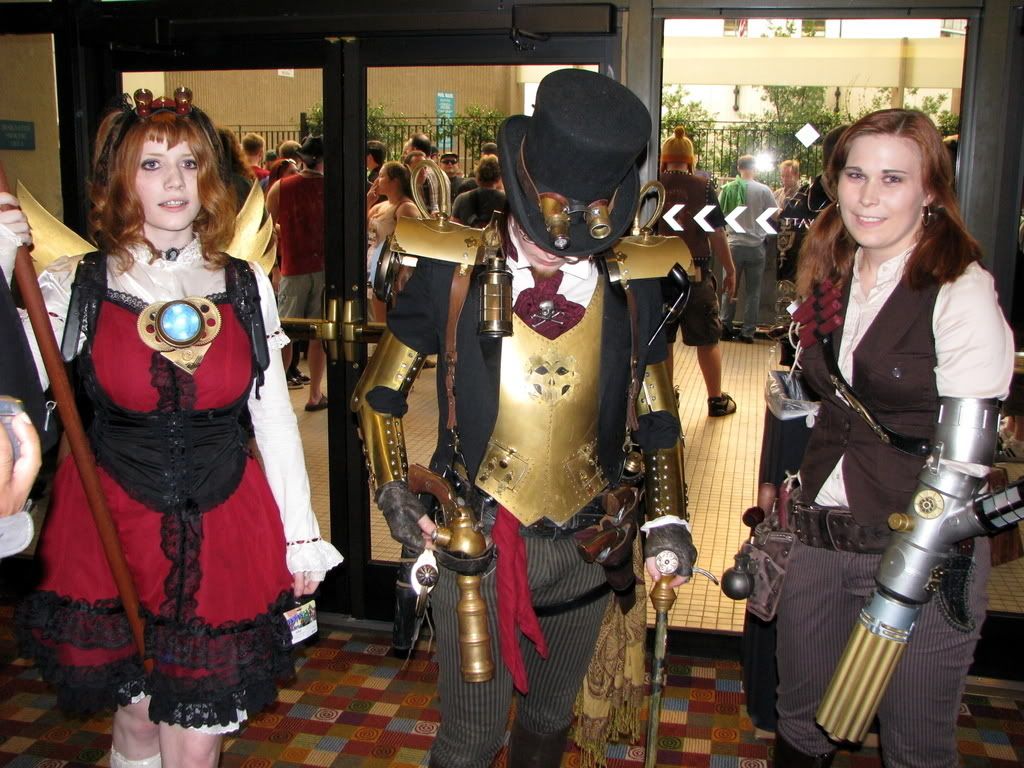 Sometimes, a SteamPunk's got to lay the smack down: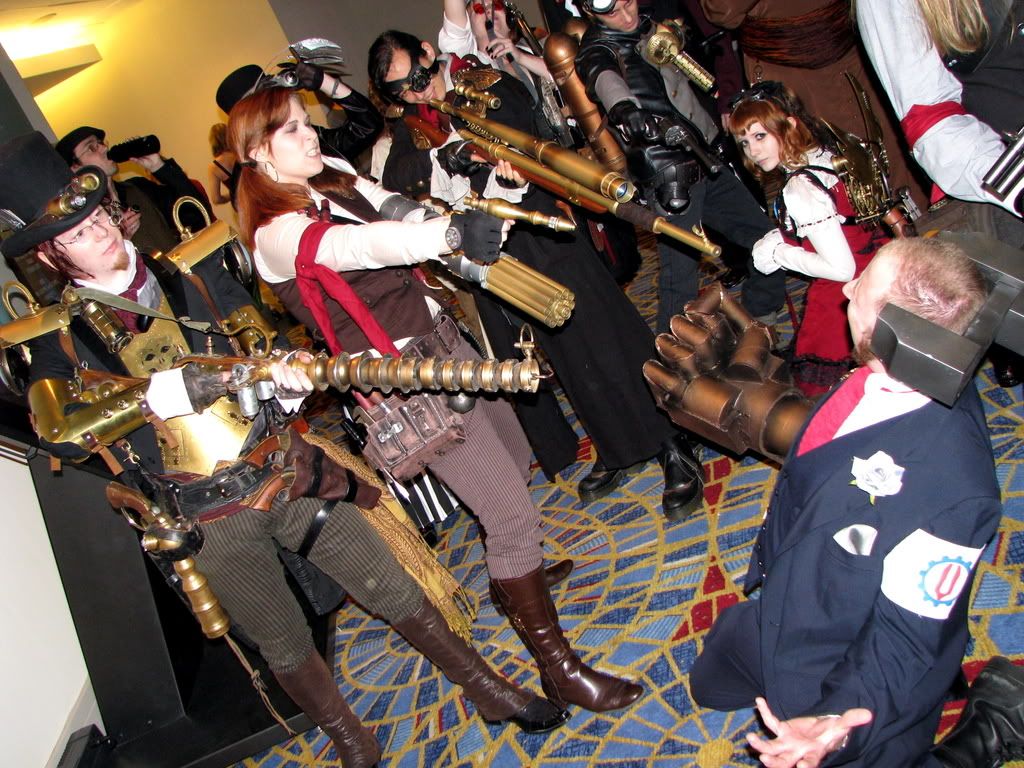 Other times, the laying down of smack is purely optional: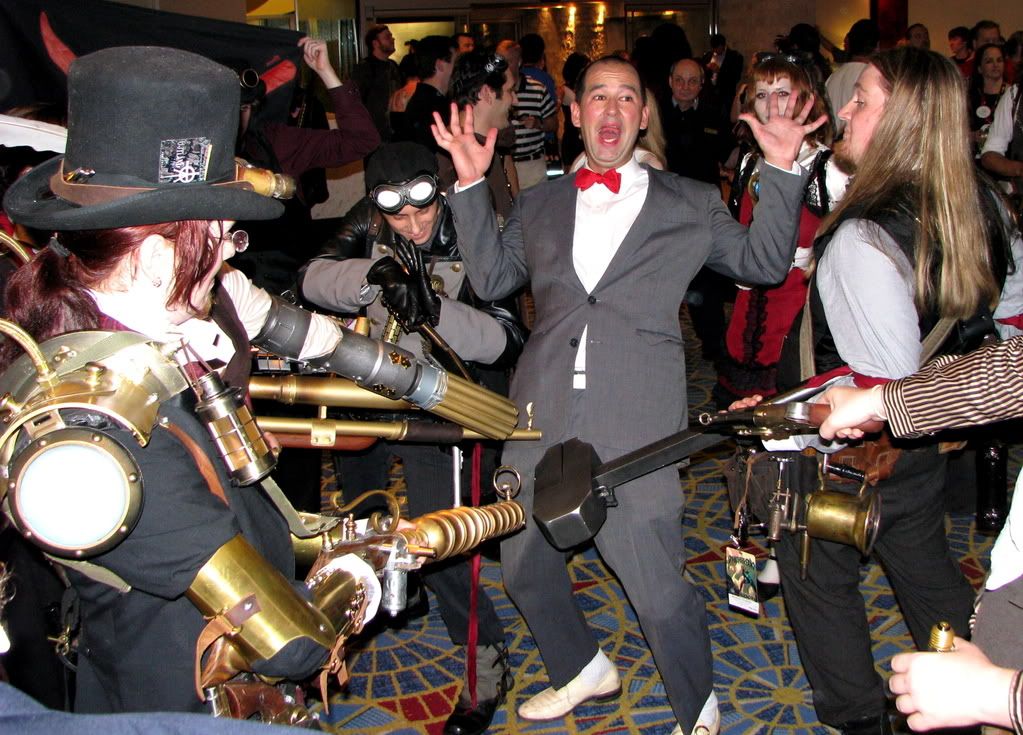 OK, then there is this guy, whom I'll call Baron von Somethingorother: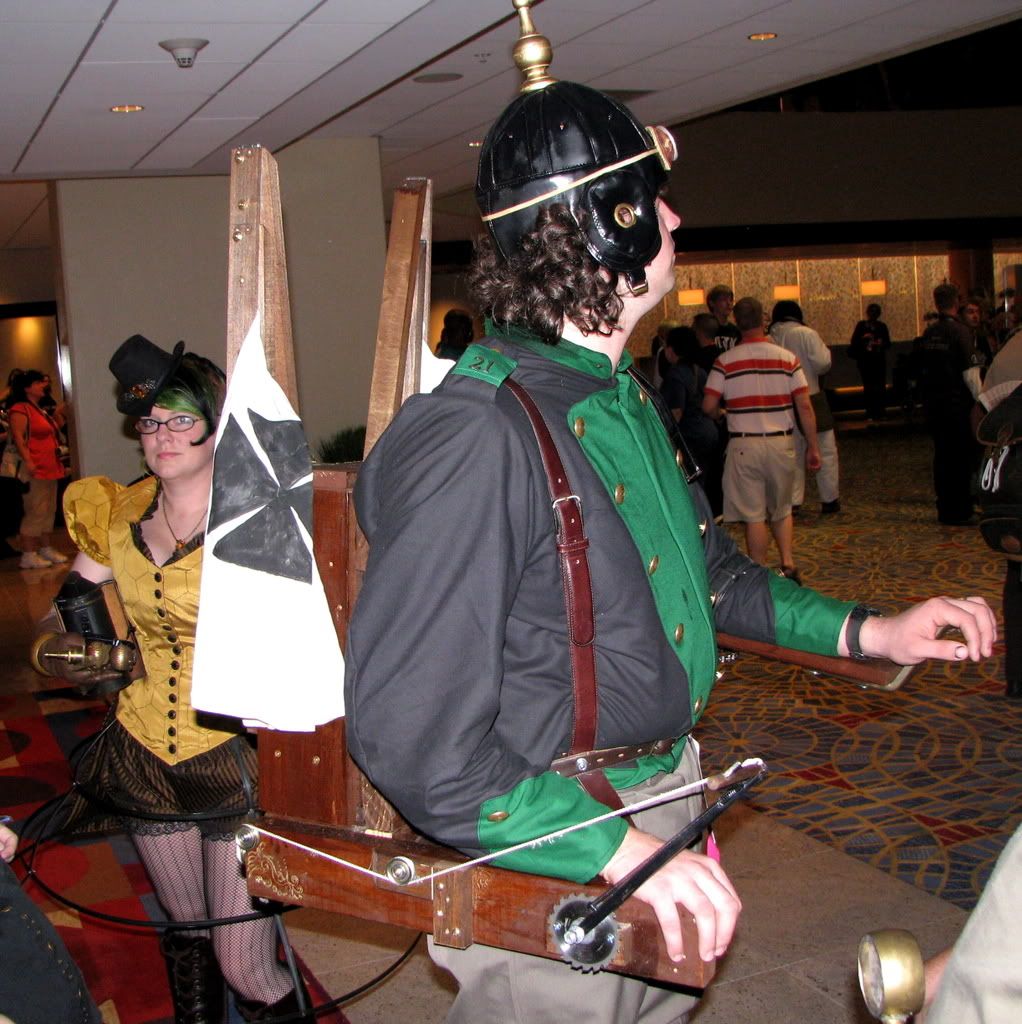 His stuff works, man! The little pulleys running from the control arms to the back pack actually work to control the articulated wings.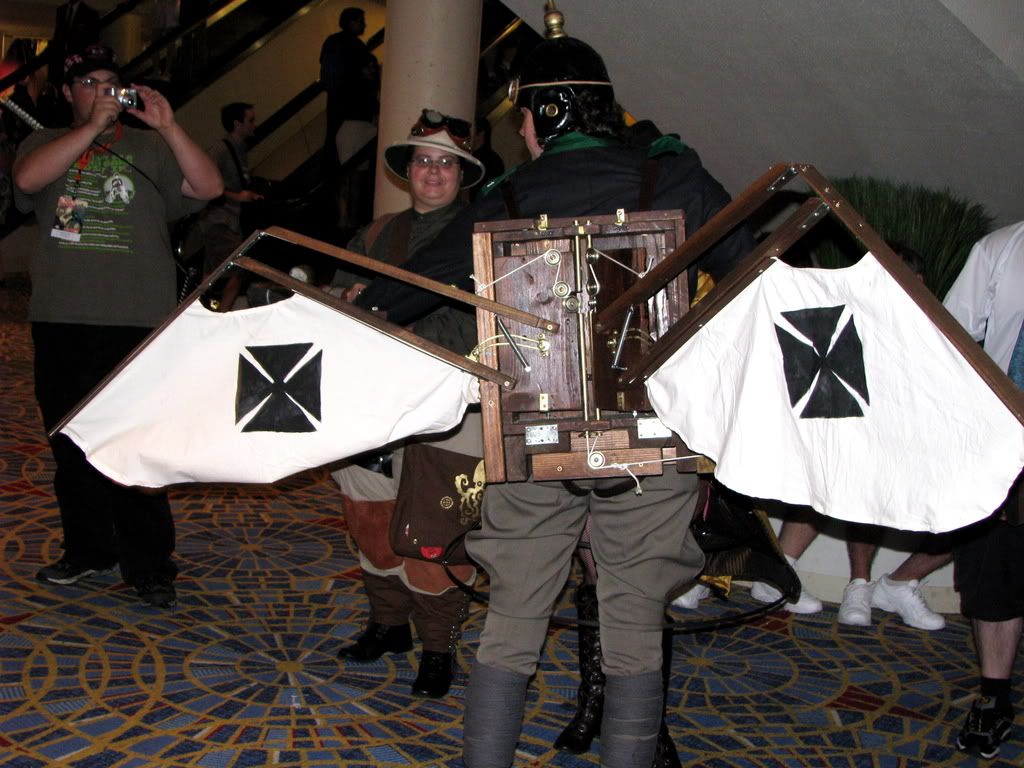 Articulated wings mounted to a back pack seems to be a popular idea:
All these gears and cog wheels were moving against each other, at least giving the impression that they were responsible for the slow beating of her wings.
Abney Park is also down with the winged creations: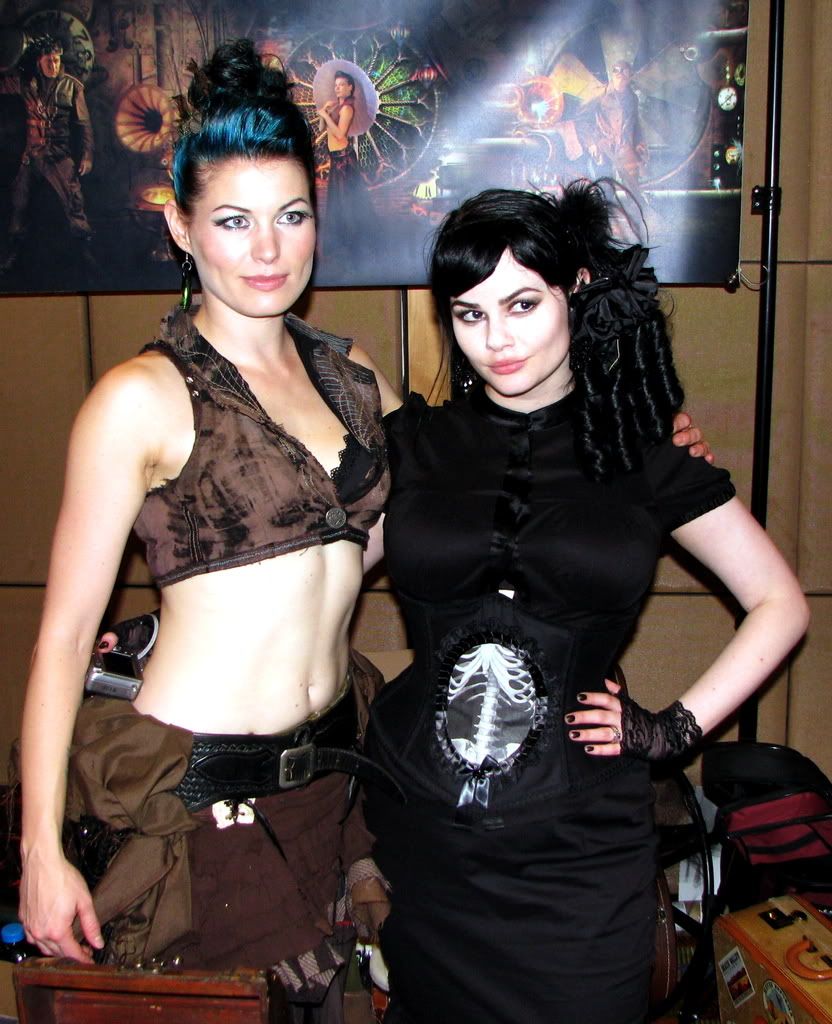 The devil's in the details on these costumes, and I took several tight closeups, but they were more for my own reference later. Here are some more long shots of other SteamPunk creations around the Con:
She had the best goggles. And yes, goggles are mandatory.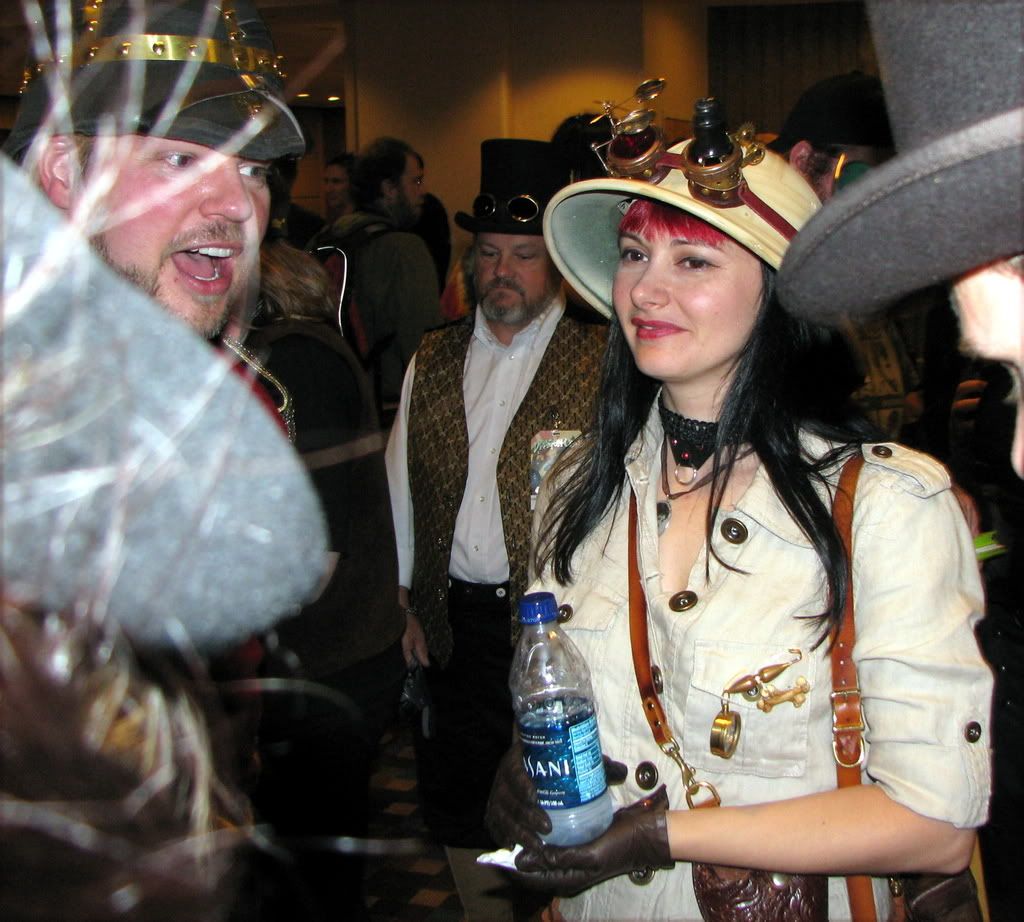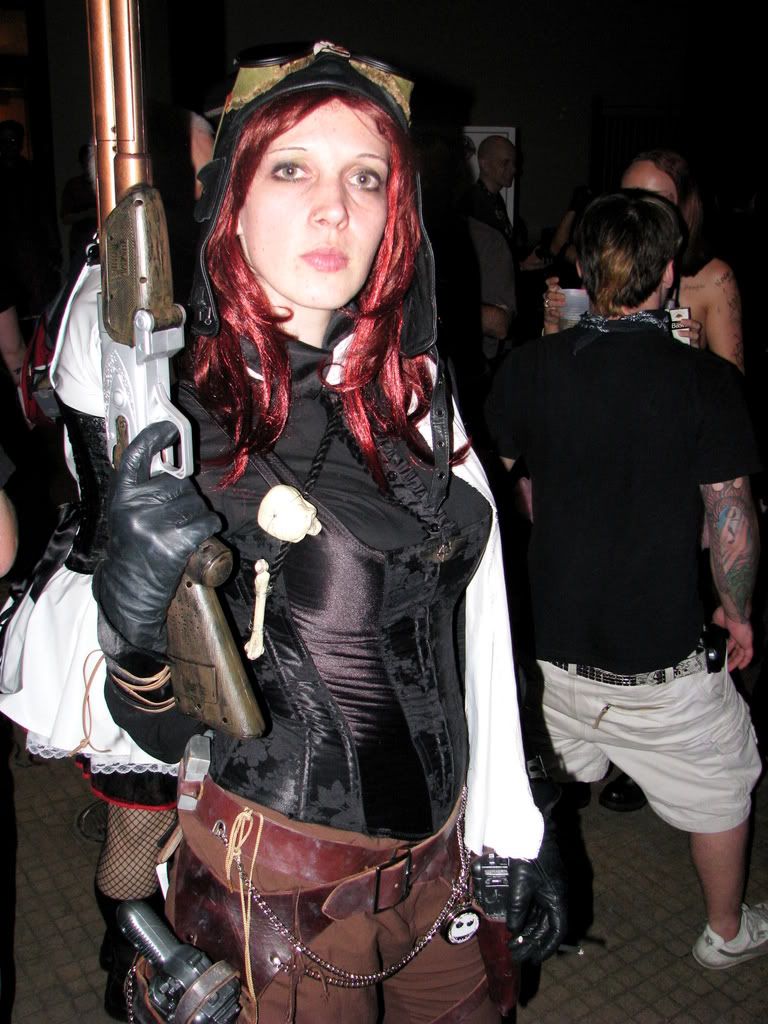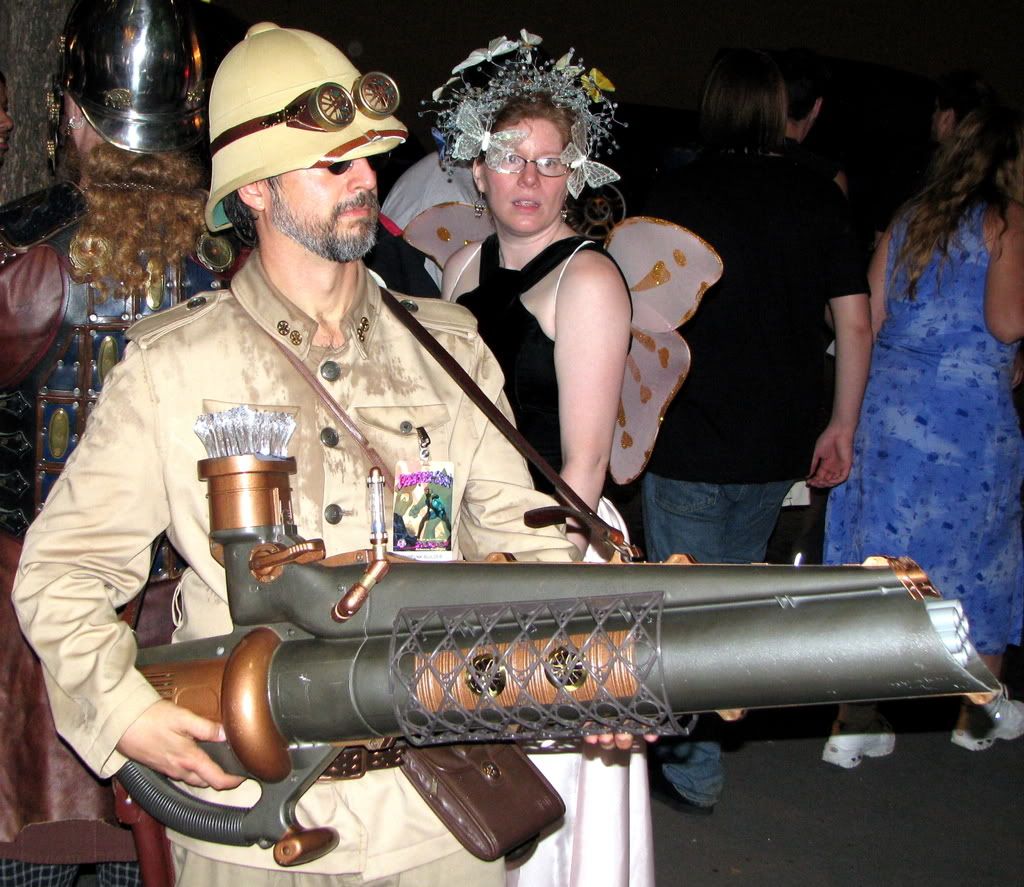 SteamPunk is all about big machines. Which means, logically, that you need big tools!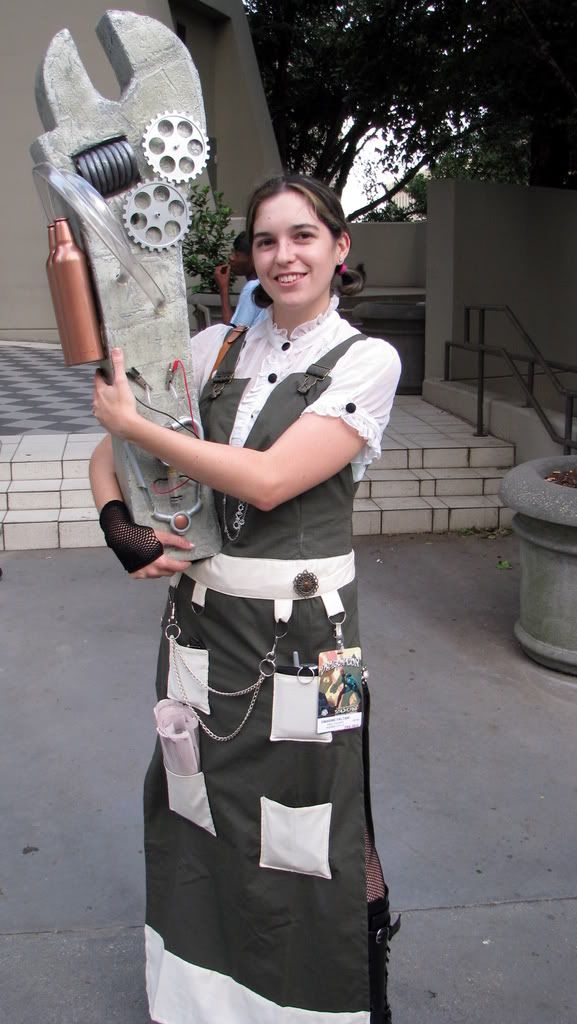 I am a sucker for hexagons. Especially on a smiling lady.
I so wish I'd taken more pictures of these folks.